Overview
Welcome to the Fiontar & Scoil na Gaeilge research page. Our staff are committed to linking the Irish language with contemporary issues, and to developing and promoting digital technologies which enable anytime, anywhere access to a rich seam of Irish place names, biographies, terminology, folklore, Irish-language terminology for the EU and online language teaching and learning technologies.

Interests and Expertise
Our research interests and expertise are aimed at:
1. Developing and preserving for the future a rich store of visual, audio and written records in Irish.
2. Providing online access, at home and abroad, to online data about core aspects of Irish-language heritage and culture.
3. Making these resources freely accessible online, at home and abroad, to anyone with an interest in Ireland.
4. Connecting and showcasing research through Irish on a variety of subjects such as:
* Business and Management
* Finance
* Entrepreneurship Education/ Social Entrepreneurship
* Information Technology in Language Teaching and Learning
* Organisational Behaviour
* Gaeltacht Development
* Language Policy and Planning
* Aspects of Irish language and literature
Technologies and Facilities
Using new and emerging technologies, Fiontar & Scoil na Gaeilge is collecting and protecting Ireland's rich linguistic tradition and making it available anywhere, anytime, to a global audience. With up to 100 million people in the Irish diaspora, and new technology making it easier to reach them, it is now more convenient than ever before to explore times past and appreciate them in their historical and contemporary context.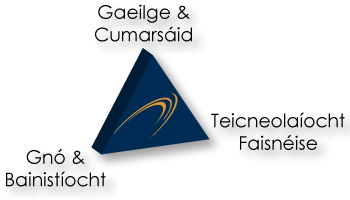 Opportunities for Enterprise
The six main outputs from our current research in language teaching and learning technologies, lexicography and terminology, biography, toponymy and folkloristics are available online. If your organisation has a specific research need in the area of the digital humanities, finance and business management, social entrepreneurship, entrepreneurship education, Gaeltacht development, language technologies, or language policy and planning and would like to engage Fiontar & Scoil na Gaeilge for a consultancy, consult the lecturer profiles to see who may be best placed to partner with you. Fiontar & Scoil na Gaeilge's most recent consultancy assignments include input into the preparation of The 20-Year strategy for the Irish language 2010-2030, published by the Irish Government. Staff are also currently involved in providing support with regard to language policy in the Irish Government's review of the Official Languages Act (2003). Partnering with colleagues in Wales and Finland, Fiontar & Scoil na Gaeilge has produced a study of language legislation in those countries, From Act to Action (2014).
Please direct all inquiries in the first instance to:
Ursula Mhic Cárthaigh
Fiontar & Scoil na Gaeilge
School Office
+353-1-7005614
ursula.mhiccarthaigh@dcu.ie
Research Students
Fiontar & Scoil na Gaeilge welcomes applications from graduates who would like to conduct research through Irish in areas such as business and management, entrepreneurship education, social entrepreneurship, finance, ICT, language technologies, language policy and planning, digital humanities, as well aspects of Irish language and literature.
Undertaking a research degree facilitates in-depth study in a discipline in which the student already has a good academic grounding. The research programme develops skills in organising, undertaking, presenting, and managing research projects that will stand to the graduate in whatever career he or she pursues.
+ Current PhD Students
Elaine Beirne
Elaine's research is focused on developing a method for conducting a sentiment analysis on Irish language text gathered from online sources. This work aims to extract value from the large amounts of user-generated Irish language content online, in particular, on the microblogging site, Twitter.
Jostin Ó Gliasáin
Justin's research is focused on minor placenames of Irish-Language origin in Co. Kildare. The aim of this project is to assemble a collection of minor placenames and to carry out a linguistic analysis on them. The collection of minor placenames will be published on the Meitheal.Logainm.ie website.
Michelle Dunne
Michelle is endeavouring to understand information about and from women in the folklore collection Seán Mac Mathúna (1876 - 1949) collected in north-west Clare in the historical context of the material. The behaviour and (traditional) role of women and the gender messages in these narratives will be focused on.
Jamie Murphy
Jamie is currently undertaking a PhD in the field of Irish stage translation.
Interested applicants must submit the following:
A research proposal (of approx. 5,000 words) (guidelines below).
A complete curriculum vitae, including results for undergraduate and postgraduate awards (for each year of study) and for any research projects, dissertations or thesis completed.
Name of the Fiontar & Scoil na Gaeilge faculty member supporting your application.
You should only apply if a member of faculty is supporting your application. If there are none who have undertaken, or are interested in, research related to your proposal, it is unlikely to be accepted. Therefore, you should ensure your intended topic matches the interests of one or more members of faculty. You can find out more by viewing the individual webpages of staff in the School. Applications are normally considered between April and September. You may self-fund or get funded for your PhD.
Please direct all inquiries about joining the research programme, in the first instance, to:
Ursula Mhic Cárthaigh
Fiontar & Scoil na Gaeilge
School Office
+353-1-7005614
ursula.mhiccarthaigh@dcu.ie
+ Writing a Research Proposal
When preparing your topic, read the guidelines on writing a PhD research proposal and ensure that you:
Clearly outline your chosen research question.
Display evidence of your familiarity with relevant literature relating to your research question, including knowledge of published research from appropriate research journals.
Position your research question(s) in the relevant research literature.
Indicate the contribution your research will make to this body of knowledge.
Suggest a possible methodology that is suitable for your study.
Applicants who have the support of a proposed supervisor may be invited to interview. If successful, you will be required to apply formally to DCU via the Postgraduate Applications Centre. Please note that applications submitted to the PAC before faculty approval has been given, will not be considered.
+ Further Information
+ Scholarship Opportunities
International Engagements
Fiontar & Scoil na Gaeilge provides the Irish-language content of the EU terminology website, IATE, and is involved in the EU-supported SpeakApps project.