Fiontar Graduates
In their own words, Fiontar graduates tell you about the course they completed. You will get a great understanding of the beneficial and enjoyable experience of studying with us here in DCU.
Seána Ó Rodaigh - Primary School Teacher
B.Sc in Airgeadas, Ríomhaireacht & Fiontraíocht, 2000 (now BA Gnó & Gaeilge); Postgrad Diploma in Education (Primary), 2003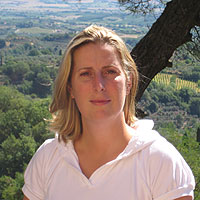 I had thought about teaching when I was in transition year in school but by the time I got to sixth year I was more interested in business subjects. I decided to do a business degree through Irish. I liked the innovative idea behind it and the enterprise aspect of the course really appealed to me. The fact that it was through Irish was an added bonus for me. There were a few of us in the class who had not gone to Gaelscoileanna but we learnt quickly. Having graduated, I worked in Finance for a while but decided it definitely was not for me. I went travelling for a while and on return home decided to do some substitute teaching. I loved it and applied for the Postgraduate Diploma in Education (Primary). Thankfully I got it and have been teaching for the past six years. I am delighted to be able to use Irish in my workplace and as part of my job but it goes beyond school. I had the most incredible Irish teacher in secondary school and he instilled a love for the language in me that has never faded. I suppose that inspires me to try to teach Irish in a passionate way. I look around now and feel very positive about the future of the language and the job opportunities that are open to people who would like Irish to be part of their daily lives.
I see a change in people's attitude to Irish, especially young people. I think we are finally getting over our post-colonial inferiority complex. When you see companies like Samsung bringing out phones with predictive text in Irish you know the language has reached a tipping point!
I'm involved in the founding of a new Gaelscoil in my area and the enthusiasm of the group of parents on the committee is incredible. They are committed to their children being able to speak Irish, as many of them can't and they regret this.
For graduates who are thinking about teaching, I would advise them to do a primary degree first and then a post grad. I think you get a more rounded life experience which you bring to the classroom. Also do a lot of subbing beforehand. Although I can't imagine a more rewarding way to earn a living, the job is more than holidays and early finishes!