Dr
Mairéad
Nic Giolla Mhichíl
Primary Department
Fiontar & Scoil na Gaeilge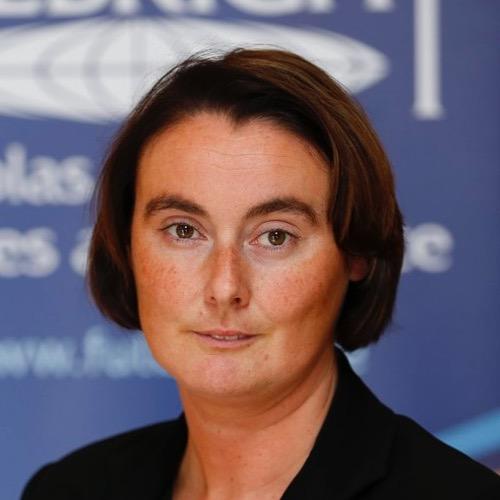 Phone number:
Email Address
mairead.nicgiollamhichil@dcu.ie
Academic biography
Dr.Mairéad Nic Giolla Mhichíl is currently an Associate Professor and Senior Research Fellow, with the National Institute of Digital Learning in Dublin City University, researching Massive Open Online Courses and implementing the University's Strategic Initiative in this area. She is a Fulbright Scholar with the University of Notre Dame in the USA and Lecturer in Information Technology in the Faculty of Humanities and Social Sciences in DCU.
Mairéad has held leadership roles within her School, Faculty and University serving as the Associate Dean for Teaching and Learning, Programme Chairperson and Chairperson to a number of University Working Groups. She completed her dotoral studies with the University of Durham in the United Kingdom and she holds a MSc in E-Commerce and a BSc in Finance, Computing and Enterprise from DCU. Mairéad has spent time working for national and international organisations in financial, computing and consulting positions including extensive involvement in tech start-ups. Mairéad is involved in a number of European research projects as both PI and researcher. Her research interests are interdisciplinary and include technology in teaching and learning; policy implementation and organisational change in higher education. Mairéad is Co-Editor-in-Chief of the
International Journal of Educational Technology in Higher Education (ETHE)
Is Ollamh Comlach agus Comhalta Taighde Sinsearach í An. Dr. Mairéad Nic Giolla Mhichíl, leis an Institiúid Náisiúnta don bhFoghlaim Dhigiteach in Ollscoil Chathair Bhaile Átha Cliath. Tá Mairéad i mbun taighde ar MOOCs san Institiúid agus tá sí i mbun tionscnaimh straitéiseach na hOllscoile ina leith fosta. Is scoláire Fulbright le hOllscoil Notre Dame i SAM agus léachtóir le teicneolaíocht na faisnéise i nDámh na nDaonnachtaí agus na n-Eolaíochtaí Sóisialta.
Tá taithí fairsing aici i rólanna ceannasaíochta sa Scoil, sa Dámh agus san Ollscoil, agus ceapadh i már Dhéan Comhlach Teagaisc agus Foghlama i nDámh na nDaonnachtaí agus na n-Eolaíochtaí Sóisialta i DCU. Bronnadh dochtúireacht uirthi ó Ollscoil Durham sa Ríocht Aontaithe agus tá MSc sa Ríomhthráchtáil agus BSc in Airgeadas, Ríomhaireacht agus Fiontraíocht ó DCU aici chomh maith. Tá tréimhsí caite aici ag obair le comhlachtaí naisiúnta agus idirnáisiúnta i rólanna airgeadais, ríomhaireachta agus comhairliúcháin agus ag obair le comhlachtaí teicneolaíochta nua-bhunaithe. Tá taithí suntasach aici ag obair thograí taighde maoinithe ag an AE mar phríomhthaighdeoir agus taighdeoir. I measc na spéiseanna ildánach taighde atá aici ná an nuatheicneolaíocht agus foghlaim agus teagaisc, polasaí agus athrú eagrais san ardoideachas. Is Príomh-chomheagraitheoir í ar an Iris
International Journal of Educational Technology in Higher Education (ETHE).