Primary Department
Fiontar & Scoil na Gaeilge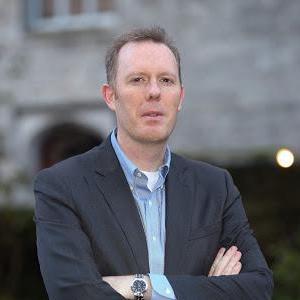 Phone number:
Email Address
padraig.oliathain@dcu.ie
Academic biography
Is ollamh cúnta é an Dr Pádraig Ó Liatháin in Fiontar agus Scoil na Gaeilge, DCU. Fuair sé a chuid oideachais ollscoile i gColáiste na Tríonóide, idir BA, M. Litt., agus PhD. Tá sealanna caite aige ag léachtóireacht agus ag múineadh i gColáiste na Tríonóide, i gColáiste Oideachais Froebel, in Ollscoil Sheárlais, Prág agus le Gaelchultúr.

Tá taighde foilsithe aige ar Éamonn Mac Giolla Iasachta, ar Sheán Ó Ríordáin, ar Dhonncha Rua Mac Conmara, agus ar Thalamh an Éisc.

Tá eagrán den dán eisceachtúil ón 18ú céad, 'Eachtra Ghiolla an Amaráin', le Donncha Rua Mac Conmara. foilsithe ag Cló Iar-Chonnacht (2018).

Iar-eagarthóir Gaeilge é ar Eighteenth Century Ireland: Iris an dá chultúr (2012-15) agus tá sé ina bhall seachtrach d'Ionad an Léinn Éireannaigh, i Roinn an Bhéarla in Ollscoil Sheárlais, Prág.

Faoi láthair tá sé ag obair ar mhórthionscadal taighde .i. dialanna Sheáin Uí Ríordáin a thrascríobh agus a chur i gcló. Tá an chéad imleabhar, le foisliú ag Cló Iar-Chonnacht gan mhoill. Fairis sin, tá sé ag obair lena chomhghleacaithe, an Dr Éadaoin Ní Mhuircheartaigh agus an Dr Trevor Herbert, agus leis an Ollamh Comhlach Pádraig Ó Siadhail, Ollscoil St. Mary's, Halifax, ar dhíolaim ar litríocht an taistil sa Ghaeilge idir na blianta 1600-2000.

Is suim leis litríocht na Gaeilge ón 17ú haois go dtí an lá atá inniu ann, agus tá suim acadúil agus phearsanta aige in amhráin na Gaeilge idir shean-nós agus nua-chumtha.

Dr Pádraig Ó Liatháin has research interests which encompass Irish language literature from the 17th century to the present, connections with Talamh an Éisc / Newfoundland, and North America generally. He is also currently editing, and preparing for publication, the diaries of the 20th century Irish language poet, Seán Ó Ríordáin, housed in Special Collections in University College Dublin. The first volume, containing the diaries 1 & 2, will be published shortly, and Volume II is being prepared for submission. He is also the former Irish language editor of the interdisciplinary peer- reviewed journal Iris an Dá Chultúr/Eighteenth Century Ireland. His annotated critical edition of Donncha Rua Mac Conmara's mock-epic 18th century poem 'Eachtra Ghiolla an Amaráin' was published by Cló Iar-Chonnacht in 2018.

Research interests
Litríocht Lámhscríbhinní na Gaeilge ón 17ú haois - 19ú haois
Saothar Dhonncha Rua Mhic Conmara
Saothar Éamoinn Mhic Ghiolla Iasachta
Saothar Sheáin Uí Ríordáin
Meadaracht an Amhráin
Amhráin na Gaeilge - ón lámhscríbhinn go dtí an lá inniu
Litríocht an Taistil
Talamh an Éisc i litríocht na Gaeilge