DCU National Centre for Family Business
COVID19 Crisis Guide
Exclusive Family Business Info-Series: Practical Crisis Resources
Issue 9: Financial Initiatives for Small Businesses (Friday 29th May, 2020)
We're happy to share Issue 9 of our info-series looking at a vast array of financial assistance initiatives for small biz in Ireland, incl. gov supports, Enteprise Irelannd, Local Enterprise Office and EU announcement of €750bn recovery package. See links to resources below.
1. Government Supports, 2. Local Enterprise Office (LEO), 3. Enterprise Ireland, 4. EU announcement
(Downloadable PDF of Issue 9 - Financial Incentives for Small Businesses)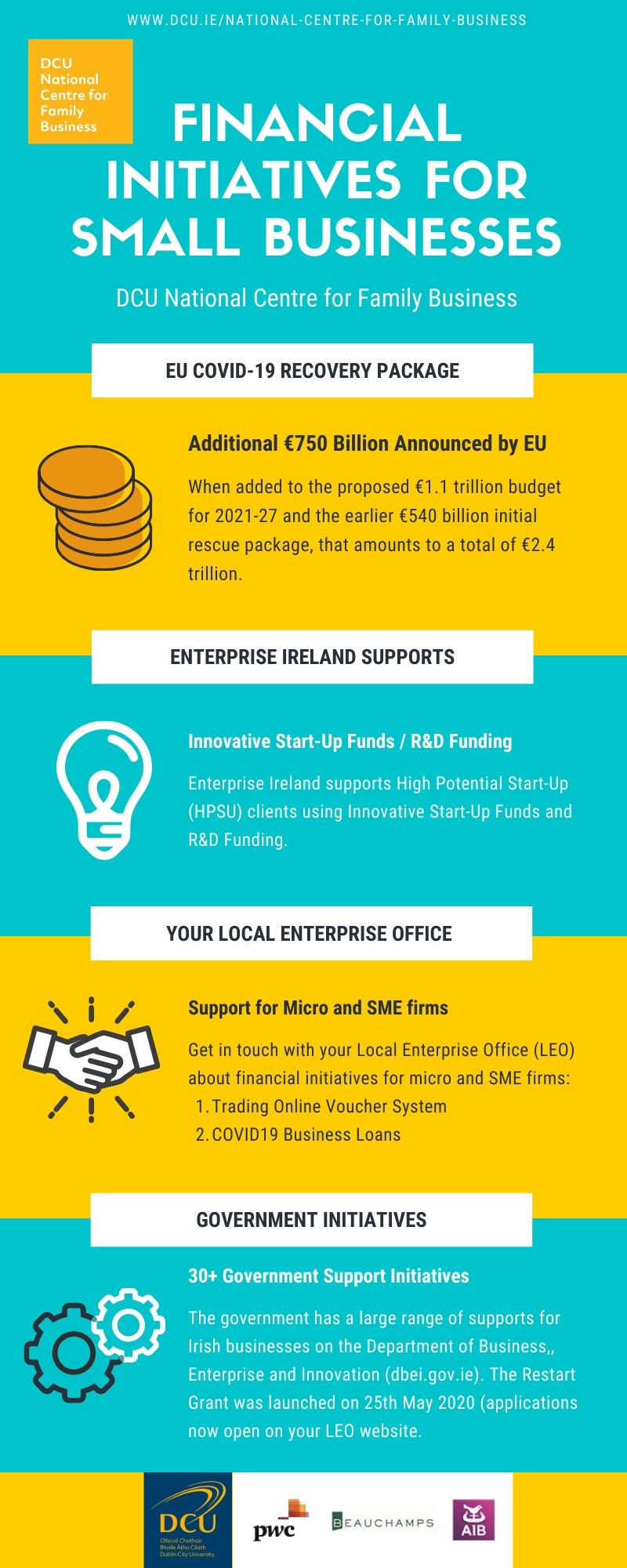 Issue 8: Communication: The Cornerstone to Successful Reopening (Friday 22nd May, 2020)
Events
This week we outlined our upcoming online seminar on Monday 25th May 2020, Communication in Family Business - The Cornerstone to Successful Reopening. If you missed our webinar you can watch the webcast on our YouTube channel.
The 45-minute webinar saw Padraig McKeon (Associate Lecturer of Communication, DCU) and Dr Catherine Faherty (Assistant Professor of Enterprise, DCU) present key learnings around the topics of communication, listening, trust and conducting a stakeholder analysis. Below we summarise the lessons you can apply to your family firm through practical, actionable steps. We have created a summary outlining 3 key takeaways from this event, which you can read on our News site.
News
Government Restart Grant announcement - opens May 22nd 2020. You can apply for this grant through your local LEO website.
EU President Ursula van der Leyen released statement on May 18th 2020 announcing EU support of a flexible state aid framework and Stability & Growth Escape Clause, €540 billion loans, and long-term EU budget topped up by a Recovery Instrument.
(Downloadable PDF of Issue 8 - Communication: The Cornerstone to Successful Reopening)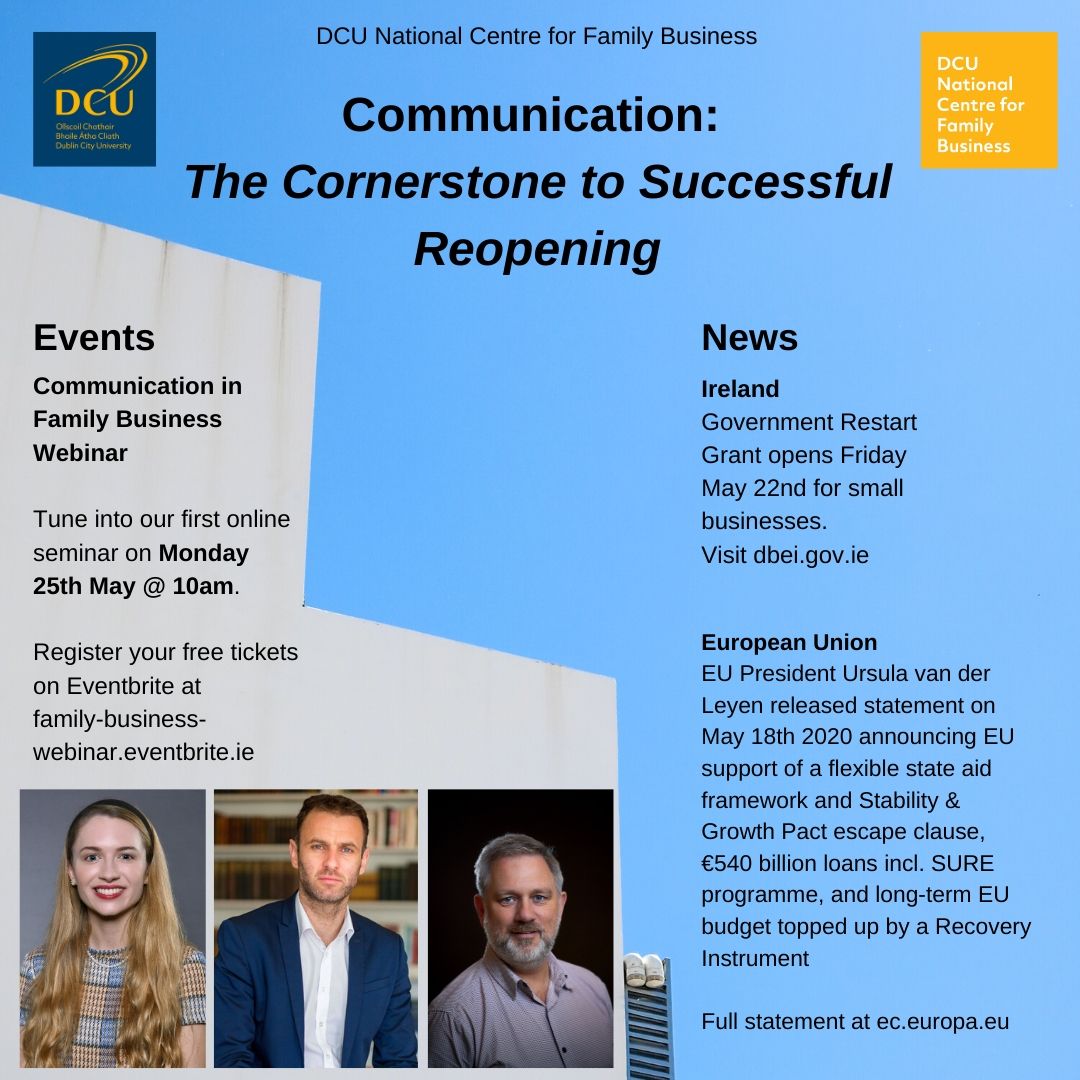 [Image Description: Headshots of webinar speakers Dr Catherine Faherty, Dr Eric Clinton & Padraig McKeon, incl. text content]
Issue 7: Roadmapping the Future of Irish Family Business (Friday 8th May, 2020)
Following last week's announcement of the Irish government's roadmap to re-opening society and the economy, we are keeping it simple in this week's issue with three key messages:
A reminder that Phase 1 of the Irish Roadmap begins on Monday 18th May.
We are excited to announce that we are planning our first webinar for 10.00am on Monday 18th May 2020, to help Irish family businesses (both 'essential' and 'non-essential') to plan for the future of their family business practice. For our first webinar we are focusing on the topic of Communication in Family Business and challenges which the current crisis may present for your family and family business communications in a post-COVID19 world.
Finally, we have a wonderful news piece written by AIB Sector Strategist for Business & Professional Services, Ciaran Foley, investigating to 'The Impact and Irish Business Services Response to COVID19'.
(Downloadable PDF of Issue 7 - Roadmapping the Future of Irish Family Business)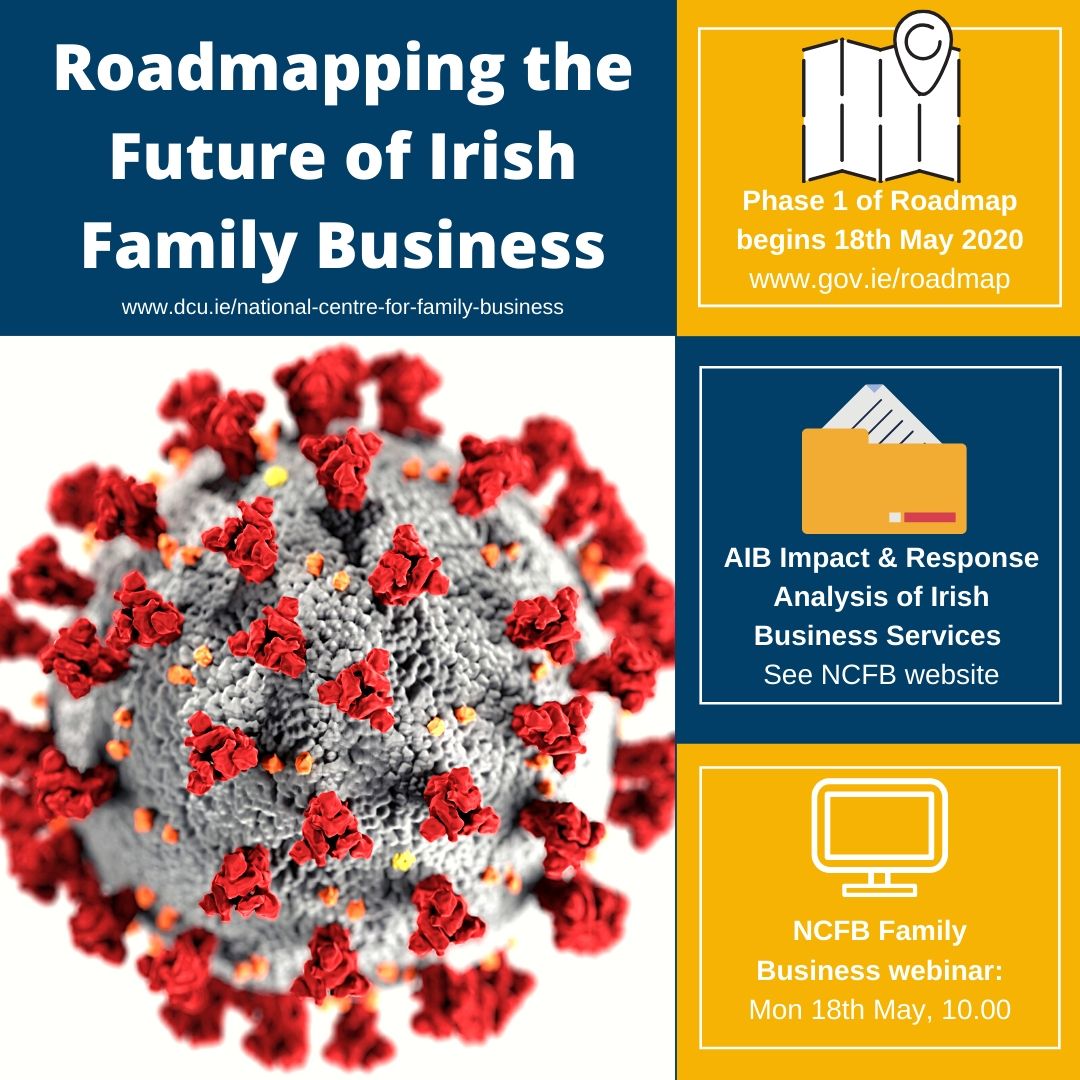 Issue 6: Government Roadmap (Tuesday 5th May, 2020)
The Department of the Taoiseacht and Department of Health announced plans to re-open society and the Irish economy on 3rd May 2020, through a slow, phased process. The Roadmap for Reopening Society and Business outlines five stages of steps in which COVID19 restrictions will be lifted over time between May 18th and August 10th 2020. As of Tuesday May 5th, two changes to COVID19 restrictions will come into place:
People can travel up to 5km from their home to exercise,
And, those cocooning can leave their homes up to 5km for exercise or by car so long as they avoid all contact with other people.
Other welcome news this week include announcement of further supports from businesses impacted by COVID19 (visit www.dbei.ie for further information on COVID business supports). Along with government support, we have included a comprehensive guide put together by AIB outlining the supports you can receive from your financial institution on their COVID19 Hub.
(Downloadable PDF of Issue 6 - Government Roadmap)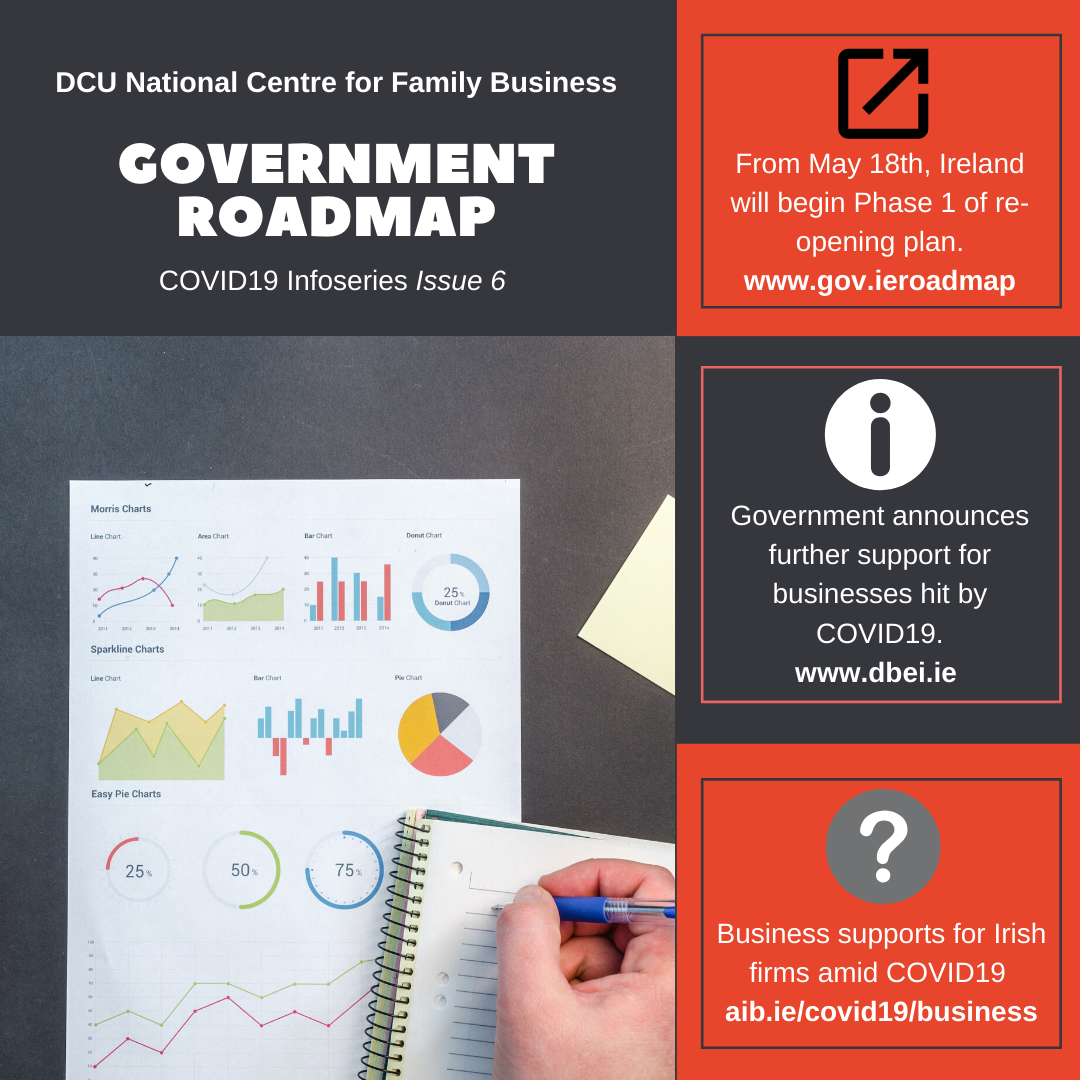 Issue 5: Manage Your Well-being & Plan for Success (Friday 24th April, 2020)
This issue we encourage family business leaders to take a pause and think about their individual, family and community well-being. A key step in planning for success is managing one's well-being, psychological and emotional health. The HSE and NHS have teamed together to provide a free Online Stress Control Programme with livestreamed mindfulness for members of the public. The initiative began several weeks ago, at the beginning of lockdown for many European countries. You can catch up on past episodes on the website - stresscontrol.org.
As well as this fantastic resource, we have provided thought-provoking media for family business leaders and members to think on. If you missed the STEP Webinar on Tuesday 21st April - Family Business through Global Pandemic: from Disaster to Opportunity? - you can catch up on the Facebook Live recording or read our main takeaways here. Advice and insights from family business thought leaders across the world, including DCU's Professor Eric Clinton, NCFB Centre Director.
Worried about your business not meeting contractual obligations due to the COVID19 restrictions? Learn about the Law of Frustration with Beauchamps and the leading cases in this area from their Litigation & Dispute Resolution department.
We leave you with Leo Vradkar's recent state on Tuesday 21st April, 2020 advising Irish businesses to prepare to implement social distancing in their businesses post-lockdown. This is something to think on as May 5th approaches. Early next week we will be sharing 5 Top Planning Tips for family businesses to consider in preparing for life after lockdown. Keep in touch on our Twitter and LinkedIn pages where we will be updating you!
Pdf version of Issue 5 Infographic - available here to download.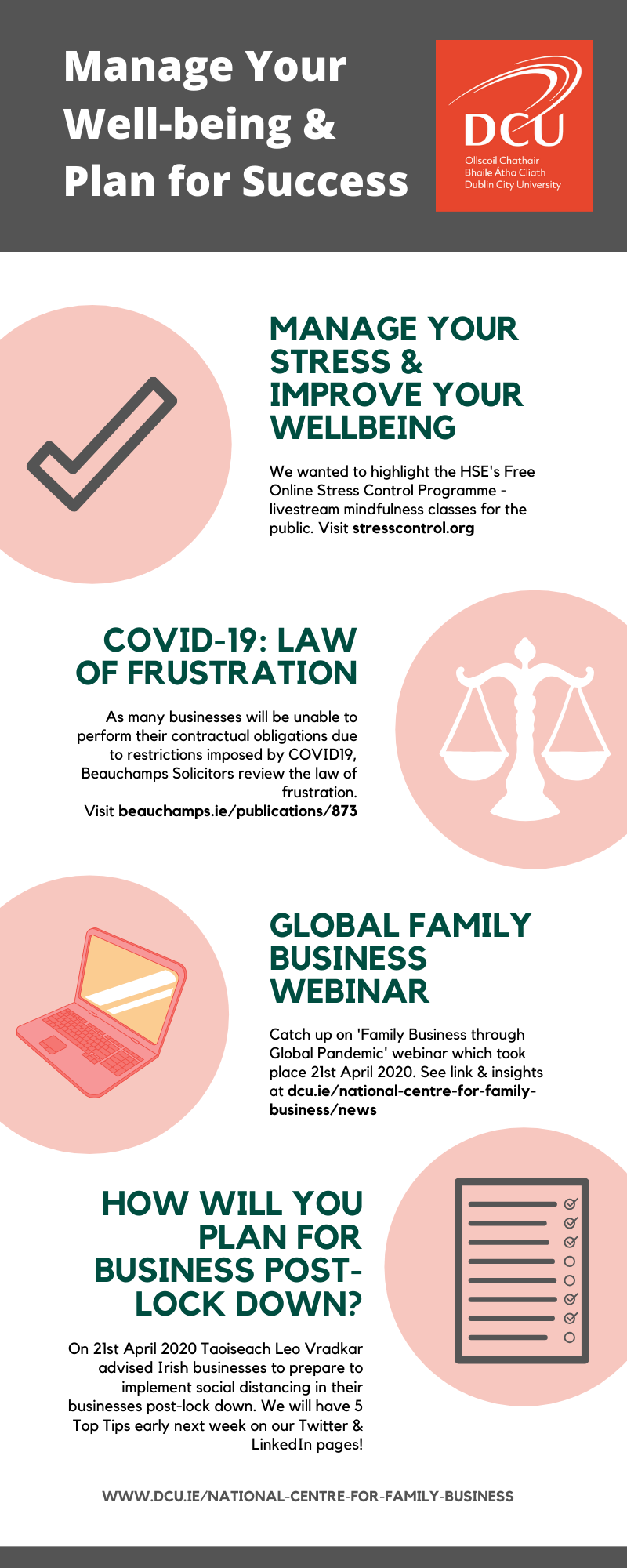 Issue 4: Sustaining Your Business during COVID19 - Resources for Continuity (Friday 17th April, 2020)
In this week's issue of our Family Business COVID-19 Crisis Guide & Info-series, we bring our readers practical resources and actions to take to sustain their family business practice during the current times.
Issue 4 brings family businesses practical guidance for businesses facing liquidity challenges during the current lockdown. While the realities for 'essential' and 'non-essential' businesses may be quite different, many firms are facing decreases in demand and revenue since the State-sanctioned lockdown was put in place for the general public and 'non-essential' workers. Two avenues to assist family businesses facing liquidity challenges: 1. Local Enterprise Office Business Continuity Vouchers and 2. Working Capital Schemes with the Strategic Banking Corporation of Ireland (SBCI). Read Allied Irish Bank (AIB) Factual Guide to accessing supports.
Industry Updates:
[Download pdf version of infographic for hyperlinks to sources and visual assist software compatible]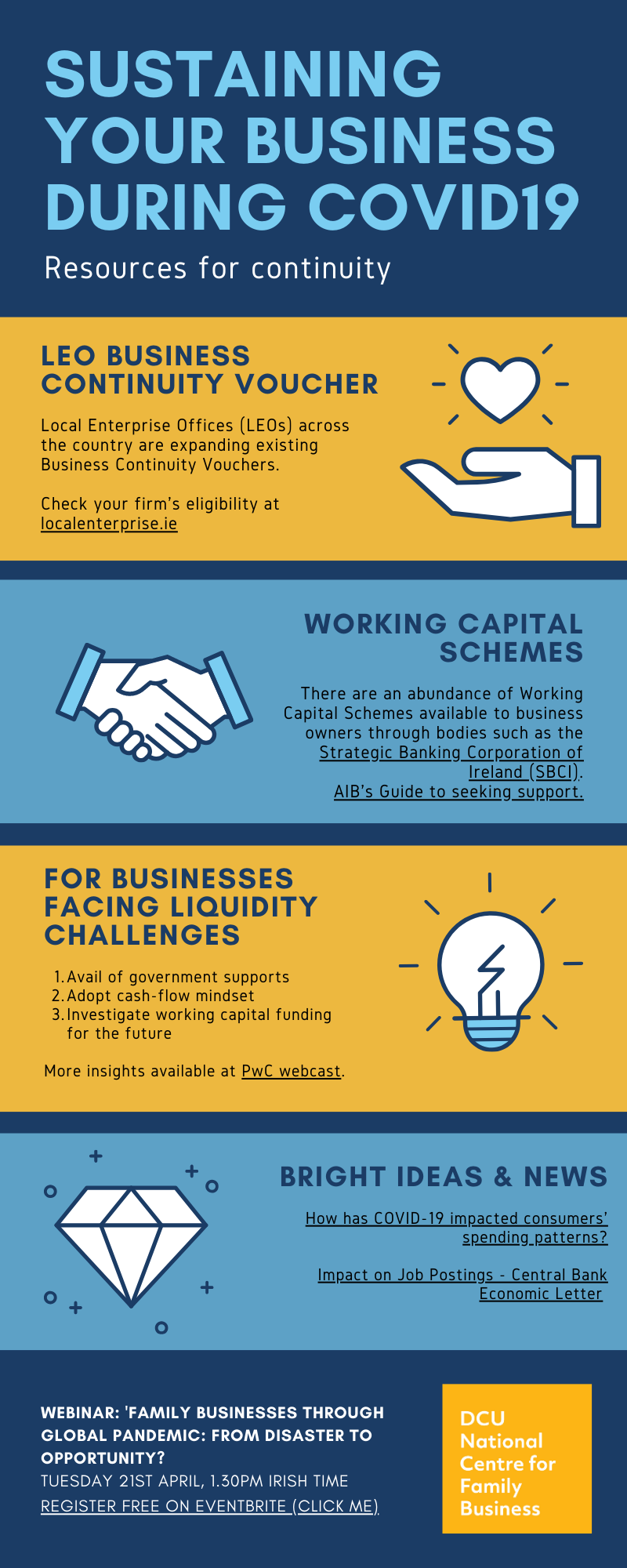 Issue 3: Supporting Family Business Leaders (Thursday 9th April, 2020)
This week's issue of our Family Business COVID-19 Crisis Guide & Info-series, we bring you exclusive industry expertise and insider guidance from our partners AIB, PwC and Beauchamps.
Need to review your VAT and Taxation requirements and the supports in place for SMEs navigating changes to the business landscape? PwC held an insightful webinar 'Succeeding in Times of Uncertainty' where they give step-by-step guidance to micro, small and medium enterprises in relation to VAT and Taxation (click to the PwC webcast). Looking for Cashflow Management Guidance & Financial Support? See AIB's breakdown of the available government and financial institution assistance (click to open PDF guide by AIB). Beauchamps solicitors bring our family business community an easy guide on how to host a Board Meeting remotely during the current pandemic (click to read 'Holding Board Meetings').
See our Issue 3 infographic below or download visual assist technology-friendly pdf version, with hyperlinks to website sources.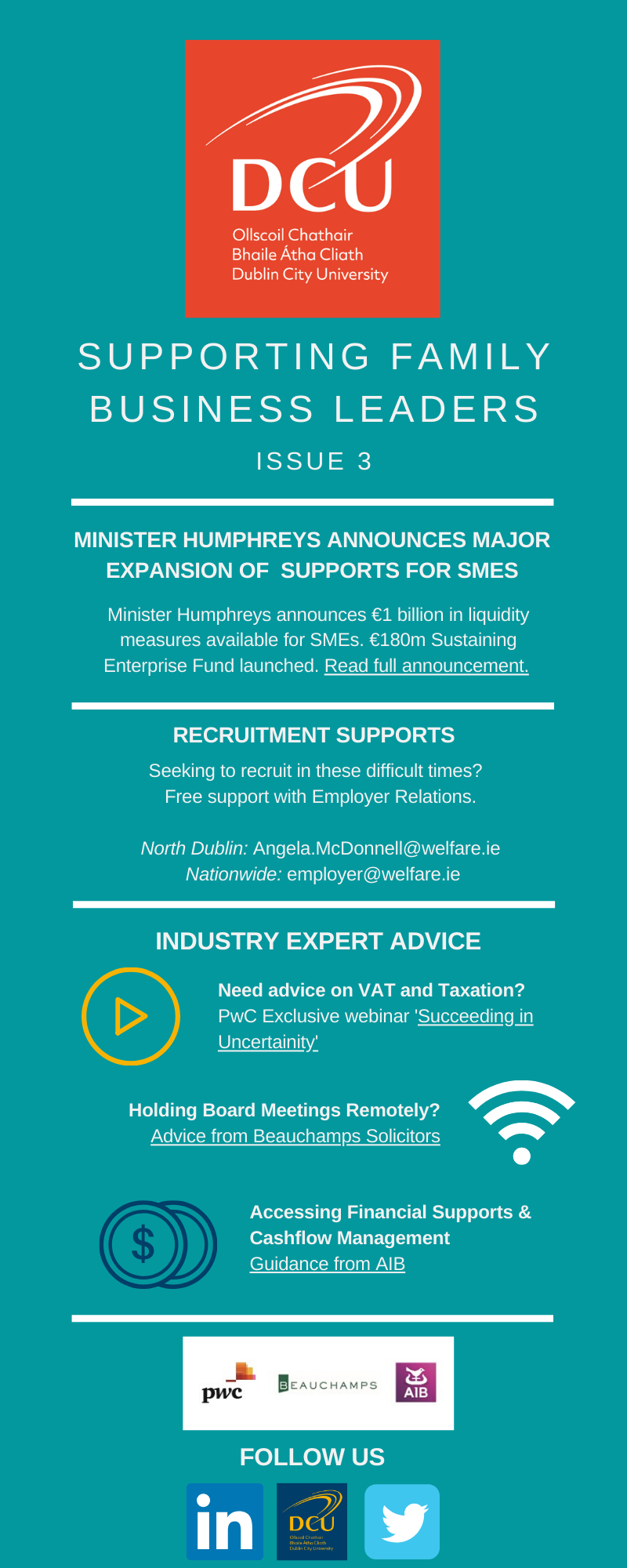 Issue 2: Family Business Continuity During Times of Crisis (Friday 3rd April, 2020)

(Downloadable PDF, visual assist software-friendly version)
Trusted Information & Guidance for Family Firms
Weekly News & Updates
Issue 1: Trusted Guidance for Irish Family Firms (Friday 27th March, 2020)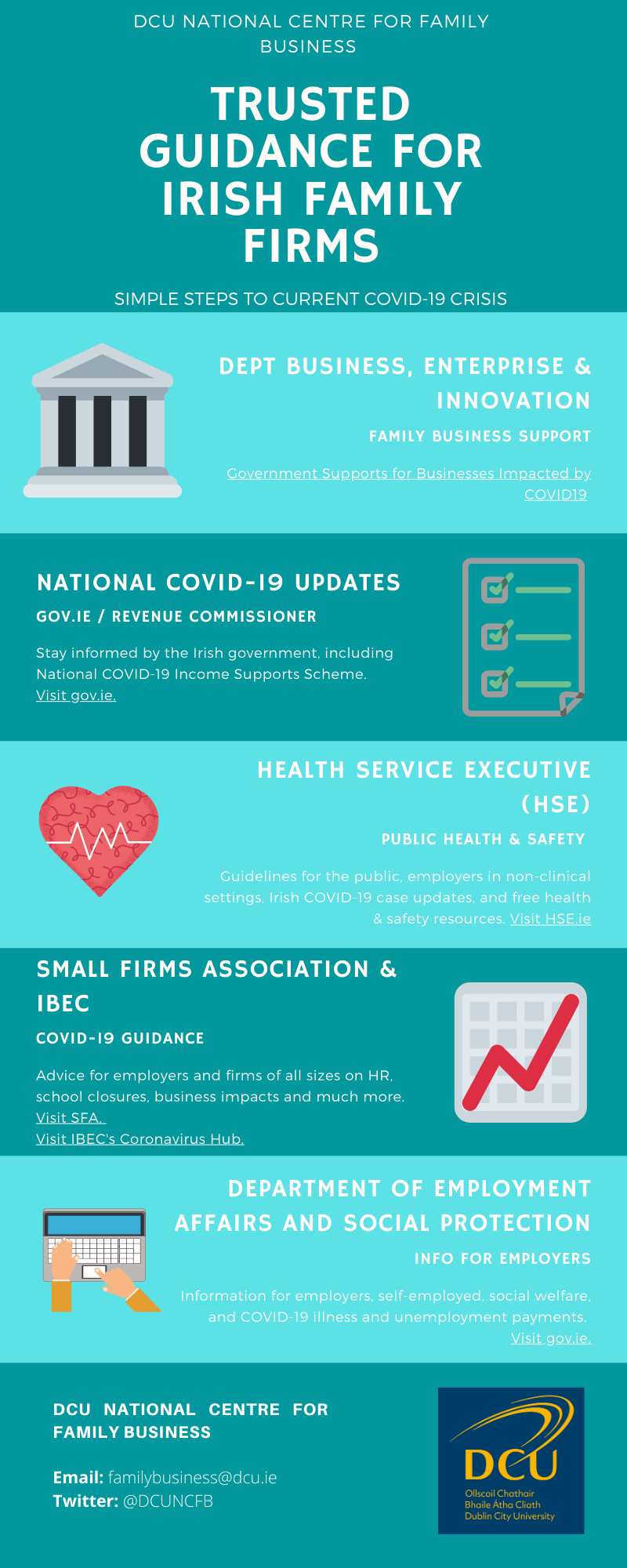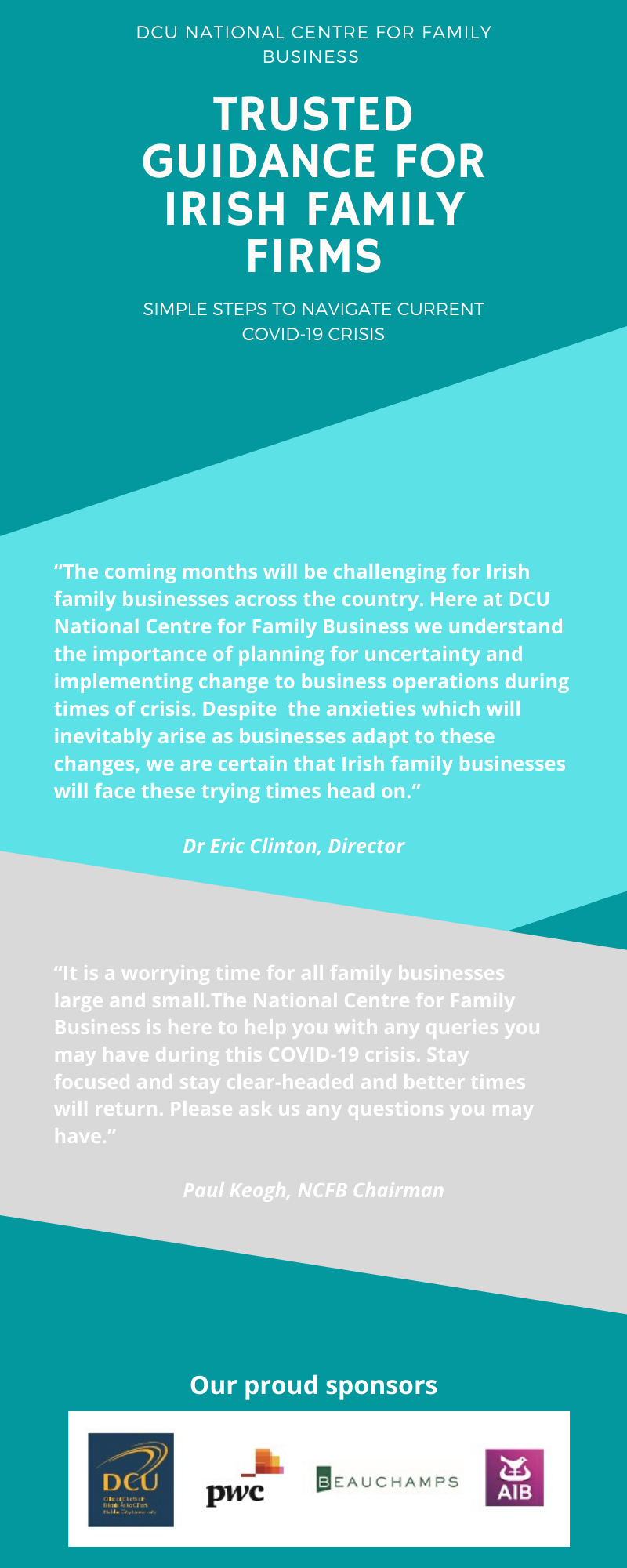 Trusted Guidance for Irish Family Businesses Links: