Office of the Vice-President Academic Affairs
Teaching and Learning
Teaching & Learning at DCU
DCU is distinctive in the learning outcomes of its programmes; these reflect the current needs of enterprises and society while also anticipating the future needs of graduates and employers.
Many of our programmes incorporate work experience opportunities (INTRA), professional placements in education and in the health sciences, or study abroad opportunities, reflecting our belief that these experiences contribute substantially to the learning and work-readiness of our graduates.
Delivery of our programmes staff is supported by the latest teaching technologies and pedagogy. We place a particular emphasis on digital pedagogy to support the learning of our on-campus and remote students.
Academic Development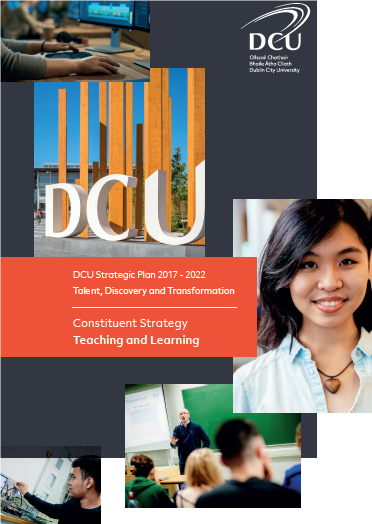 Following from the DCU overall strategic plan Transforming Lives and Societies, our Teaching & Learning Strategy plan has been developed with ambitious Key Performance Indicators and timelines.
Key elements include:
Accredited modules in online teaching and assessment as well as clinics and workshops in digital pedagogy.
Annual and Periodic Programme Review processes
QuEST, our online student feedback mechanism
Roll-out e-portfolios for all students to support their general learning and also their engagement with Generation 21 – DCU's distinctive set of 21

st

century graduate attributes; the first stage will see these offered to all first year students in October 2013.
Programme Chairpersons
Please see the attached list of Chairpersons of Programme Boards 2022/23.
Programme Boards
Programme Boards are responsible to the Faculty Teaching and Learning Committees, and untimately, to Academic Council for the development, regulations and maintenance of the qualilty of DCU programmes within the context of relevant University regulations and guidelines. The Terms of reference of Programme Boards can be viewed here: Programme Boards Terms of Reference.