School of Chemical Sciences
Stories from Our School
Latest News from the School of Chemical Sciences:
Prof. Kellett wins the 2023 President's Award for Research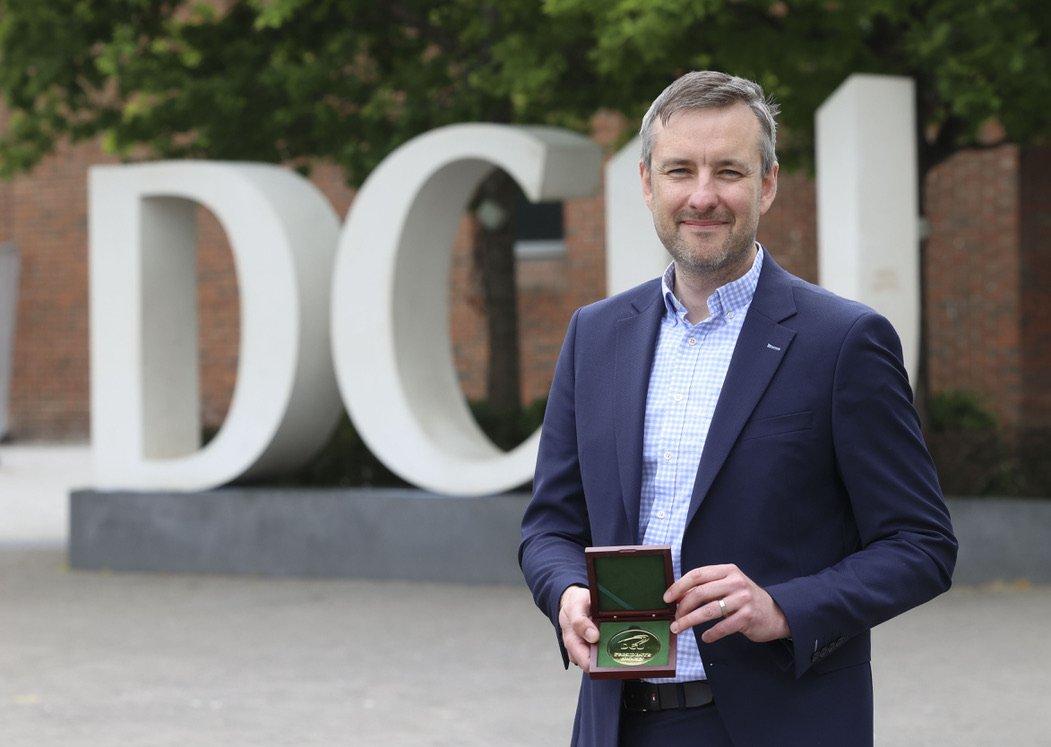 Prof. Andrew Kellett was awarded the 2023 DCU President's Research Medal within the field of "Natural Sciences, Health, Engineering and related areas". Prof. Kellett led multiple research projects spanning chemical sciences and chemical biology.
Prof. Kellett is the co-ordinator of the NATURE-ETN Project which seeks to extend the boundaries of molecular medicine and provide new tools for treating cancer and monogenetic diseases. The network includes ten beneficiaries and seven partner organisations, including nine leading research institutions, five cutting-edge SMEs and three multinationals.
Andrew's work has also been recognised externally with prestigious prizes from Enterprise Ireland and the Science Foundation Ireland Research Centre for Pharmaceuticals.
Recent funding successes for researchers in the school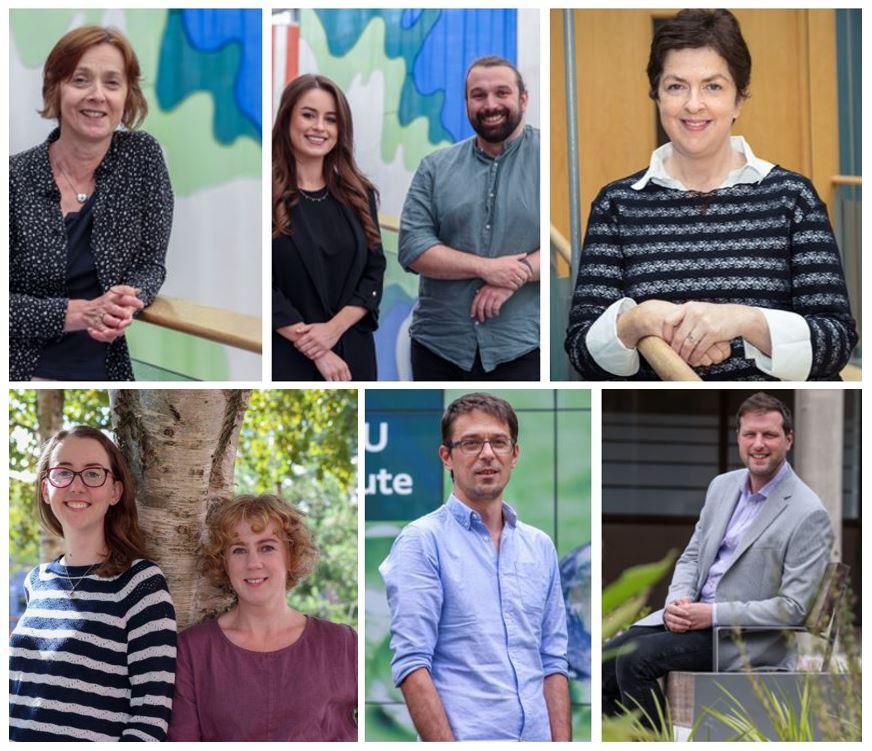 Congratulations to a number of DCU Chemical Sciences researchers who have secured funding totaling €2 million from the Science Foundation National Challenge Fund. These awards will fund research in some of the most challenging and important areas of science, including in the extraction of harmful forever chemicals from the environment to tackling the issue around antimicrobial resistance.
The researchers will now compete to secure further funds in the next round of the call, and each ultimately has the chance to secure the overall Prize Award of €2 million for their project. More information on the research can be found below. 
| | | |
| --- | --- | --- |
| SCS Researcher(s) | Project Title | Link |
| Prof. Mary Pryce | NoHoW-AMR: New One Health One Water technologies to reduce antimicrobial resistance threats by enhanced water disinfection | Link |
| Dr David O Connor  | AGSENSE: Agricultural Fungal Sensing | Link |
| Dr Ruairí Brannigan | LEAFLOCK - Sticky Solutions: The Development and Implementation Sustainable Biostimulant Adhesives for Enhanced Fungicide Delivery to Safeguard Crops | Link |
| Prof. Mary Pryce | H2Glas: Developing more sustainable approaches to green hydrogen production to aid Ireland's energy transition approaching 2050 | Link |
| Dr Susan Kelleher | PUreTex: Creating Polyurethane Insulation from Recycled Textiles | Link |
| Dr Ciprian Briciu-Burgina and Prof. Fiona Regan | RESTART: Provision of microbiological water quality data in a time-frame that enables rapid decision-making and risk mitigation | Link |
| Dr David O Connor | BOHEMIAN: Biological and chemical aerosol monitoring and modelling | Link |
| Dr Ruairí Brannigan | PolyFASt: Revolutionizing Water Purification: An Innovative Filtration-based Approach for the Effective Elimination of Per- and Polyfluoroalkyl Substances (PFAS) | Link |
 The School of Chemical Sciences has two new Professors!
Dr Mary Pryce and Dr Andrew Kellett were recently both promoted to Professor. This is a considerable and much deserved achievement for both.
Prof. Pryce runs a research group in the area of advanced materials for green energy production and antimicrobial applications. More information can be found here.
Prof. Kellett runs a research group in the area of inorganic medicinal chemistry which focuses on anti-cancer therapies. More information can be found here.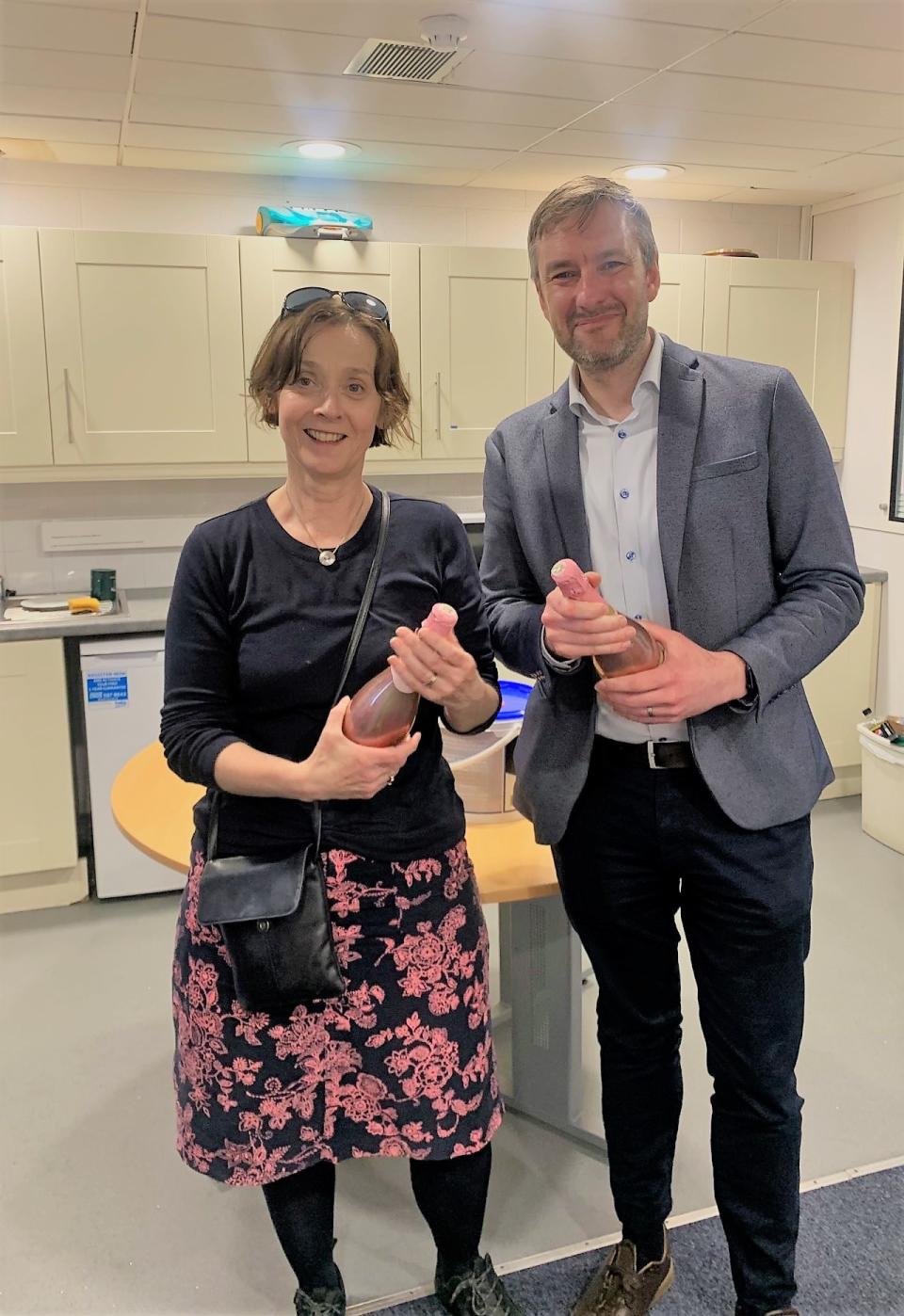 SFI Funding success in for Prof. Robert Forster and Dr Kieran Nolan

Congratulations to Dr Kieran Nolan who has received funding worth €1.039m from the SFI Frontiers Programme for research into producing more temperature stable enzymes, and cheaper, safer, more sustainable drugs and bio-medicines. Congrats also to Prof Robert Forster who has received funding worth €604,000 from the SFI Frontiers Programme for research aimed at harnessing the power of electricity in 'electroceuticals' to better treat diseases. 
We are looking to hire a new Assistant Professor in Chemistry with AI
The School of Chemical Sciences is one of Ireland's most progressive and highest achieving Schools with outstanding facilities, housed within a modern and dynamic city campus. Our goal is to develop graduates with the ability to critically evaluate, and then to solve, chemical and pharmaceutical problems, preparing the highest quality graduates capable of meeting the challenges of modern industry and research. The School is highly successful at attracting large scale research funding, with our researchers having roles within nationally significant university/industry collaborative initiatives and European funded Integrated Training Networks. The School of Chemical Sciences is one of the leading academic schools within DCU. Our programmes include General Entry into Chemistry (CGE), the School's two core undergraduate programmes, namely the BSc in Analytical Science and the BSc in Chemical and Pharmaceutical Sciences, as well as the BSc in Environmental Science & Technology and BSc in Science Education. The School is currently expanding the number of undergraduate degree courses to include Chemistry with Artificial Intelligence (accessed through CGE).
Closing date: 13th June 2023. 
See here for details.
Hay fever treatment 'revolutionised' by new laser technology that allows real-time pollen measurement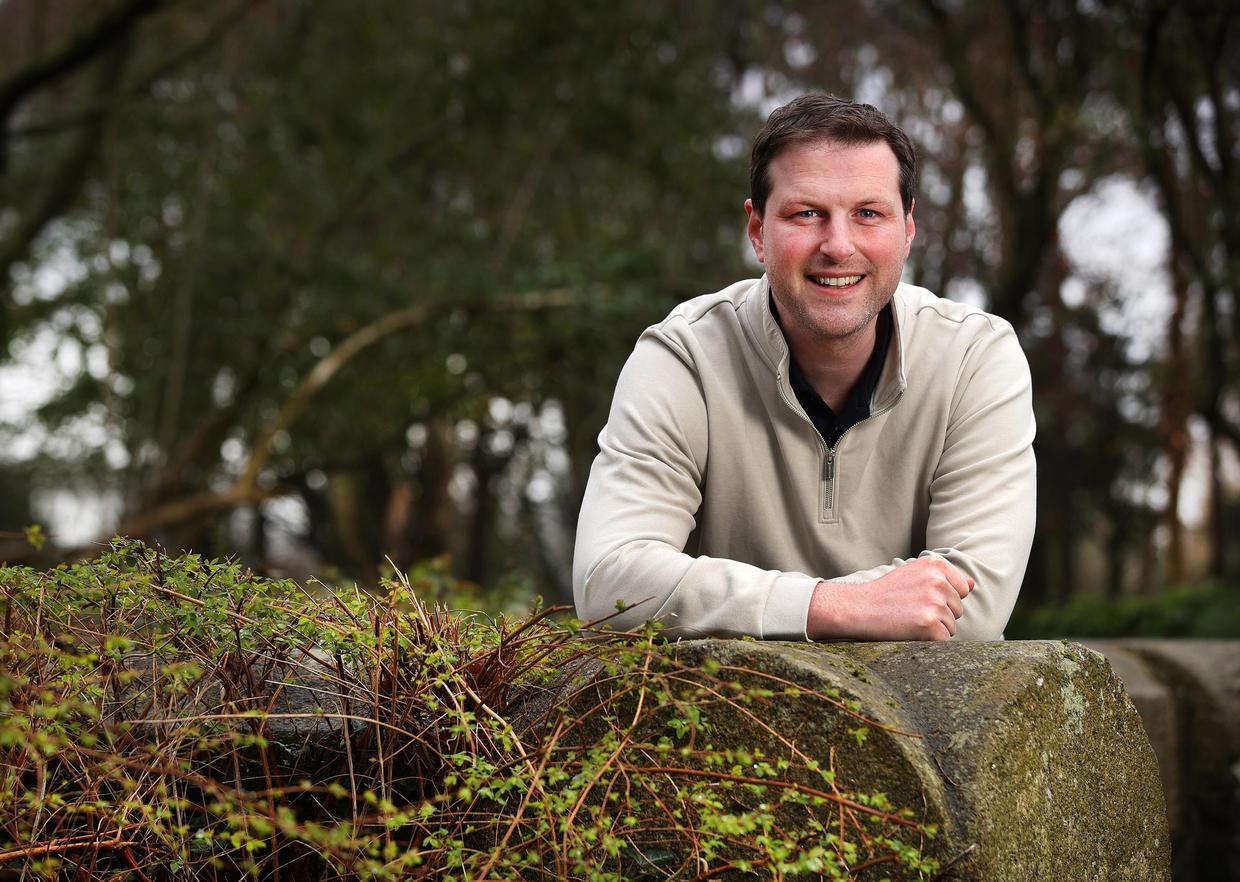 DCU researchers working on understanding how Bull Island acts as a natural carbon sink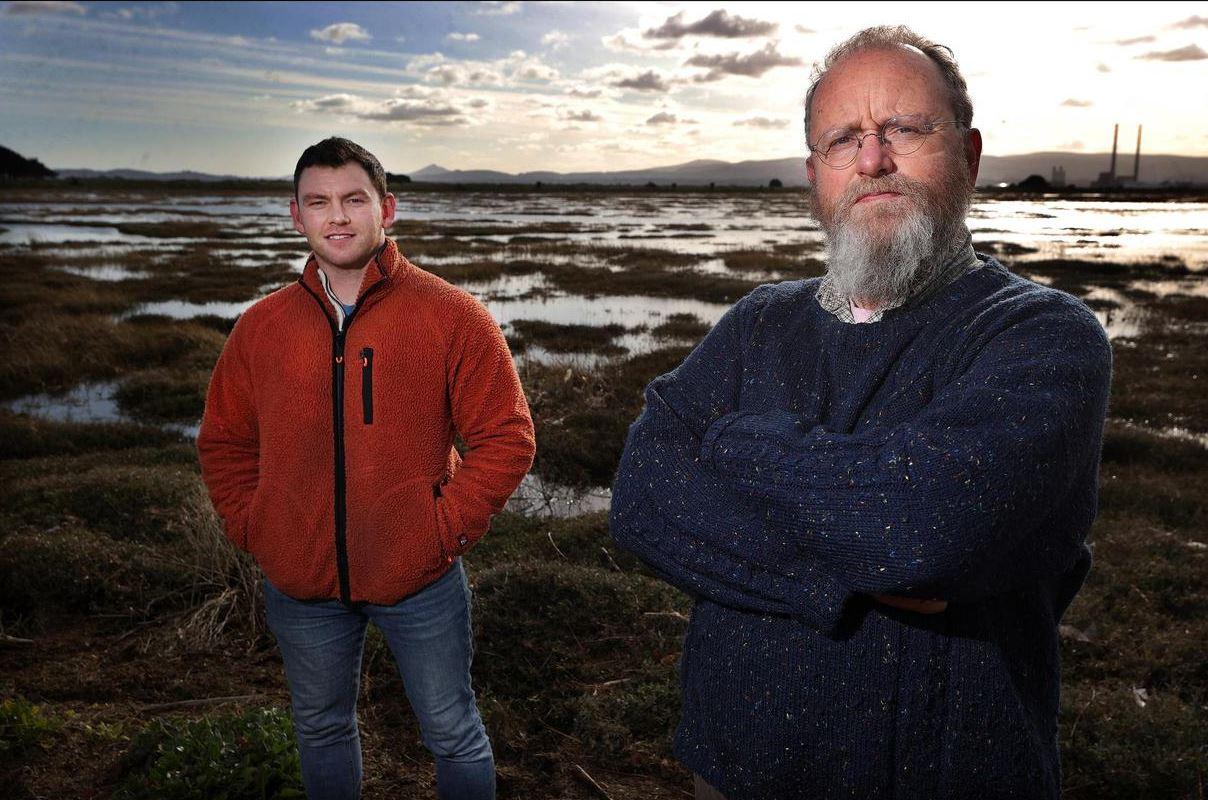 Dublin's Bull Island is a natural 'carbon sink' that could be used as a model for projects to capture greenhouse gases, according to scientists.
Similar locations based on the structure of the island, which was formed by the dredging of Dublin port in the 19th century, could help Ireland meet its climate targets,
"Bull Island is capturing and storing carbon – greenhouse gases – from the atmosphere," said Dr Anthony Grey, a researcher in organic geochemistry at the School of Chemical Sciences in Dublin City University (DCU).
"As well as that benefit, we can see that pollutants such as heavy metals and microplastics are being immobilised around the island, while promoting biodiversity, which is in decline in many places around Ireland."
The use of coastal sediments as carbon sinks could help Ireland meet its net-zero carbon emissions target by 2050. More widely, it offers a natural solution for a global problem, where 40 billion metric tonnes of carbon enters the atmosphere each year.
"The use of offshore, artificially constructed islands similar to Bull Island would be a long-term solution to our greenhouse gas problems," said Dr Brian Kelleher, also of the School of Chemical Sciences at DCU.
"This is a natural solution to the greenhouse gas problem and more workable than many of the engineering solutions that are out there, such as underground storage.
"The potential is there, we believe, for this approach to have a big impact."
Engineers understand what led to the creation of Bull Island during the dredging of Dublin port, which had silting issues.
This knowledge means these processes could be replicated around the coast, to create new islands in areas threatened by coastal erosion and sea-level rises.
"Sediment, in theory, could be diverted to the areas of most need," said Dr Kelleher. "Of course there may be impacts on ecosystems that we can't envisage in advance, but that risk should be balanced against the likely benefits to biodiversity, which we have seen at Bull Island."
The full story can be seen here: https://www.independent.ie/news/environment/bull-island-could-hold-the-solution-to-ireland-meeting-net-zero-climate-emissions-target-42357029.html
Samples made in School of Chemical Sciences lab aboard new lunar rover that has launched for the moon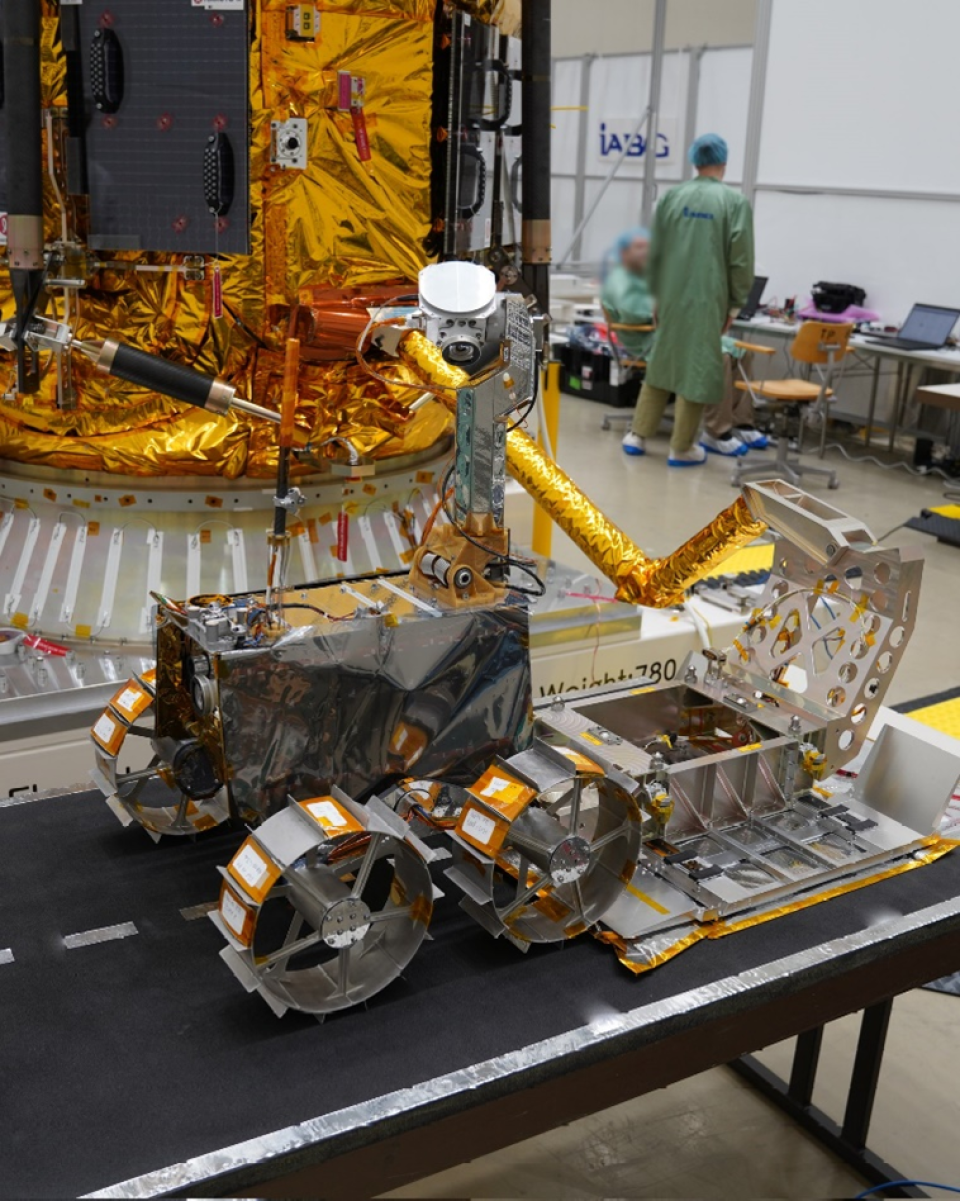 Polymer and metal samples developed in Dr Susan Kelleher's lab at in the School of Chemical Sciences in DCU were launched for the moon aboard a new lunar rover to study the way moon dust sticks to different surfaces. 
These samples were produced in the School of Chemical Sciences and prepared by Dr Kelleher, and three members of her team - Dr Graham Reid, Dr James McCormack, and Dr Jessica McFadden. They are affixed to the wheel of the Rashid Lunar Rover, designed and constructed by engineers and scientists at the Mohammed bin Rashid Space Centre (MBRSC) in the United Arab Emirates. The Rashid Rover will be brought to the moon aboard the HAKUTO-R Mission 1 lunar lander, produced by Japanese space exploration company iSpace as part of their first mission to the moon.    
The project is part of a collaboration between Dr Kelleher, who works on producing nano- and micro patterned/structured surfaces at DCU, and Dr Aidan Cowley in the European Astronaut Centre in the European Space Agency (ESA), who have partnered with the MBRSC to develop samples of interest.
The aim of the mission is to study the adhesion of regolith (moon dust) onto different surfaces using a high resolution camera to gain an understanding on how it can be reduced. Moon dust is very sharp, dry and fine, and difficult to reproduce on Earth. It can interfere with electronics and how gaskets and seals work, and can be abrasive. 
Eight sample surfaces, a combination of polymer and metal samples with micro- and nano-scale patterns on their surface as well as unpatterned control samples, were prepared for the lunar rover in the labs at DCU last year with the help of funding from both Science Foundation Ireland and the Irish Research Council. After testing to ensure they can withstand harsh launch conditions, the samples were launched to the moon aboard a SpaceX Falcon 9 rocket scheduled on December 11th from Cape Canaveral Space Force Station, Florida.
Dr Peter Byrne speaks at the School seminar series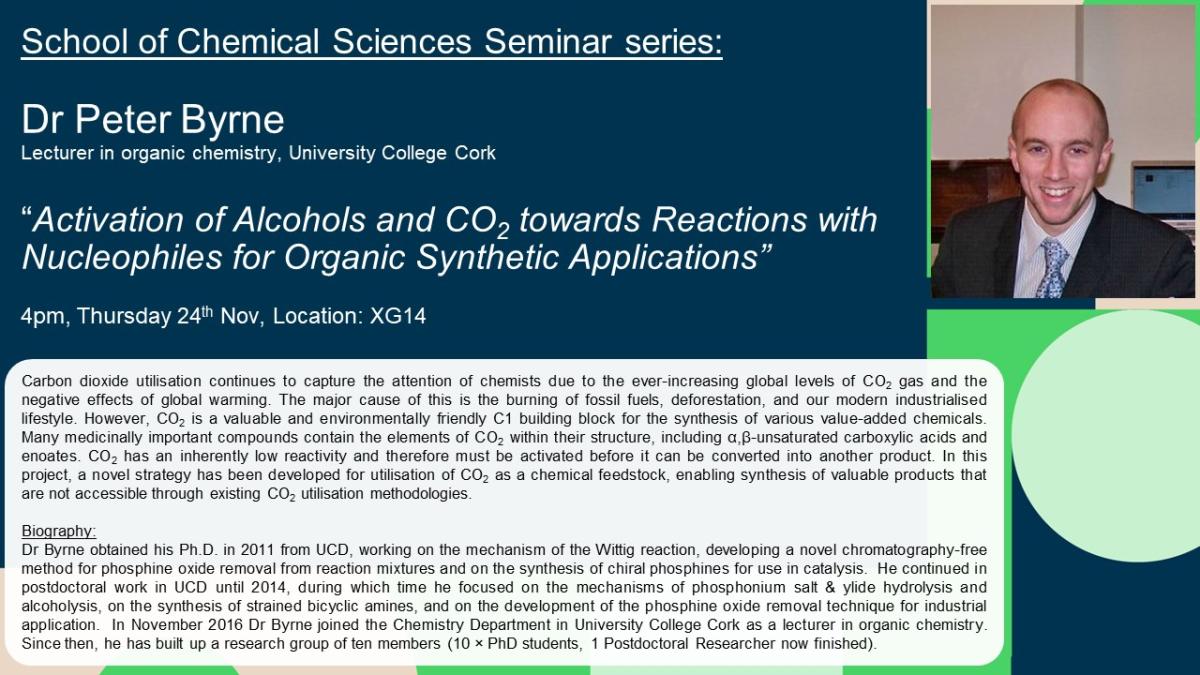 School of Chemical Science Researchers win major Challenge Funding from Science Foundation Ireland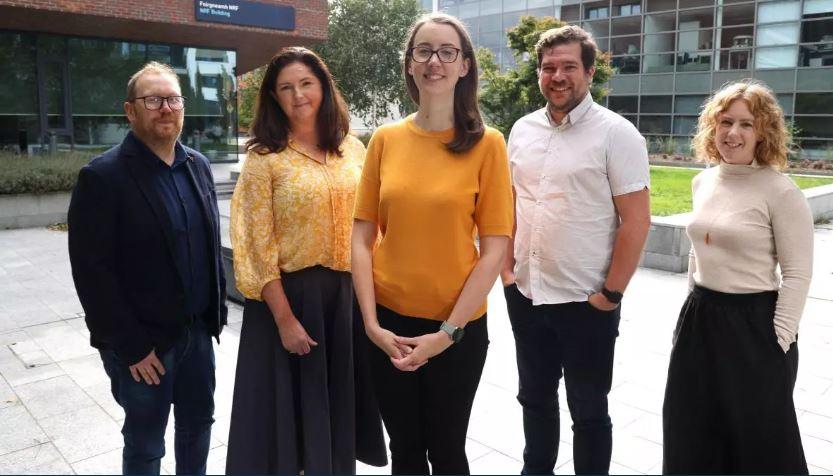 The Grain-4-Lab team were awarded €2.4m in funding for their proposed solution to two different sustainability challenges. 
The project, undertaken by Dr. Jennifer Gaughran (DCU Physical Sciences), Dr. Brian Freeland (DCU Biotechnology), Ms Samantha Fahy (DCU Sustainability), Dr. Susan Kelleher (DCU Chemical Sciences) and Dr. Keith Rochfort (DCU Nursing, Psychotherapy and Community Health), was selected as the front runner of the Challenge and is developing a solution to tackle sustainability challenges in plastic usage in Irish research laboratories by using waste produced from the brewing and distilling industry in Ireland. The research team has been working in partnership with organisations such as Waterford Distillery, Murphy & Son, Smallwares and Key Plastics to develop, test and trial the solution.
The award was announced today, October 5th, by the Minister for Further and Higher Education, Research, Innovation and Science, Simon Harris TD. Speaking about the prize, the minister said:
"I am delighted to announce Grain-4-Lab as the winner of this year's Plastic Challenge as part of the SFI Future Innovator Prize. I want to congratulate the team - Dr. Jennifer Gaughran, Dr. Brian Freeland, Ms Samantha Fahy, Dr. Susan Kelleher and Dr. Keith Rochfort from Dublin City University - for their leadership.
The project is aimed at developing a solution to tackle plastic usage in Irish research laboratories by using waste produced from the brewing and distilling industry in Ireland. The Grain-4-Lab team will work towards reducing plastic waste within our labs and our colleges. This is the leadership we need to help us meet our climate targets – innovative solutions and dynamic leadership."
Find out more about the Grain-4-Lab project here. 
Prof. Rick Relyea speaks at the School seminar series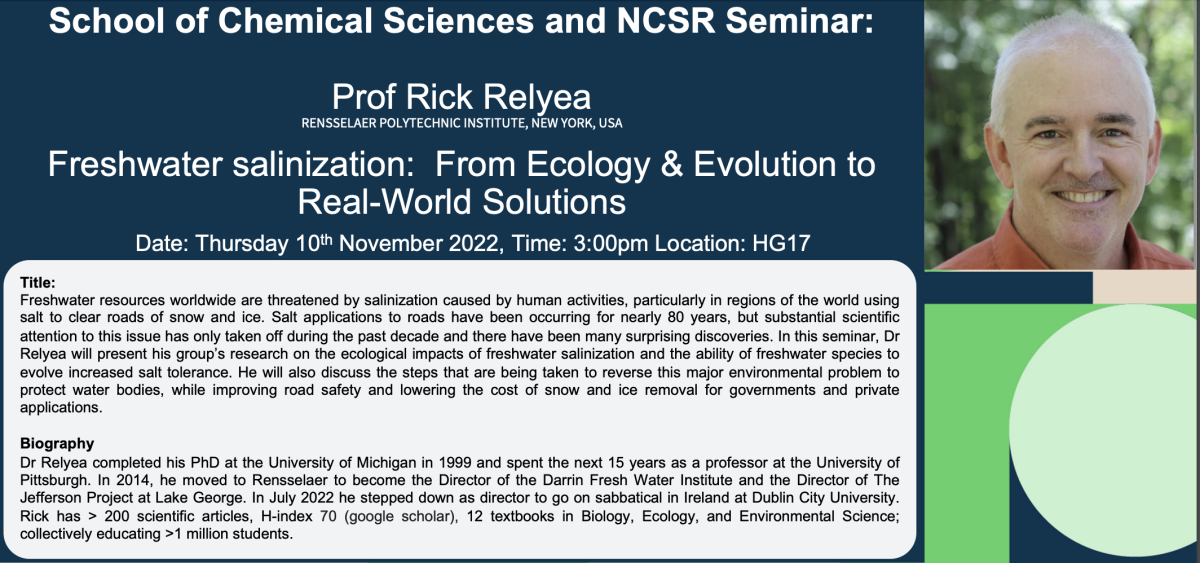 Prof. George Christou from University of Florida speaks at the school seminar series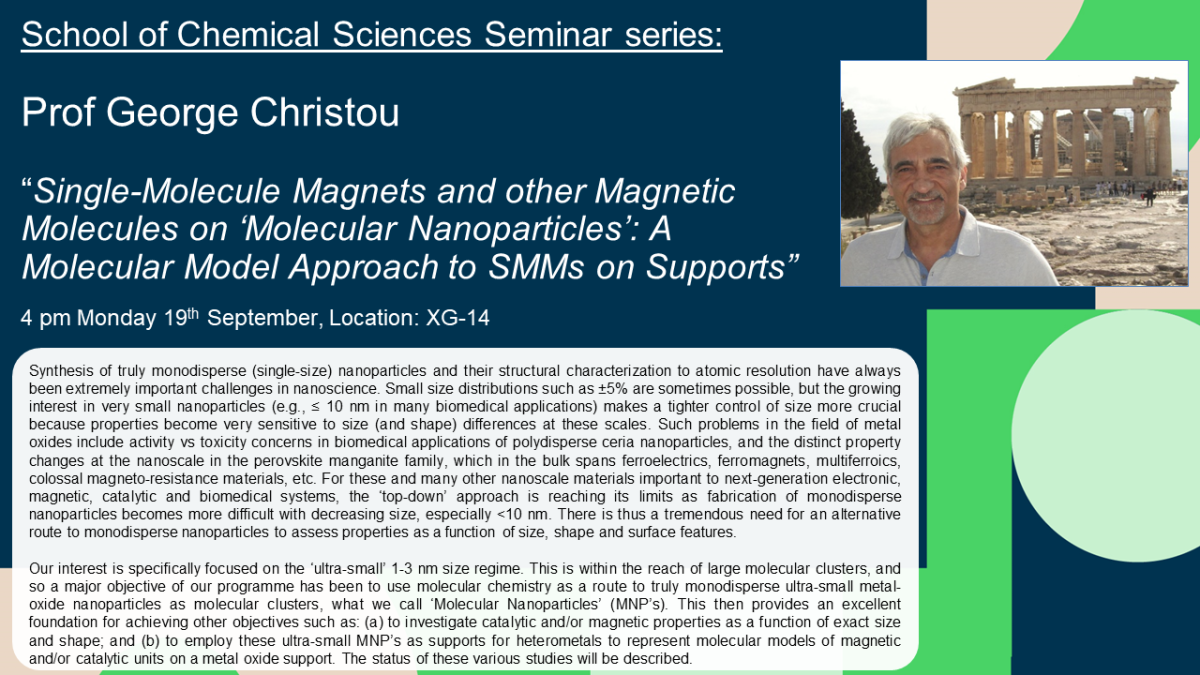 DCU PI named SSPC Researcher of the Year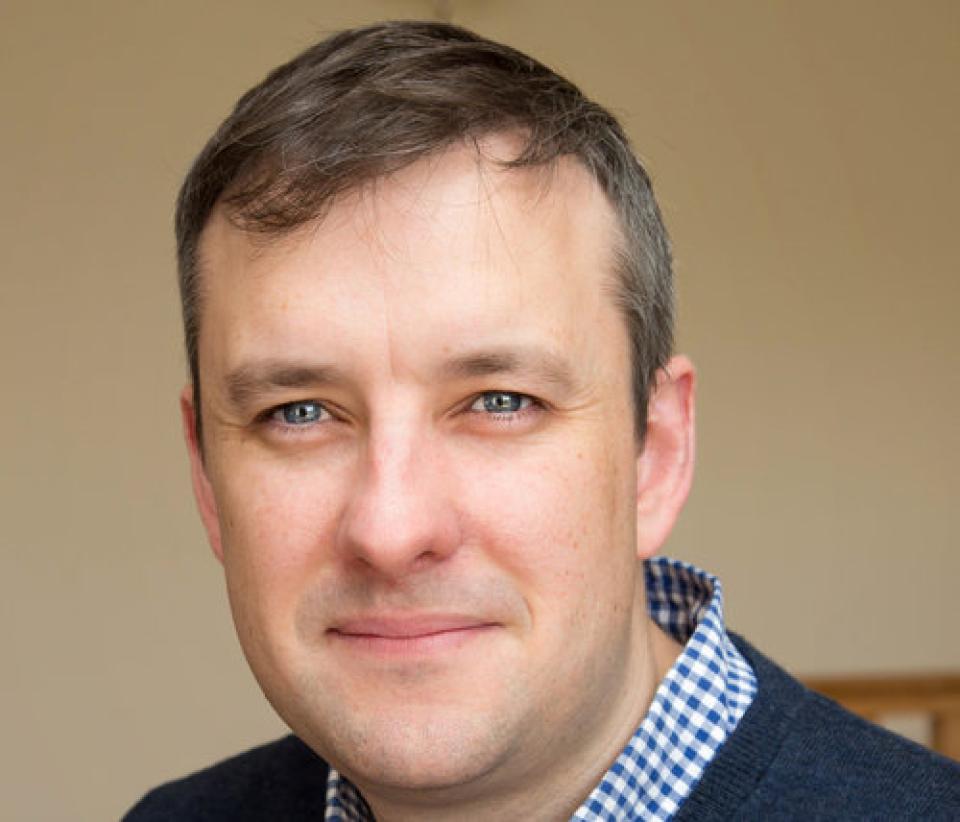 We are delighted to hear that Dr Andrew Kellett from DCU School of Chemical Sciences was named at the Solid State and Pharmaceutical Cluster (SSPC) Researcher of the Year for 2022. The SSPC is Science Foundation Ireland's Research Centre for Pharmaceuticals, where Dr Kellett is a Funded Investigator. 
Dr Kellett is Associate Professor of Inorganic and Medicinal Chemistry and leads a diverse research group in the area of inorganic medicinal chemistry, with a focus on discovery of metallodrug-nucleic acid interactions for biochemical and therapeutic application. He completed his B.Sc. in chemistry from NUI Maynooth, received his PhD under the guidance of Prof. Michael Devereux and Dr. Maureen Walsh in 2007 from the Dublin Institute of Technology, and was then appointed as A.F. Graves Postdoctoral Fellow at the Focas Research Institute from 2008 - 2011. In 2011 he joined DCU as lecturer of Inorganic Chemistry, in 2014 moved to lecturer of Inorganic and Medicinal Chemistry and was appointed to Associate Professor in 2017.
You can read more about the work of Dr Kellett and his team here.
Dr Brian Kelleher secures €1 million in research funding as part of Marine  Institutes Blue Carbon Call

Dr Brian Kelleher from the School of Chemical Sciences in DCU has secured €1 million in funding for the Quest project, in collaboration with Dr Mark Coughlan in University College Dublin. Dr Kelleher and Dr Coughlan will lead the Quest project, supported by Dr Mike Long at UCD, Dr Anthony Grey at DCU and Dr Markus Diesing at the Geological Survey of Norway (NGU). They will work closely with Dr Grace Cott from University College Dublin who is team lead of the Blue C project.
The Quest project team is an international collaboration and will conduct a multidisciplinary programme of research to qualify and quantify stocks of carbon in Irish marine sediments, examine and characterise threats to Blue Carbon in these settings and support the development of long-term management strategies. This will include supporting the designation of Marine Protected Areas and facilitate the delivery of the Government's Climate Action Plan. The Quest project also intends to engage with stakeholders and the public to achieve a better understanding of Blue Carbon across society, and to raise the visibility of such research at a national and EU level.
Dr Kelleher's research interests include the molecular characterisation of natural organic matter and influence on carbon/nitrogen cycling; the growth mechanisms of marine gas hydrates and potential for growth off the west coast of Ireland; marine sediment organo-mineral characteristics as an indication of hydrocarbon presence; and the isolation and structural elucidation of novel compounds from natural organic matter. He is a funded investigator in the SFI Research Centre for Applied Geosciences. 
We are delighted to announce that the  School will host a special seminar by Dr Raul Arenal from the Institute of Nanoscience and Materials, Zaragoza, Spain at 3.00 pm, Wednesday, 20th April, 2022. HIs talk is entitled "Hybrid Low Dimensional Materials: Structural and Local Spectroscopic Studies via TEM" and will take place in HG22 in the Nursing Building in DCU. Details on the speaker can be found below.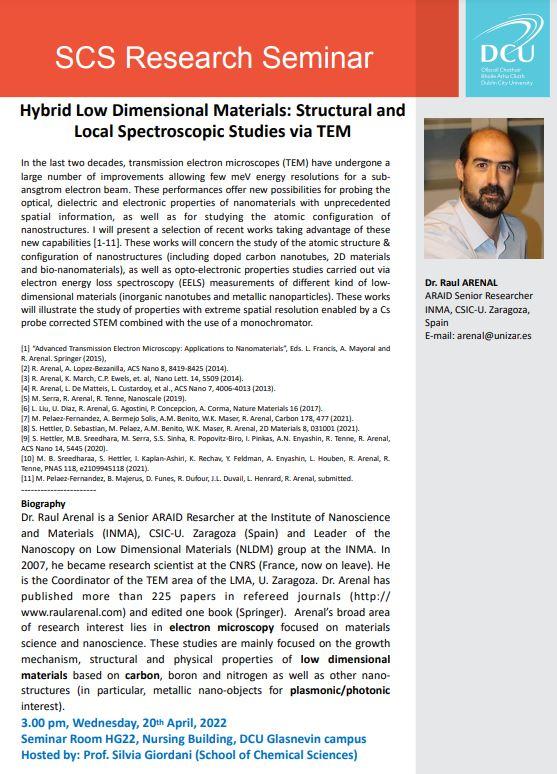 International Women's Day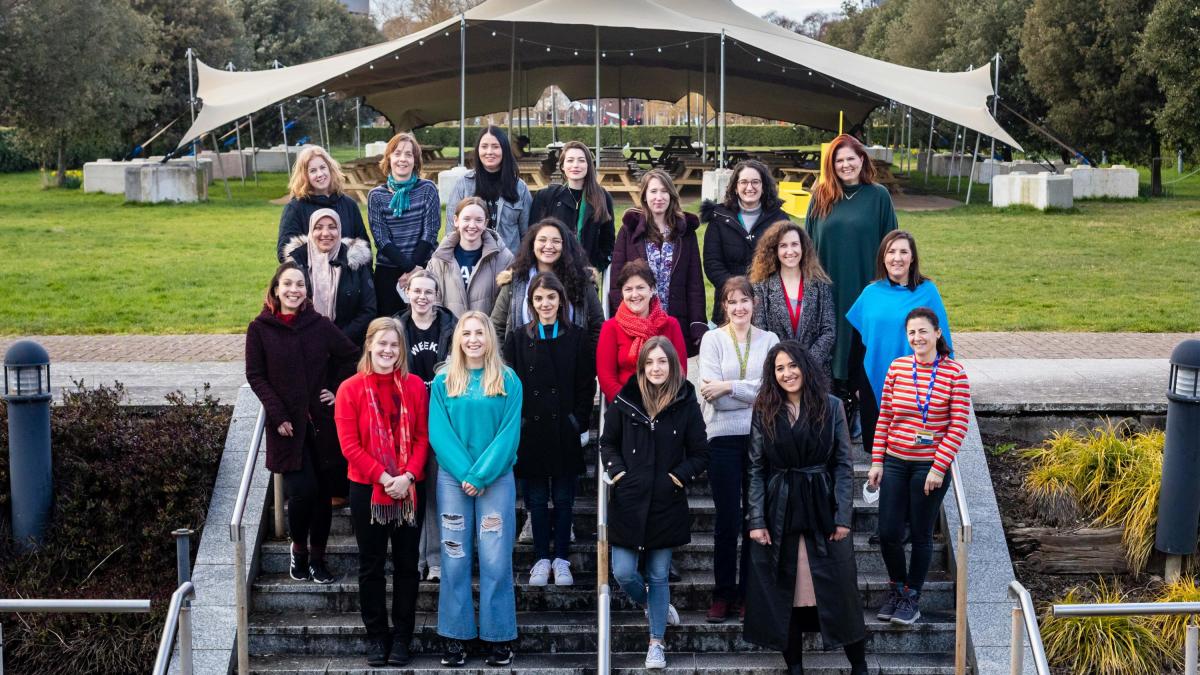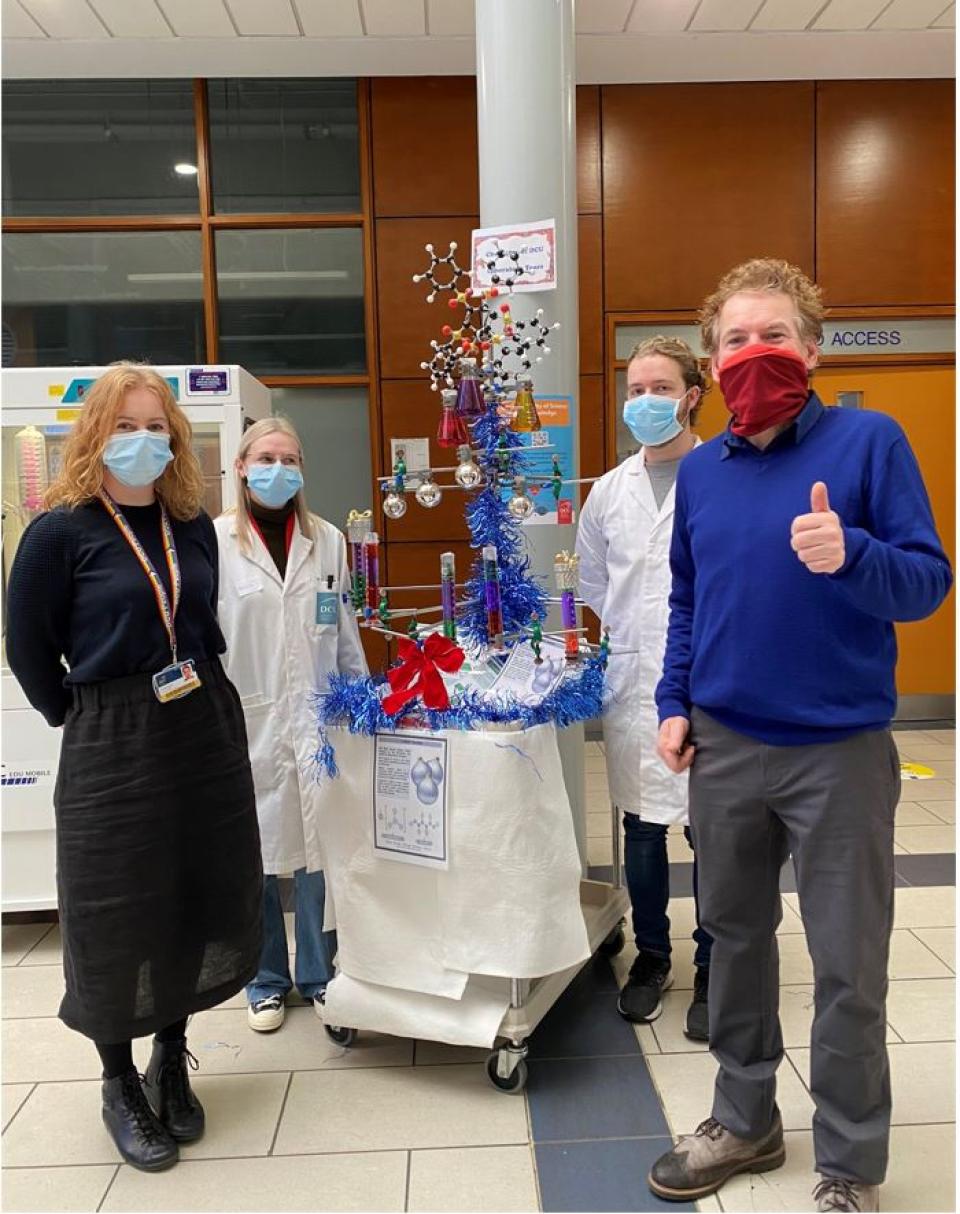 The School of Chemical Sciences welcomed the public to our stand at the DCU Open Day 2021. It was great to meet people in person and tell them all about the programmes here in DCU. Dr Susan Kelleher, Dr Pat O Malley, Dr Ruairi Brannigan, and Dr John Gallagher all gave talks introducing DCU and the School to students and their parents. Postgraduates from the school demonstrated "puddle chemistry" experiments and a "Careers in Chemistry" display was on show. Getting us into the festive spirit, the technical team but together a fantastic "ChemisTree" featuring colourful compounds and solutions which wowed passers by.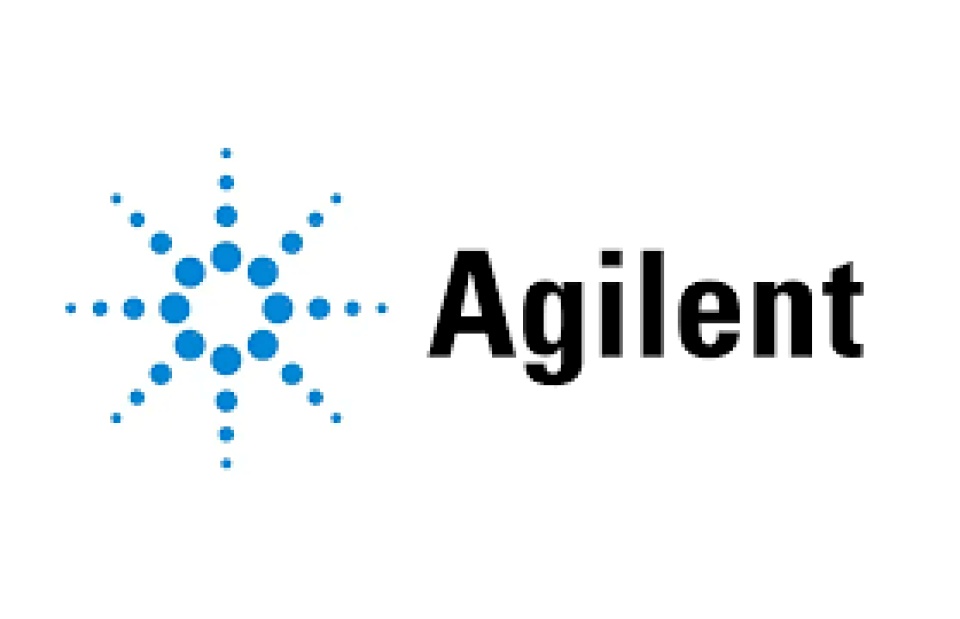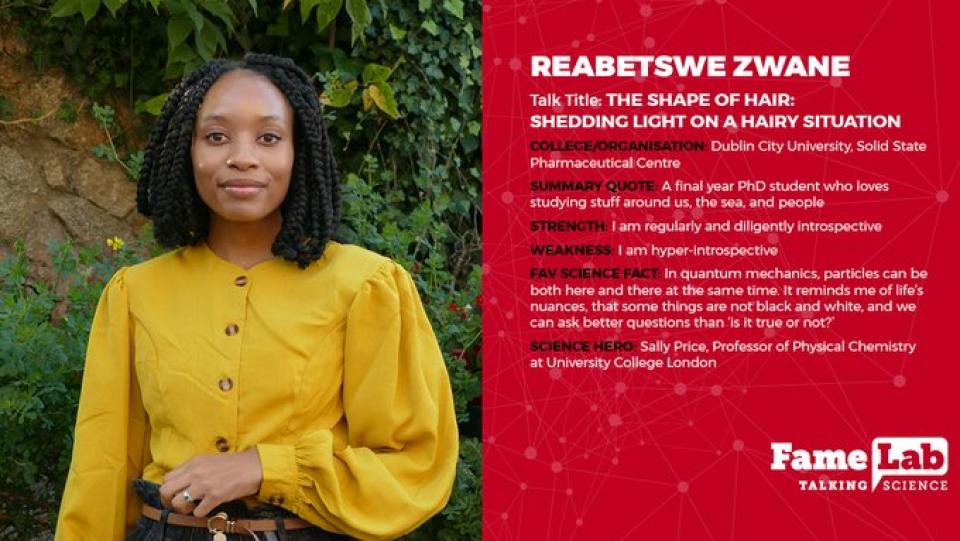 Congratulations to Reabetswe Zwane for an excellent talk at the FameLab 2021 final. Reabetswe is currently completing her PhD with Dr Anthony Reilly in the School of Chemical Sciences, and is funded by the SFI research centre, SSPC. Her talk, entitled The Shape of Hair: Shedding Light on a Hairy Situation, outlined her interest in the scientific material properties of hair!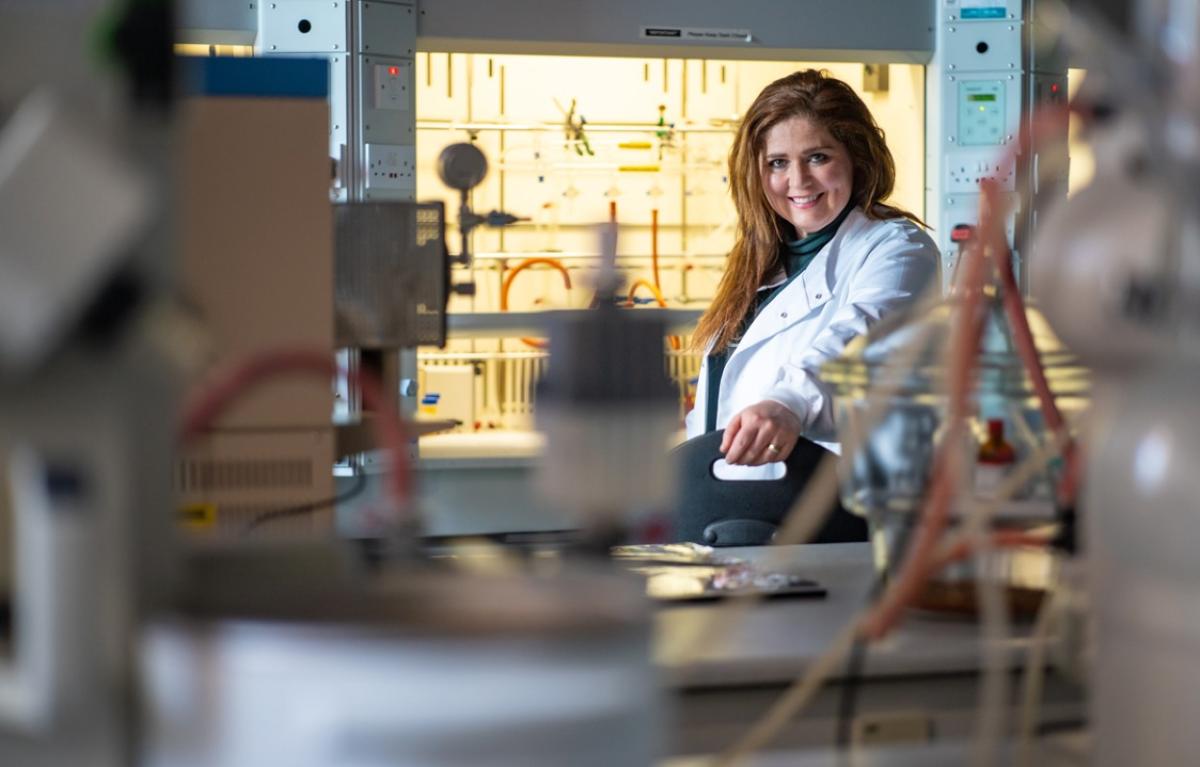 Designing nano-sized chemotherapy
Check out Professor Silvia Giordani's "Where I Work" feature recently published in Nature. Silvia is Chair of Nanomaterials and the Head of School and in this interview discusses why nanoparticles carrying chemotherapeutic drugs could help people with cancer escape some of the drugs' side effects.