School of Chemical Sciences
Stories from Our School
Latest News from the School of Chemical Sciences:
Prof. George Christou from University of Florida speaks at the school seminar series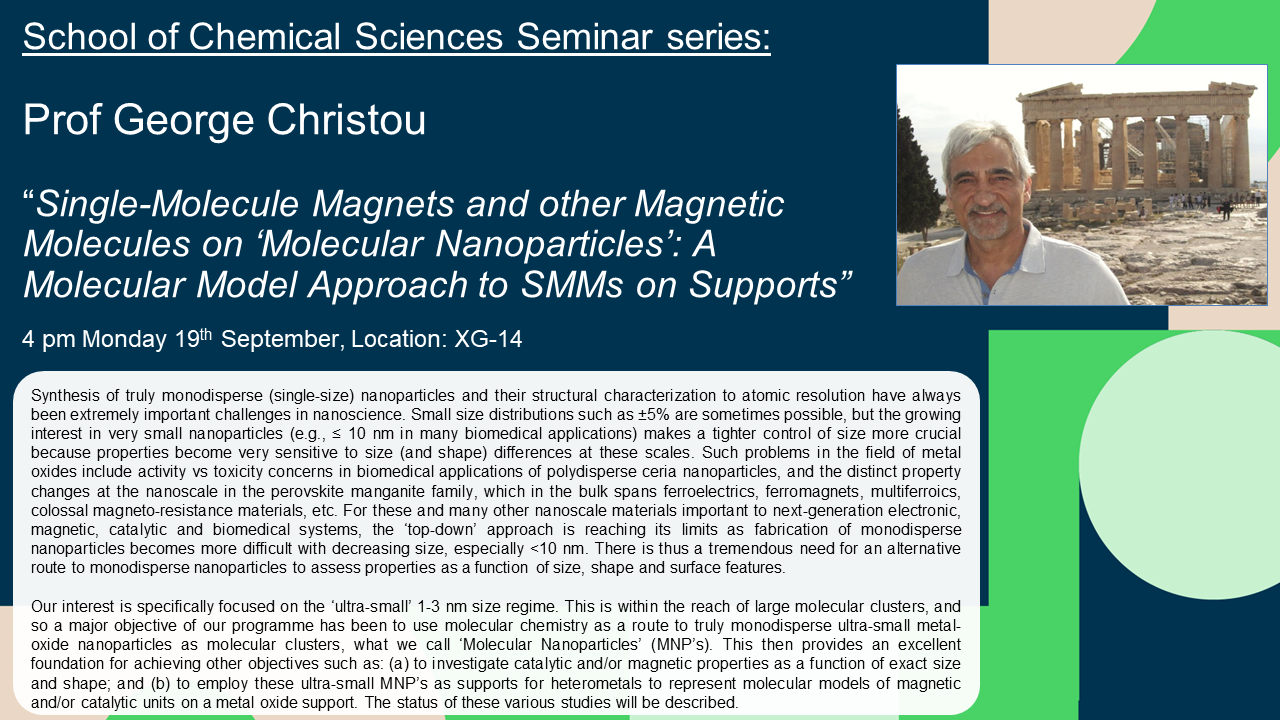 DCU PI named SSPC Researcher of the Year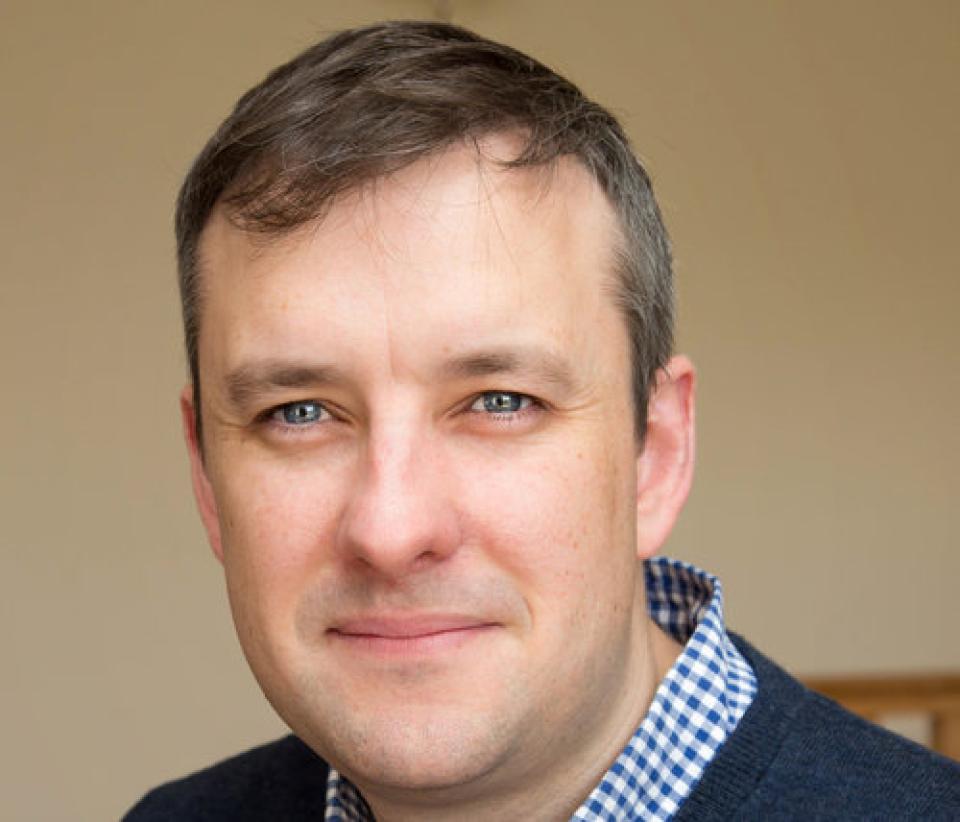 We are delighted to hear that Dr Andrew Kellett from DCU School of Chemical Sciences was named at the Solid State and Pharmaceutical Cluster (SSPC) Researcher of the Year for 2022. The SSPC is Science Foundation Ireland's Research Centre for Pharmaceuticals, where Dr Kellett is a Funded Investigator. 
Dr Kellett is Associate Professor of Inorganic and Medicinal Chemistry and leads a diverse research group in the area of inorganic medicinal chemistry, with a focus on discovery of metallodrug-nucleic acid interactions for biochemical and therapeutic application. He completed his B.Sc. in chemistry from NUI Maynooth, received his PhD under the guidance of Prof. Michael Devereux and Dr. Maureen Walsh in 2007 from the Dublin Institute of Technology, and was then appointed as A.F. Graves Postdoctoral Fellow at the Focas Research Institute from 2008 - 2011. In 2011 he joined DCU as lecturer of Inorganic Chemistry, in 2014 moved to lecturer of Inorganic and Medicinal Chemistry and was appointed to Associate Professor in 2017.
You can read more about the work of Dr Kellett and his team here.
Dr Brian Kelleher secures €1 million in research funding as part of Marine  Institutes Blue Carbon Call

Dr Brian Kelleher from the School of Chemical Sciences in DCU has secured €1 million in funding for the Quest project, in collaboration with Dr Mark Coughlan in University College Dublin. Dr Kelleher and Dr Coughlan will lead the Quest project, supported by Dr Mike Long at UCD, Dr Anthony Grey at DCU and Dr Markus Diesing at the Geological Survey of Norway (NGU). They will work closely with Dr Grace Cott from University College Dublin who is team lead of the Blue C project.
The Quest project team is an international collaboration and will conduct a multidisciplinary programme of research to qualify and quantify stocks of carbon in Irish marine sediments, examine and characterise threats to Blue Carbon in these settings and support the development of long-term management strategies. This will include supporting the designation of Marine Protected Areas and facilitate the delivery of the Government's Climate Action Plan. The Quest project also intends to engage with stakeholders and the public to achieve a better understanding of Blue Carbon across society, and to raise the visibility of such research at a national and EU level.
Dr Kelleher's research interests include the molecular characterisation of natural organic matter and influence on carbon/nitrogen cycling; the growth mechanisms of marine gas hydrates and potential for growth off the west coast of Ireland; marine sediment organo-mineral characteristics as an indication of hydrocarbon presence; and the isolation and structural elucidation of novel compounds from natural organic matter. He is a funded investigator in the SFI Research Centre for Applied Geosciences. 
We are delighted to announce that the  School will host a special seminar by Dr Raul Arenal from the Institute of Nanoscience and Materials, Zaragoza, Spain at 3.00 pm, Wednesday, 20th April, 2022. HIs talk is entitled "Hybrid Low Dimensional Materials: Structural and Local Spectroscopic Studies via TEM" and will take place in HG22 in the Nursing Building in DCU. Details on the speaker can be found below.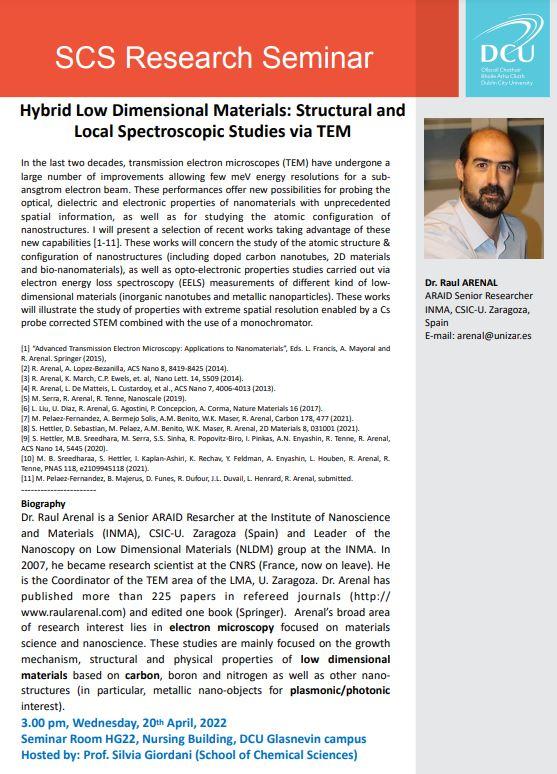 International Women's Day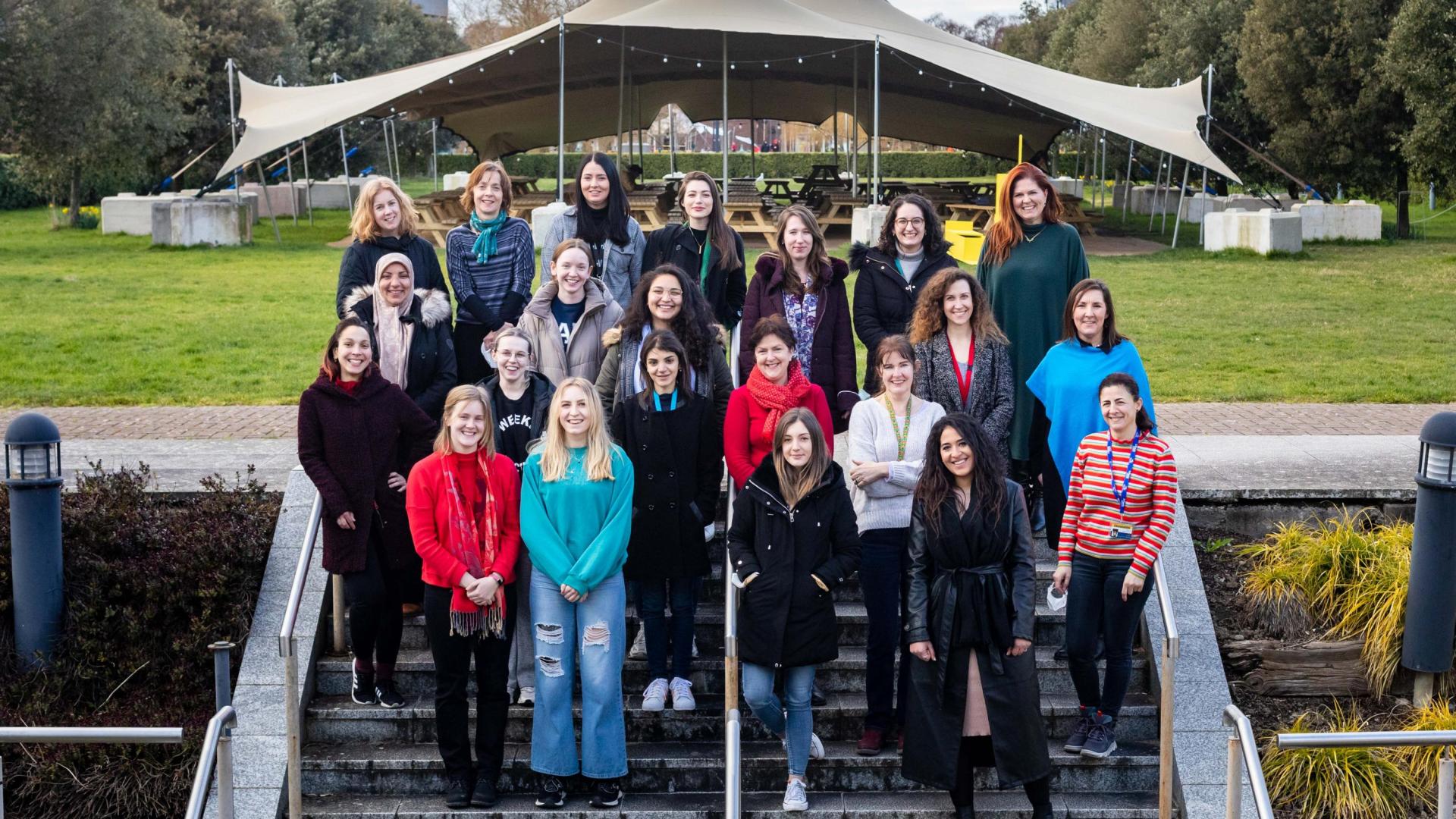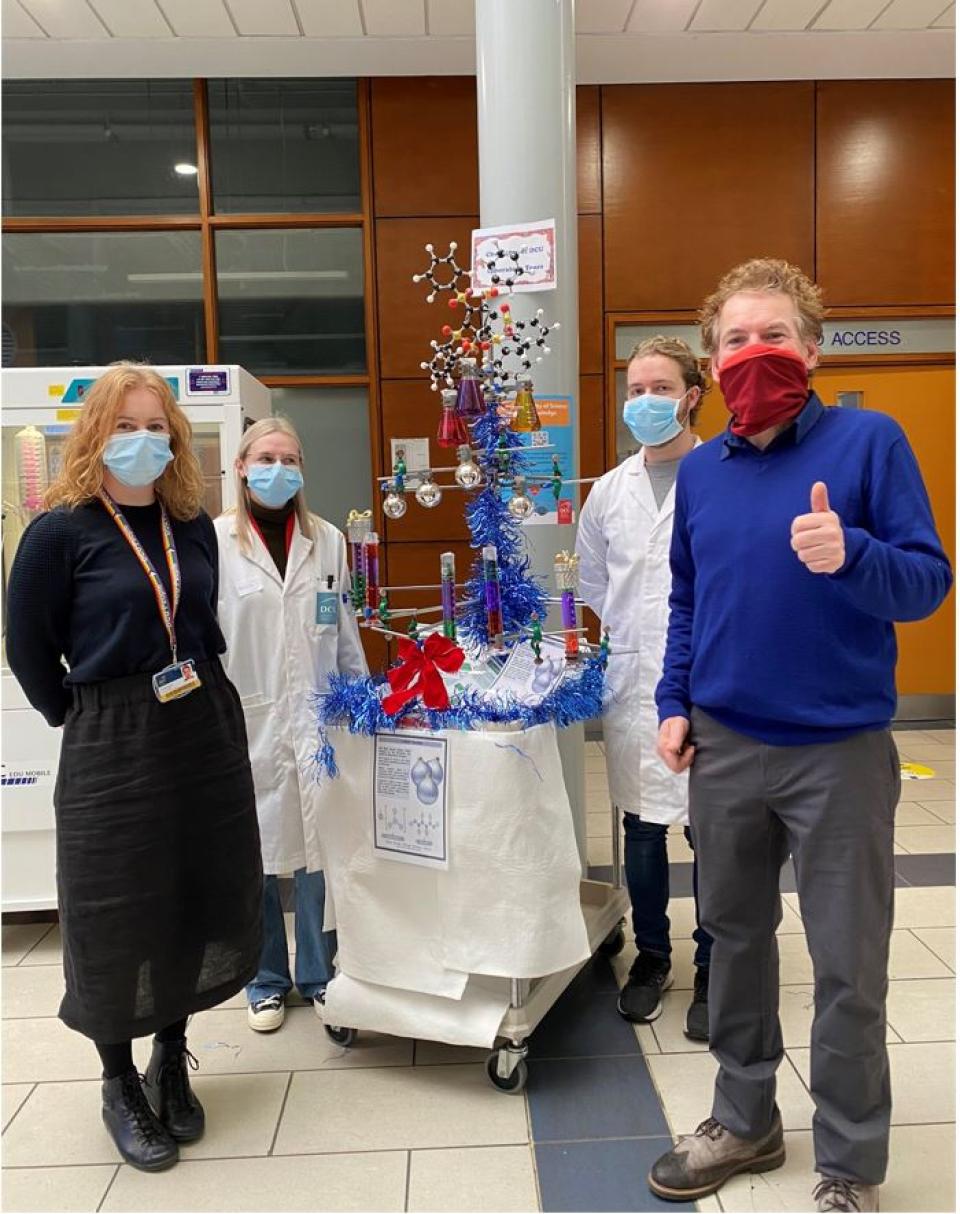 The School of Chemical Sciences welcomed the public to our stand at the DCU Open Day 2021. It was great to meet people in person and tell them all about the programmes here in DCU. Dr Susan Kelleher, Dr Pat O Malley, Dr Ruairi Brannigan, and Dr John Gallagher all gave talks introducing DCU and the School to students and their parents. Postgraduates from the school demonstrated "puddle chemistry" experiments and a "Careers in Chemistry" display was on show. Getting us into the festive spirit, the technical team but together a fantastic "ChemisTree" featuring colourful compounds and solutions which wowed passers by.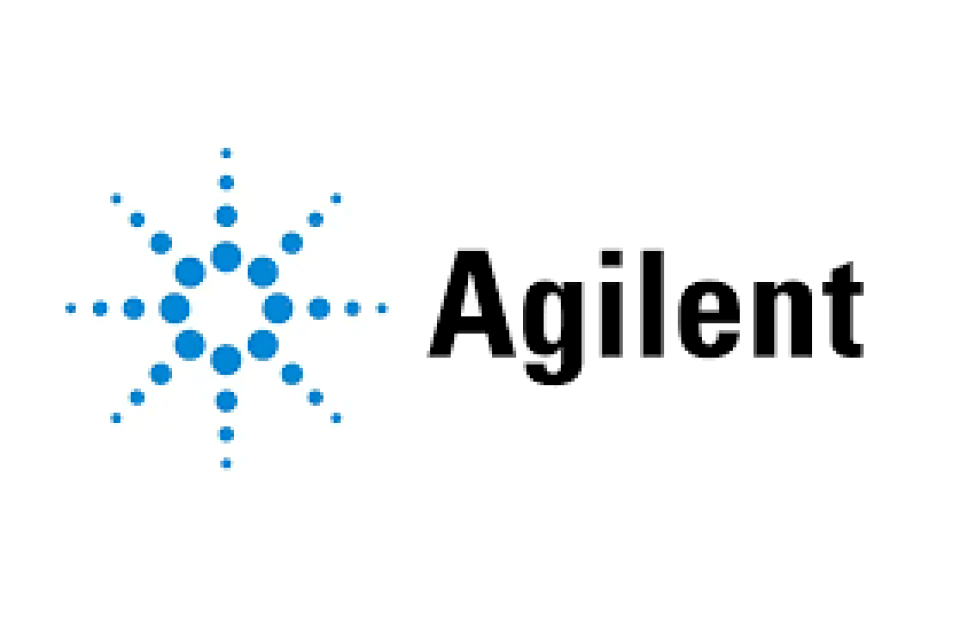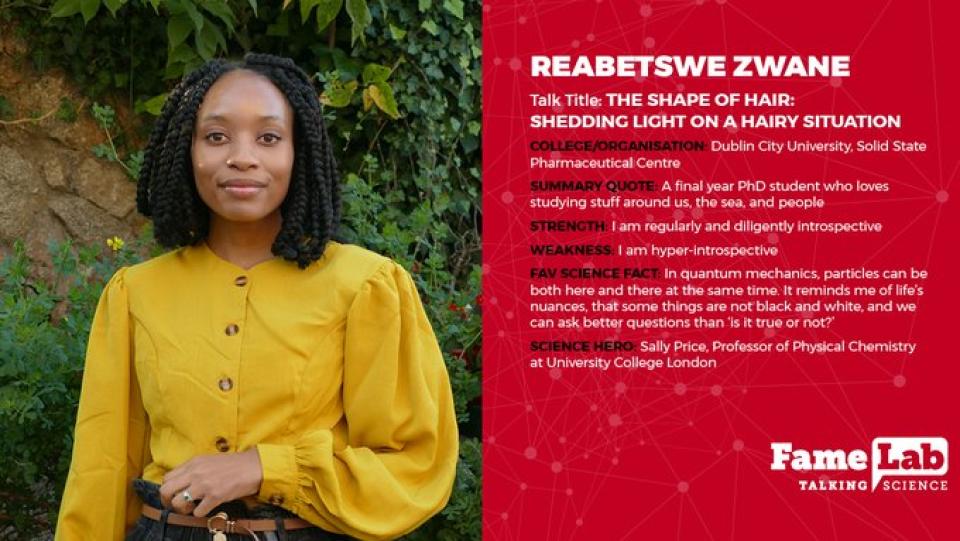 Congratulations to Reabetswe Zwane for an excellent talk at the FameLab 2021 final. Reabetswe is currently completing her PhD with Dr Anthony Reilly in the School of Chemical Sciences, and is funded by the SFI research centre, SSPC. Her talk, entitled The Shape of Hair: Shedding Light on a Hairy Situation, outlined her interest in the scientific material properties of hair!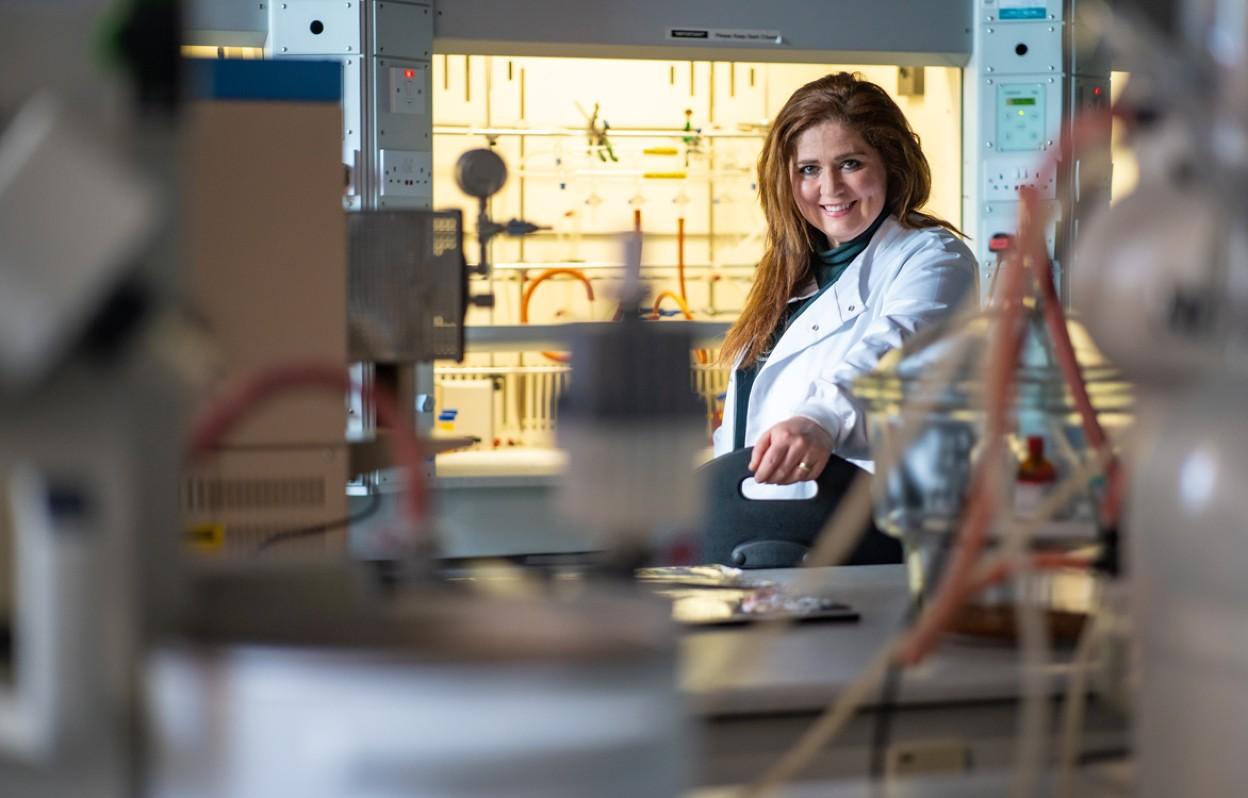 Designing nano-sized chemotherapy
Check out Professor Silvia Giordani's "Where I Work" feature recently published in Nature. Silvia is Chair of Nanomaterials and the Head of School and in this interview discusses why nanoparticles carrying chemotherapeutic drugs could help people with cancer escape some of the drugs' side effects.