Graduate Diploma in Inclusive and Special Education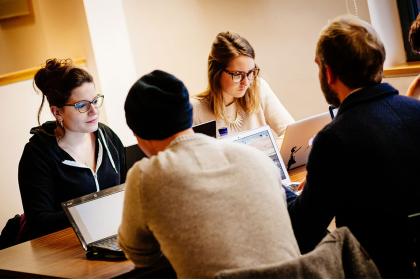 Course Type:
Postgraduate

+353 (0) 1
700 9062

ioe.ise@dcu.ie
The Online Application Form for the Graduate Diploma in Inclusive and Special Education (GDISE), formerly known as the Graduate Diploma in Inclusive Education, Learning Support and Special Education (GDILS), is open until 5pm Friday the 24th of March 2023. The 0013/2023 DE Circular outlines eligibility requirements and application details for the next academic year.
In 2023-2024, the course will be offered in a blended approach, with a mix of online and on campus days in St Patricks College, DCU, totalling eight weeks of block release from school. Full substitution is provided by the DE.
This programme has been offered by the Institute of Education, DCU since September 2016. It combines two well-established graduate diploma courses that were offered previously at St. Patrick's College, Drumcondra and the Church of Ireland College of Education, Rathmines.
The programme is open to primary and post-primary teachers who are employed in a position that is funded by the Department of Education and who provide Special Education Teaching in recognised primary schools, post-primary schools, and in other recognised educational services. Teachers serving in special schools and special classes are also eligible to apply.
The programme provides a qualification that is recognised by the Department of Education for teachers working in the areas of inclusive education, special education and learning support who work in the following roles: Special Education Teacher, Teacher in a Special School, Teacher in a Special Class.
Funding for the course is provided by the DE. This means that for teachers who are eligible:
No fees or registration charges will apply to participants.
They will continue to receive their salary in the usual way during their participation.
Substitution will be provided by the DE to the schools in which they work, to cover their attendance at lectures and seminars during school hours.
There are no formal written examinations involved in the course. Participants will be assessed on the basis of full attendance at the programme venue, engagement with course content and activities, successful completion of selected tasks and written assignments and supervision of work in schools/centres, including final evaluation of this.
Participants who successfully complete the course, and who meet the relevant entry requirements, will be eligible to seek admission to the Masters in Special Educational Needs (MSEN) programme run at the School of Inclusive and Special Education. Credit for completion of the postgraduate diploma will be given to those who progress to the MSEN programme.
This is a one-year, part-time postgraduate diploma programme that aims to provide substantial theoretical and practical continuing professional development to teachers who work with learners deemed to have special educational needs and/or who require learning support in primary, post-primary and special schools and other recognised educational settings.
This course is offered in a blended format, with on campus learning in DCU, St Patrick's Campus, Drumcondra, combined with some online learning days. Please note, on campus learning days are not offered in a hybrid format, therefore in person attendance is required. This involves attending lectures, seminars and workshops during eight weeks of block-release that is spread out over the course of one academic year. It also includes on-line learning, and attendance at a maximum of ten on-line evening classes during the year and supervised work in teachers' own schools/centres. Learning also occurs during visits by course tutors to schools, in dedicated on-line sessions and through engagement with resources made available on DCU learning platforms. In order to participate in the programme, teachers will need access to a computer and broadband internet access.
Indicative Modules
Principles and concepts of inclusive and special education
Identity, holistic profiling and responses
Planning, teaching and learning for all 1
Planning, teaching and learning for all 2
Collaboration and leadership
Elective modules
The course will begin with a joint session for Principals & Participants in early September.
Thereafter participants are required to attend three blocks of lectures (in their entirety). DE-funded substitution is available to the schools/centres of all those who are offered a place on the programme to allow this to occur.
Indicative Course Dates:
Block release 1 - 11th Sept - 20th Oct 2023
Block release 2 - 15th - 19th Jan 2024
Block release 3 - 19th Feb - 23rd Feb 2024
Lectures are normally held continuously from 9.00am to 3.45pm daily.
View the current course structure
The Institute of Education, DCU is set within the only faculty of education on the island of Ireland. It runs the largest postgraduate programme of this kind in the country. This means that you will have the opportunity to come in contact with course participants from a wide variety of settings and benefit from input provided by lecturers who have developed expertise in a very broad range of (often specialist) areas and sectors. For example, particular expertise has been developed within the programme team around the inclusion of students in primary, post-primary and special schools and other education centres, including settings that respond to highly complex learner profiles, such learners deemed to have severe or profound learning disability.
Life on Campus
We have three academic campuses close to Dublin City centre - they are located in Glasnevin and Drumcondra, and can be reached by public transport (Dublin Bus).
Each campus has libraries, study spaces, restaurants, and on-campus residencies. Sports facilities are located on two of the academic campuses. We also have a dedicated sports campus in the form of St Claire's. 
DCU student facilities boast a fully equipped sports complex with a 25-metre pool, three libraries and The Helix, our renowned performing arts centre.
Our purpose built, state-of-the-art new student centre known as 'The U' serves the needs of a rapidly growing student body of 18,500. It is home to the Student Leadership and Lifeskills Centre, performing arts and cultural spaces for students and the wider community, and the Entrepreneurship and Innovation Hub.
There are more than 140 clubs and societies for students in DCU, with 'Clubs & Socs' days taking place on both the Glasnevin and Drumcondra campuses at the start of the academic year.
Exceptional facilities
DCU students have access to exceptional teaching and learning facilities across our three academic campuses. 
These include modern learning theatres, research centres, new media and TV studio, radio/podcast studios, classrooms, computer suites and advanced labs in the areas of languages, engineering, physics, chemistry and biotechnology, as well as a sports performance centre and training hospital ward. In 2021, we opened our first virtual reality 'Leadership Lab', which is located in our Business School.
Construction on our FutureTech building on the Glasnevin campus will get underway in 2022. Once completed, this facility will advance DCU's international reputation for excellence in science and health, computing and engineering disciplines. It will have the capacity to accommodate an additional 3,000 STEM students on the university's Glasnevin campus.
Student Supports
We have a number of academic, professional and social supports for students.
Student Advice Centre: Offers a wide range of supports and services to students and advice.
The Writing Centre - drop-in writing workshops for students through the academic year.
Maths Learning Centre - provides maths support for students of all ability levels with maths modules.
Student Learning: facilitate the transition from passive to active learning for students at DCU, by teaching study skills, nurturing critical thinking and building student confidence. 
Careers work with students to help them on their professional journey into graduate employment.
Our student support team offers a comprehensive support programme, helping students make that all important transition into university life and focusing on building confidence and skills which are key to success at third level.
Requirements
The programme is open to all serving teachers who are employed in a position funded by the Department of Education and who provide Learning Support, Resource Teaching and Resource Teaching for Travellers in recognised primary schools, post-primary schools and other recognised educational services. Teachers serving in special schools and special classes are also eligible to apply.
Please review the relevant DE circular at the link below inviting applications for the course.  View the relevant DE Circular Eligibility Criteria
https://www.gov.ie/en/circular/ef1d9-post-graduate-diploma-programme-of-continuing-professional-development-for-special-education-teachers-20232024/
* Note applications for DCU are via the process below, not the hard copy from the above circular.
Fees
Part time
EU Status Fee Part-time
DES Funded