Professional Certificate/Diploma in Special and Inclusive Education (Online)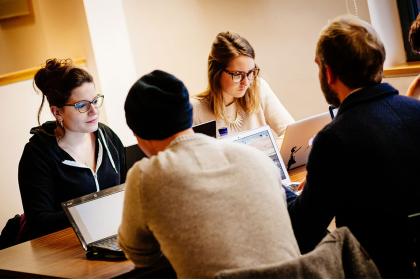 Course Code:
DC841 (September 2021 intake)
Course Type:
Postgraduate

+353 (0) 1
700 9161

ioe.ise@dcu.ie
There are no further intakes for this diploma. Please see the Professional Diploma in Inclusive and Special Education (ISE) DC979.
This programme has been jointly developed by DCU and the Institute of Child Education and Psychology, Europe (ICEP Europe) in recognition of the need to support teachers in meeting the increasing diversity of pupils' needs in mainstream classes.
This online programme enables teachers to participate in continuing professional development in a structured, intensive and sustained way at convenient times, in an easily accessible manner regardless of location, while at the same time it allows for the practical application of the skills learned at classroom level.
The overall aim of the course is to develop the skills and competencies of primary and post-primary mainstream class teachers in response to the demands of inclusive educational policy and practice. In particular, the course aims to provide an opportunity for teachers to develop knowledge, skills and competencies in key areas of inclusive and special educational provision and planning at school and class level.
This programme aims to offer professional development to individual teachers in the area of special and inclusive education. It also aims to create a community of learners who will communicate and collaborate with each other in support of the teaching and learning of pupils with special and additional learning needs.
Certificate
4 modules | Minimum study time: 1 year
1 compulsory module to be completed first - Inclusion for Pupils with SEN
Plus 3 specialist modules chosen from:
Autism
Dyslexia
Mild General Learning Disabilities
Understanding Behaviour as Communication
Diploma
As for Certificate plus one year long research module commencing in September each year | Minimum study time: 2 years
This programme is delivered through an online/distance learning environment supported by DCU Institute of Education together with the Institute of Child Education and Psychology, Europe (ICEPE) who both have considerable experience and expertise in the delivery of programmes and support of students in this environment.
As a registered student of DCU, you will have access to all library facilities and services.
Why Do This Programme?
The challenging field of education requires that teachers are continually prepared to extend their skills, their knowledge and their confidence to work creatively with others to provide effective inclusive education that meets the needs of all of their pupils. This programme aims to support them in this endeavour.
This flexible online course facilitates access regardless of geographical or other constraints. The online flexibility of this programme is enhanced by engagement with your classmates, engagement with the content through responding to learning activities, and by reflecting on your own experiences and practice.
Support for course fee payment can be applied for through the Teacher Refund Scheme administered through the Marino Institute of Education.
What Our Graduates Say?
'The quality of the programme is excellent with the resources available, the I.T. support and the tutors who at all times encouraged us and made students feel that their contributions were worthwhile.'
'Very positive worthwhile experience, I recommended it to everyone. It was a very enjoyable way to learn.'
'Brilliant - you can learn around your work. I had a Whole School Evaluation during this module but was still able to work around it.'
'The only way to learn while working, less stressful and a much more enjoyable experience.'
This programme is designed to provide continuous professional development for teachers in the area of special and inclusive education. Teachers may also find this qualification helpful for career progression. 
Requirements
Application is open to qualified teachers, at primary and post-primary level, who hold a recognised qualification, Level 8 Pass Degree / Third Class degree, from an awarding institution in Ireland or elsewhere. Consideration will also be given to:
Graduates with a level 8 degree (with experience of working in an educational, training or education-related professional context). 
OR
Those holding equivalent qualifications from other jurisdictions which are equivalent to a level 8 degree with significant experience of working in an educational, training or education-related professional context.
 
Qualification
Postgraduate Taught
Fees
Full time
EU Status Fee
€750 per module