School of Human Development
MA in Chaplaincy Studies and Pastoral Work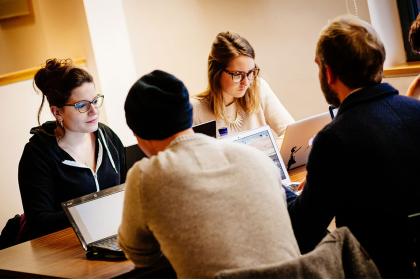 PAC Code:
DC980 (FT) DC981 (PT)
Course Type:
Postgraduate

+353 (0) 1
700 9297

thomas.grenham@dcu.ie
The MA in Chaplaincy Studies and Pastoral Work course provides the academic, pastoral, spiritual, personal and professional development for those already working or wishing to work in the contexts below who seek to enrich their skills in the areas of Faith Development, Chaplaincy and Chaplaincy Coordination.
Primary Schools
Post-Primary Schools
Third Level Institutes
Prisons / Young Offenders
Parish Communities
Youth and Young Adult Groups
Community / Voluntary Sector
DC980: one year full time programme, Monday evenings and Tuesday lectures and a placement of 18-20 hours per week of the academic year.
DC 981; two year part time programme, Monday evening lectures and a placement of 6 hours per week of the academic year.
Both programmes require attendance on 8 Saturdays during the academic year.
The MA in Chaplaincy Studies and Pastoral Work aims to develop graduates who:
Understand, and are able to apply knowledge from theological, and educational disciplines to the work of Chaplaincy and Pastoral Work
Apply current thinking concerning pastoral work, faith formation, spiritual accompaniment, inter-religious dialogue and interculturalism in different pastoral contexts
Exhibit the personal, professional and spiritual skills and sensibilities necessary to work as a chaplain/pastoral worker and as a member of a pastoral team.
Manifest the ability to plan, execute and report on a research project of relevance to the work of a chaplain/pastoral worker
Engage sensitively in faith formation and faith development initiatives in an invitational and inclusive manner which is appropriate to the characteristic spirit of the pastoral setting and to the cultural and religious diversity present in the community
Develop Pastoral Counselling and Spiritual Accompaniment skills that are appropriate to the work of the chaplain/pastoral worker in the particular context
Exhibit readiness to assume the role and responsibilities of a chaplain/pastoral worker
Demonstrate the ability to manage their own work as a chaplain/pastoral worker and to integrate this with the work of others in order to provide an effective pastoral presence
Work collaboratively with others in order to enhance the pastoral, religious, spiritual and moral dimensions of the designated community
Exhibit competence as a 'Reflective Practitioner' and openness to continuing professional development
Exhibit a depth awareness of contemporary culture
Will be able to respond creatively, appropriately and sensitively to the 'moments' in people's lives in which there is an openness to the invitation to full human development and religious, moral and spiritual awakening.
It is the only course of its type currently offered on the island of Ireland.You will study at the largest and most innovative Institute of Education in Ireland and the UK. Programmes are designed to meet the personal and professional needs of chaplains/pastoral workers and delivered by academic and practising experts. We focus on creating a rich, collaborative and safe learning environment where the student voice is central.
You will have full access to our first class facilities, including an extensive library with remote access for on-line students.
Dr Aoife McGrath - MA in Chaplaincy Studies and Pastoral Work Graduate 2012
'The classroom learning experience enables postgraduate students to grow personally and professionally in a friendly and supportive environment. Students are encouraged to be more culturally aware, to be innovative in planning activities and liturgies, and to reflect personally and theologically on our ministry. The forum provides for sharing our experiences of ministry with other students. The learning experience is integrated and therefore helps enrich my parish placement'.
Stephen O' Hara - MA in Chaplaincy Studies and Pastoral Work Graduate 2012
'The MA in Chaplaincy and Pastoral Work in MD was the only course I wanted to do. It offered me the chance to do a Masters over 1 year which I found ideal. Participation in the course encourages you to become tuned into your own faith and your own life story, so that you can be a truly authentic presence for others who require you to listen to their story. This course combines the practical reality of chaplaincy and pastoral work in modern Irish society.'
Graduates of the Master of Arts in Chaplaincy Studies and Pastoral Work are currently employed as chaplains in the post–primary school and university sector, in parishes, prisons and community facilities.
Fees
Requirements
General Entry Requirements
The general criteria for entry to this taught postgraduate programme is :
An honours primary degree (any discipline) or equivalent 
60 ECTS credits in Theology
Applicants must have secured a suitable placement 
Applicants must submit an Academic/Professional Reference
Applicants  with appropriate combinations of professional qualifications and experience may also be considered (Irish / EU applicants only)
International candidates who are non-native speakers of English must satisfy the University of their competency in the English language.  More information about DCU's English language requirements can be found 

here

.

Applicants will be required to undertake an interview before any offer is issued for this programme.
Note:  All candidates who are accepted to this programme must undergo Garda Vetting.     All offers will be conditional until successful completion of the Garda Vetting process.
Make an Application
To apply for this programme:
All applicants should apply through

 

www.pac.ie

. 

Search for course code DC980 for Full-Time or DC981 for Part-Time.
Provide a personal statement of not more than 300 words outlining the journey that has led you to apply to this programme.
Provide confirmation that you have secured a suitable placement (18 hours per week for 12 weeks in both semesters (432 hours)). Placement Form for DC980 (Full Time) click here  Placement Form for DC981 (PartTime) click here 

to be fully completed and uploaded to PAC.

 
Provide an academic reference attesting to your suitability for this Postgraduate study.

 

Reference form DC980 (Full Time) click here Reference form DC981 (PartTime) click here to be fully completed and uploaded to PAC. 
Provide a Pastoral reference attesting to your suitability to work with vulnerable persons.
If applicable, evidence of competence in the English language as per DCU entry requirements.

 

Please see link

 http://www.dcu.ie/registry/english.shtml

.
Please note if you are a non EU student and require a study visa, you are not eligible to apply for part-time programmes as study visas are only granted for full-time programmes.
Application Deadlines
Applications will be accepted on a rolling basis until the programme is full or until the following dates:
Closing date for non EU applicants is 17th July 2020.

Closing date for EU applicants is 16th September 2020.
Note applicants who require a study visa for the purposes of studying at DCU, are advised to apply as early as possible.
Queries
Queries from EU applicants should be directed to postgraduateadmissions@dcu.ie.
Queries from non EU applicants should be directed to international.office@dcu.ie.
Commencement of Programme
The programme commences in September 2020.