Bachelor of Education - Irish Sign Language Pathway (Restricted Entry)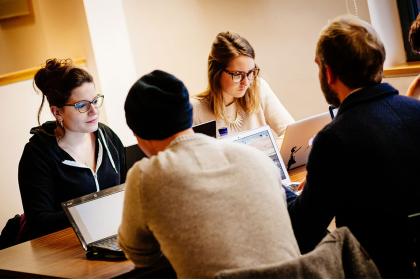 Course Type:
Undergraduate

+353 (0) 1
700 9161

ioe@dcu.ie
The Bachelor of Education (ISL) will prepare you for a career as a Primary School Teacher in the deaf education sector where you'll make a lasting impact on young deaf and hard of hearing children and on society.
The course will take your natural leadership abilities and fluid communication skills and equip you not only with subject knowledge, but also with the tools to motivate yourself and your students in the classroom, understand how children learn, navigate the school system, and develop your classroom management abilities.
All students take Education modules and do 30 weeks School Placement. You'll also study a specialism in deaf education.
Our Bachelor of Education (ISL) course is designed to help you become a skilled and creative teacher.
In Years One and Two, students cover the basics needed for teaching. You will come to understand how children think and learn in active ways. Your curriculum courses will prepare you to teach all the subjects of the primary curriculum using approaches that develop children's understanding and motivation. You'll also take modules in Psychology, Philosophy, Sociology of Education and History of Education.
In Year Three, you will review what you've learned to date and will apply it in different situations. Your understanding of classroom contexts and of how to plan for rich learning experiences will be enriched. You'll learn how to work with children in ways that are democratic and enable them to engage in an ethical way with the world.
Year Four focuses on deepening your expertise. It will provide you with opportunities to think about big ideas in education such as social justice, inclusion and working in a school community. You will also undertake a research project.
Students spend time in schools in each year, with extended placements in each of Years Three and Four. You will start by observing the class teacher and will build up gradually to teaching all day. Throughout your placements, support will be provided by both faculty and school staff.
On the BEd (ISL), you will specialise in deaf education. In Year One you'll take a module on Deaf communities, their histories and cultures. You will continue with this specialist learning in Years Two to Four with a number of modules on deaf education including content on sign language acquisition, audiology, assessment of children who are deaf or hard of hearing, and working with families and other professionals.
• Be taught by internationally recognised experts in primary teacher education.
• Gain experience in a broad range of classes in different types of deaf education settings.
• Take a specialism in deaf education designed to prepare you to be a leader and innovator in that field.
• Work within small groups where you'll get to know your fellow students well.
• Make an impact with an action research project as part of your final school placement.
Course Life
We have a unique and vibrant culture on our modern campus close to Dublin city centre. We provide state-of-the-art study facilities for all our courses and everything else you need for a healthy, fun and active student life.
Exceptional Facilities
DCU students enjoy exceptional teaching and learning facilities across our 3 academic campuses. These include modern learning theatres, research centres, television and sound studios, classrooms, computer suites and advanced laboratories in the areas of languages, engineering, physics, chemistry and biotechnology, as well as a sports performance centre and a virtual hospital ward.
A Vibrant, Dynamic Social Environment
Student facilities include a superb sports complex with a 25 metre pool, two libraries and The Helix, our renowned performing arts centre. In 2016 we announced plans to invest over €230m in developing new, world-class facilities across our three academic campuses. Already building has begun on an exciting, new €14m Student Centre that will be home to the more than one hundred and twenty student clubs and societies. This commitment to student facilities means that our world-class learning experiences are complemented by a vibrant, dynamic social environment.
The BEd (ISL) degree is not only a gateway to the primary teaching profession in the deaf education sector, but also to a number of other careers related to deaf education, including:
·         Consultant
·         Content Writer
·         Educational Administrator
·         Principal in a deaf education setting
·         Researcher
·         School Inspector
·         Teacher in a deaf education setting
·         Teacher Educator for deaf education
In these areas
---
Requirements
General Entry Requirements
In addition to the general entry requirements for admission to the university the following entry requirements apply: Minimum of H5 in no fewer than three subjects and a minimum of O6/H7 in three other subjects, to include minimum of O4 or H7 in English; O4 or H7 in Mathematics.  
Furthermore, your competency in Irish Sign Language will be assessed prior to entry.  Competency in Irish Sign Language is a prerequisite for entry to the B.Ed ISL.
Additional Information:
Applicants will need to provide:
a) a letter from an audiologist confirming that the applicant has a significant permanent bilateral deafness (pure tone average of 41dB or above in the less deaf ear)
A person with a mild hearing loss (<41dB) is not regarded as being a suitable candidate for this programme.
OR
b) a letter from the principal of a school for the deaf/special class for deaf children in a mainstream school approved by the NCSE confirming that the applicant was enrolled in that specialist setting because of their deafness.
AND
Applicants will need to pass an Irish Sign Language competency examination (pass mark is 65% or higher at level B1 on the Common European Framework of Reference for Languages) prior to a place being offered on this programme.  The competency examination will be arranged by Dublin City University."
GCE A Level
In addition to the general entry requirements for admission to the university the following entry requirements apply: Six subjects must be presented, at least three at GCE A Level with the remaining subjects at GCE AS or GCSE Level.  A subject may only be counted from only one of the examinations GCSE, GCE AS Level or GCE A Level.  Applicants must present the following subject requirements: GCSE Level C in both English and English Literature or GCSE Level B in either English or English Literature.  GCSE A Level D in Additional Mathematics or GCSE Level C in Mathematics.  GCE A Level C in two further subjects; GCSE C in one other subject.  Furthermore, your competency in Irish Sign Language will be assessed prior to entry. Competency in Irish Sign Language is a prerequisite for entry to the B.Ed ISL.
Qualification
Bachelor of Education
International Applications
International candidates are expected to have educational qualifications of a standard equivalent to those outlined above, including competency in Irish Sign Language.
In addition, where such candidates are non-native speakers of the English language they must satisfy the university of their competency in the English language. For further information on international applications click here.
Fees
Full time
Student Contribution
€3,043 per annum
EU Status Fee
€5,607 per annum
Non EU Fee
€12,600 per annum
Material Charge
€175 Year 1 only