Centre for Talented Youth, Ireland
Early University Entrance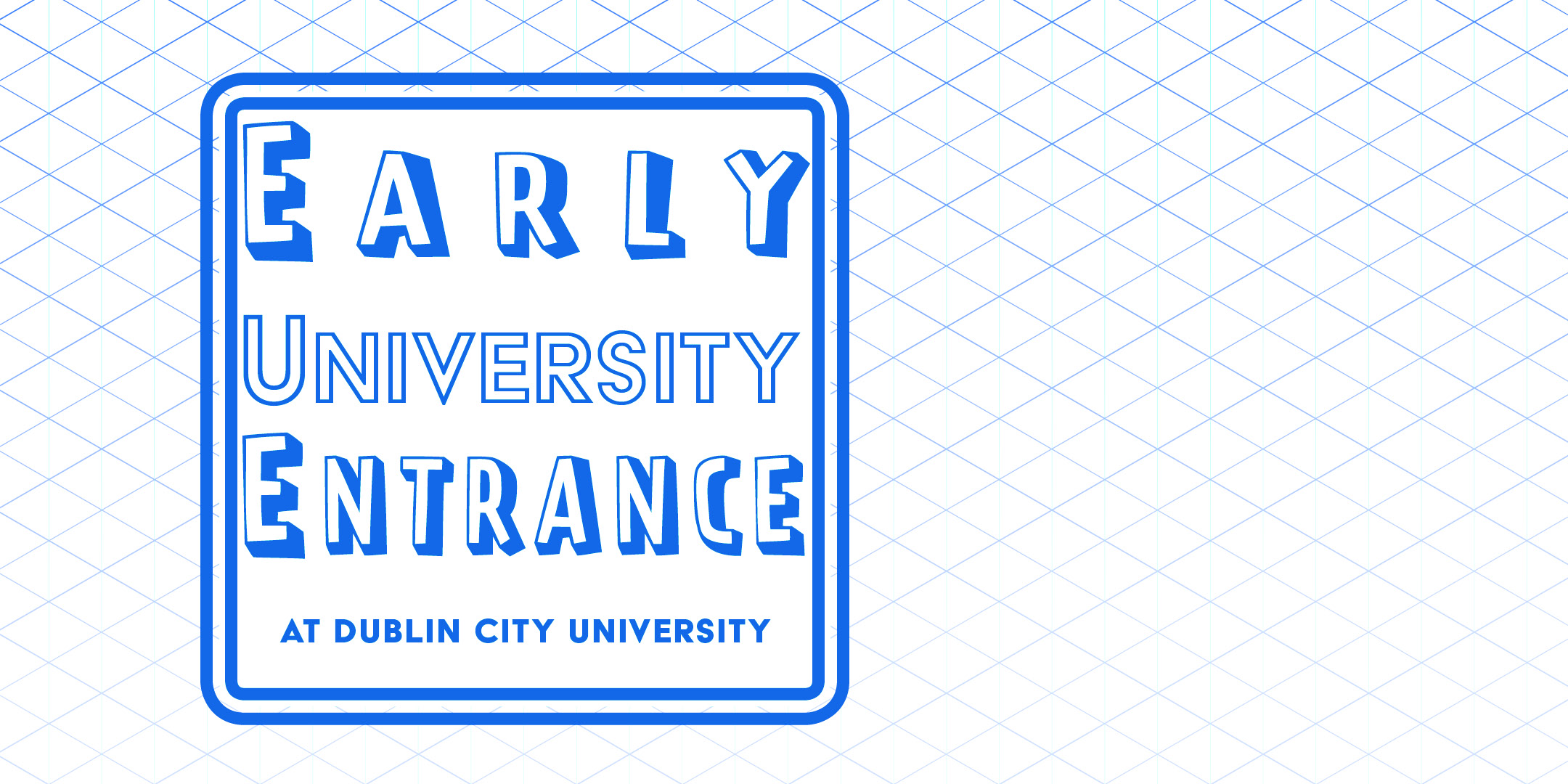 Early University Entrance
Transition Year students with high academic ability may participate in Early University Entrance at Dublin City University. Here students get the opportunity to study modules from a degree programme of their choice on one day each week, over the course of one or two semesters. Courses are based on degree programmes on offer in DCU. Each follows 2 modules from the associated degree programme. Click on the module names for more info!
Early Entrance Biology (based on modules from the
Common Entry into Science)
Early Entrance Business (based on modules from the
B.A. in Business Studies)
Management Accounting for Decision Making (AC115)
Introduction to Microeconomics (EF113)
Early Entrance Engineering (based on modules from
Common Entry to Engineering)
Introduction to Electronics (EM113)
Materials Engineering (EM115)
Early Entrance International Relations (based on
modules from the B.A. in International Relations)
Introduction to International Relations & Security (LG117)
Introduction to Global Governance (LG132)
Early Entrance Law & Politics based on modules
from the B.A. in Economics, Politics & Law)
Irish Legal System (LG131)
Irish Political System (LG108)
Early Entrance Philosophy (based on modules from
the Bachelor of Arts (Joint Honours))
Introduction to Philosophy (TP132)
Environmental Philosophy (TP233)
Early Entrance Physics (based on modules from the
B.Sc. in Applied Physics)
Light and Optics (PS102)
Motion & Energy (PS101)
Early Entrance Psychology (based on modules from
the B.Sc. in Psychology)
Child Development (NSP01)
Cognitive Psychology (NS124)
Early Entrance Sports Science (based on modules
from the B.Sc. in Athletic Therapy and Training)
Introduction to Athletic Therapy and Training (SS126)
Biomechanics 1 (SS206)
Please note all modules are subject to change.
Brochures are available here.
In order to be considered for the Early University Entrance programme, the student will need to do the
following:
Complete the application form, detailing your basic details and any academic honours achieved
Complete the contained Letter of Motivation, considering questions such as why you would be a suitable candidate, how a place on the programme would help you to achieve your academic and personal goals, etc.
Ask two teachers to complete Recommendation Form
Our Programme Manager will then assess the application and decide whether the student is eligible for the programme.
The deadline for applications for Semester 1, 2021-22, is Friday, 28th May 2021.
Completed Applications should be emailed to catriona.ledwith@dcu.ie or ctyi@dcu.ie or posted to Early University Entrance Programme, CTY Ireland, Dublin City University, Dublin 9.
 
EUE is open to both students who qualified for our CTYI/CAT programmes, but also to those who have never taken an assessment with us.
 
Questions in relation to Early University Entrance should be directed to Dr. Catriona Ledwith at catriona.ledwith@dcu.ie or ctyi@dcu.ie
EUE Semester 1, 2021-22 - Lecture Delivery in light of Covid-19
All of us here at CTYI hope that you and your family are keeping safe during these troubled times. Please be assured that student health is our number one priority and we will follow all relevant guidelines to ensure that we create an environment that all students are safe and secure during their time in DCU.
We are hopeful that the university will be reopened at the time of this programme in September 2021 and that schools will be running as normal. However, we do have a contingency in place should that not be the case. For the 2020-21 academic year of Early University Entrance we moved all of our classes online and students could use Google Classroom to access their lectures and participate in classes. Feedback to date has been very positive so in the unlikely event that the university is still closed we will start the coming term online and continue with physical classes when restrictions are lifted.
Please note we will contact you well in advance if this is the case.
If you have any questions in relation to this, please don't hesitate to contact either EUE Programme Organiser, Dr. Catriona Ledwith at catriona.ledwith@dcu.ie or ctyi@dcu.ie