Our aim is to promote equality of access for learners with disabilities, specific learning difficulties, mental health difficulties and on-going medical conditions in DCU.
In line with best practice guidelines we coordinate a range of supports for students who are registered with the service to ensure they have equity of access to their studies.
Students located on all campuses have access to our supports provided across the multi-campus environment.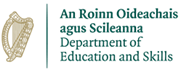 "Third Level Access is co-funded by the Department of Education and Skills and the European Social Fund as part of the ESF Programme for Employability, Inclusion and Learning 2014-2020".