Certificate in Religious Studies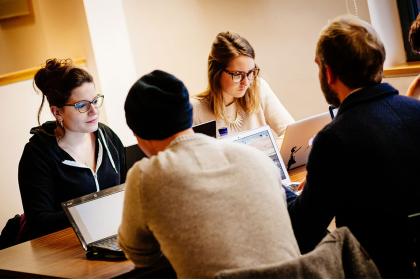 Course Type:
Postgraduate

+353 (0) 1
700 9267

david.kennedy@dcu.ie
The DCU Student Application Portal is open from 1st November 2021. For applications to this programme see the 'Make an Application' section below.
The part-time Certificate in Religious Studies prepares primary teachers to teach in Catholic schools in accordance with the requirements of the Council for Catechetics of the Irish Episcopal Conference. In making appointments, Catholic school management boards will normally require the CRS as a condition of employment. As well as being recognised as a qualification to teach Religious Education in Irish Catholic primary schools,the CRS is also accepted by some of the Catholic elementary school systems in the UK, North America and Australia.
The aim of the programme is to equip teachers with the necessary knowledge and skills to teach religious education in Catholic primary schools.
View the current course structure
Staff on the programme are at the forefront of key developments in Catholic primary school religious education and have been involved in the writing of the RE curriculum and programmes for Catholic primary schools in Ireland.
Delivery of the programme has been tailored to suit students' needs which have been identified since the inception of the programme over a decade ago. The timetable has been arranged on a student-friendly basis.
Many graduates of the programme have been successful in receiving some reimbursement of fees by applying to the DES Refund of Fees Scheme.
Feedback from students has been very positive overall. The majority of students allude to some initial reluctance, scepticism and apathy which they say was allayed or transformed, as they pursued their studies on the programme.
"The content of the programme was thoroughly enjoyable and worthwhile for any teacher teaching in a Catholic school".
"The programme was structured deliberately and effectively to ensure balance between learning principles of religious education and applying these principles to classroom settings. This course is very well planned and delivered by an expert team of presenters".
"I found the course very helpful and insightful and I learned a lot about Catholicism and different religions".
Teachers applying for positions in Catholic primary schools in Ireland are required to hold a qualification equipping them to teach religion according to the tenets of the Catholic faith. The Certificate in Religious Studies (CRS) offered by DCU meets the requirements of the Irish Episcopal Conference in this regard and graduates have been successful in obtaining positions in Catholic primary schools.
Requirements
General Entry Requirements
Entry to the part time Certificate in Religious Studies is open to any teacher with a recognised qualification (Level 8, Pass Degree / Third Class degree from Ireland or elsewhere) to teach in a primary school in Ireland. 
Qualification
Certificate in Religious Studies
Fees
Part time
EU Status Fee Part-time
€1,200
Non EU Fee Part time
€2,500