Graduate Certificate in the Education of Pupils on the Autism Spectrum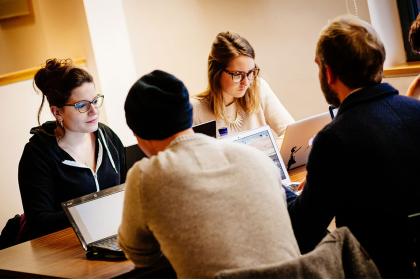 Course Type:
Postgraduate

+353 (0) 1
700 9062

ioe.ise@dcu.ie
Online Application Form open until 5pm Friday the 24th of March 2023. Please see 0012/2023 DE Circular for eligibility requirements and application details.
This programme is for Primary, Post-Primary and Special School teachers who currently hold a post funded by the Department of Education and who will be working with students on the Autism Spectrum for the duration of the Programme in recognised Primary, Post-Primary and Special Schools. The programme is designed specifically to assist teachers in meeting the learning and teaching needs of students on the spectrum.  Potential applicants must therefore have a teaching role in relation to students on the Autism Spectrum.
Funding is provided by the DE and no fee or registration charges will apply for successful applicants. Teachers will continue to receive their salary in the usual way and substitution will be covered. Graduates of this Certificate may be eligible to progress onto the self-funded MEd in Autism.
I came to the course with a self-taught understanding and knowledge from valuable experience of teaching and learning with children on the spectrum, however, sitting back and listening I knew very quickly that I was only at the beginning of my learning journey in relation to teaching children on the Autistic spectrum.  The sharing of stories and parting of teaching strategies for children who are either on the mild, moderate or profound range was inspiring, informative and gave me a clearer understanding of low-functioning & high-functioning autism
The aim of this programme is to develop the knowledge skills and expertise of teachers, thus enhancing the provision of appropriate education for children and young people on the autism spectrum. 
Understanding Autism: aims to provide a foundation in the history, concept and diagnosis of autistic spectrum disorder, causes and prevalence will also be considered. Students will explore the diversity across the spectrum and reflect in an informed manner on the implications of autism in an educational context.
Autism: Assessment, Profiling and Planning: addresses the principles underpinning inclusive assessment and focusses on the development of a holistic profile of the student's strengths, interests and needs, leading to the development of learning programmes and individualised planning.
Autism: Planning,Teaching and Learning 1 & 2: focuses on the application of skills and knowledge presented across the programme to teaching and learning contexts.
Wellbeing Across the Continuum: Addresses current and evolving issues in relation to the education of pupils on the Autism Spectrum including life span perspective, wellbeing of such students and proactive strategies to support them.
Provisional Calendar
The programme will include three weeks block release from your school/centre during the year. Below are the indicative times of year when these weeks occur. Dates will be communicated upon offer of a place on the course.
Week 1: September: Dates TBC
Week 2: November: Dates TBC
Week 3: February: Dates TBC
Lectures take place Monday to Friday during these weeks from 9am - 4pm. 
In addition there are seven evening online sessions which occur on Tuesday evenings throughout the year ( 6-7.15). Further details will be made available upon starting the course.
View the current course structure
Progession
On successful completion of this one year programe teachers may graduate with a Graduate Certificate in the Education of Pupils on the Autism Spectrum or may be eligible to continue their study to complete a MEd in Autism.
Life on Campus
We have three academic campuses close to Dublin City centre - they are located in Glasnevin and Drumcondra, and can be reached by public transport (Dublin Bus).
Each campus has libraries, study spaces, restaurants, and on-campus residencies. Sports facilities are located on two of the academic campuses. We also have a dedicated sports campus in the form of St Claire's. 
Exceptional facilities
DCU students have access to exceptional teaching and learning facilities across our three academic campuses. 
These include modern learning theatres, research centres, new media and TV studio, radio/podcast studios, classrooms, computer suites and advanced labs in the areas of languages, engineering, physics, chemistry and biotechnology, as well as a sports performance centre and training hospital ward. In 2021, we opened our first virtual reality 'Leadership Lab', which is located in our Business School.
Construction on our FutureTech building on the Glasnevin campus will get underway in 2022. Once completed, this facility will advance DCU's international reputation for excellence in science and health, computing and engineering disciplines. It will have the capacity to accommodate an additional 3,000 STEM students on the university's Glasnevin campus.
Campus life
DCU student facilities boast a fully equipped sports complex with a 25-metre pool, three libraries and The Helix, our renowned performing arts centre.
Our purpose built, state-of-the-art new student centre known as 'The U' serves the needs of a rapidly growing student body of 18,500. It is home to the Student Leadership and Lifeskills Centre, performing arts and cultural spaces for students and the wider community, and the Entrepreneurship and Innovation Hub.
There are more than 140 clubs and societies for students in DCU, with 'Clubs & Socs' days taking place on both the Glasnevin and Drumcondra campuses at the start of the academic year.
Student Supports
We have a number of academic, professional and social supports for students.
Student Advice Centre: Offers a wide range of supports and services to students and advice.
The Writing Centre - drop-in writing workshops for students through the academic year.
Maths Learning Centre - provides maths support for students of all ability levels with maths modules.
Student Learning: facilitate the transition from passive to active learning for students at DCU, by teaching study skills, nurturing critical thinking and building student confidence. 
Careers work with students to help them on their professional journey into graduate employment.
Our student support team offers a comprehensive support programme, helping students make that all important transition into university life and focusing on building confidence and skills which are key to success at third level.
I came to the course with a self-taught understanding and knowledge from valuable experience of teaching and learning with children on the spectrum, however, sitting back and listening I knew very quickly that I was only at the beginning of my learning journey in relation to teaching children on the Autistic spectrum.  The sharing of stories and parting of teaching strategies for children who are either on the mild, moderate or profound range was inspiring, informative and gave me a clearer understanding of low-functioning & high-functioning autism
Requirements
Fees
Part time
EU Status Fee Part-time
DES Funded