Faculty of Science & Health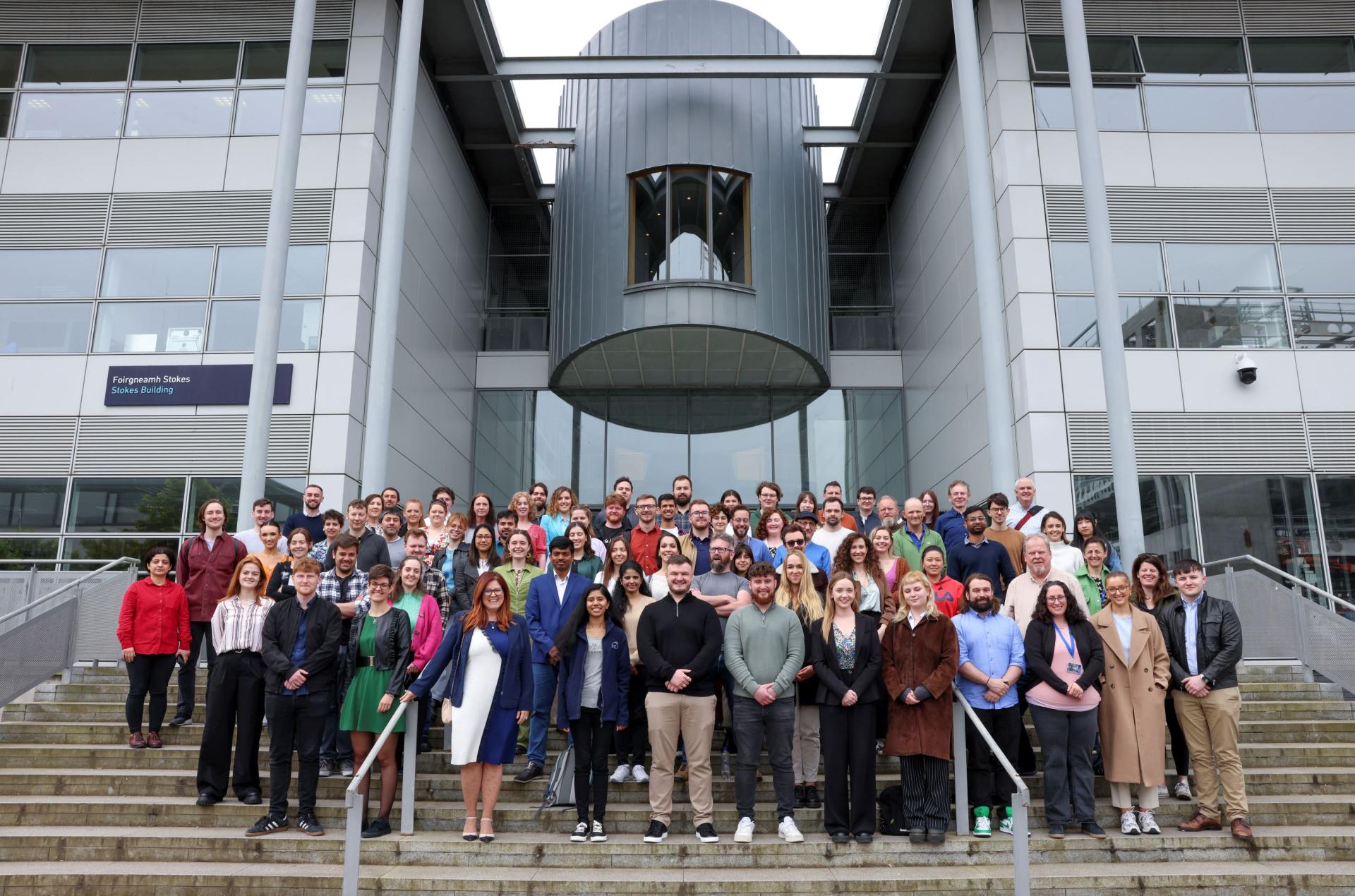 Chemistry Day 2023 reflects surge in school research activities
There was a great buzz of excitement and chat among staff and students over coffee and pastries before the talks began in lecture theatre 101 in the Stokes building.
The President of DCU, Professor Daire Keogh, opened proceedings by saying that there was a lot of good news at the school on both the teaching and the research front which was encouraging.
"There are some substantial grants in the pipeline and that is indicative of the trust people and several members were listed for the recent teaching excellence awards," said Professor Keogh. 

"It can be lonely being a researcher, and today is a great opportunity to showcase your research; it is also important to communicate that research, not just to colleagues."
Dean of the DCU Faculty of Science and Health, Professor Michelle Butler, said that the talk takes place a 'lovely time of the year' when people have time to reflect after a busy period.
"This is a very important day for our students, but also for the school and the faculty. The line-up is amazing, and an awful lot has been squashed into one day," said Professor Butler. 

"It's a wonderful day and a chance to make those new connections; there might be a chance comment someone makes that presents an idea and suddenly sparks something new."
Professor Rick Relyea, Rensselaer Polytechnic Institute, opened proceedings with a talk on how humans might better mitigate the impact that we are having on aquatic ecosystems.
That was followed by sessions on tackling brewing industry waste by Dr Purabi Bhagabati and by Simon Poole on deploying click chemistry to make a new class of metallonuclease.
Dylan O'Flynn, whose work featured prominently across the Irish media this week, then gave a talk about his study of the occurrence and risk of pharmaceuticals in Irish river waters.
That was followed by Dr Vadde Ramu, who spoke about designing luminescent materials for sensing and imaging, after which there was a break for lunch.
There were also a series of excellent flash presentations by undergraduate and post-graduate students, covering everything from advanced bioinks, pollen allergies, chemical tracers, click chemistry, 3D printable devices, to antimicrobials.
After lunch Dr Loanda Cumba gave a wide ranging talk covering the electrochemical detection of psychoactive substances to bioink formulation.
Professor Silvia Giordani, Head of the School of Chemical Sciences said that chemistry day had been "enriched" with dynamic student flash and poster presentations. 
"Both our postgraduate and undergraduate students had a unique platform to share their research in a concise, vibrant way," Said Professor Giordani. 

"Particularly for our undergraduates, these flash presentations served as an exciting and practical stepping stone, honing their communication skills and give them a taste of conference-style proceedings." 

"Our School's Chemistry Day remains a significant testament to our commitment to fostering a vibrant scientific community, encouraging collaboration, and developing transferable skills among our students."
Chemistry Day Awards 2023
Postgraduate flash presentations:
Winner, Jerry Hourihane Clancy, "Sticky Tape, Lasers and Chemical Tracers: Building a Bioaerosol Network" (sponsored by abcr) €150
2nd place, Roisin Byrne, "MultiMAT-Development of functional 3D printable advanced bioinks" (sponsored by Mason Technology) €100
3rd Place, Lorcan Holden, "A Ru (ll) TAP complex for mitochondria-targeted photodynamic therapy" (sponsored by labquip) €75
Poster presentations:
Best Poster, Rhianna Curley (PhD supervisor, Prof Tia Keyes) €100 (presented by Avantor
2nd Place Poster, Meabh Kennedy (PhD supervisor, Dr Susan Kelleher) €50 (presented by Avantor)
Best Postgraduate Long Talk Presenter:
Simon Poole, presented by the Royal Society of Chemistry (Colin Barnes Award). €250
Best Undergraduate Flash Presenter:
Chloe Mullen, (sponsored by the Padraig James fund) €100. All other undergraduate presenters received €50.