School of Applied Language & Intercultural Studies
Applied Linguistics Research Group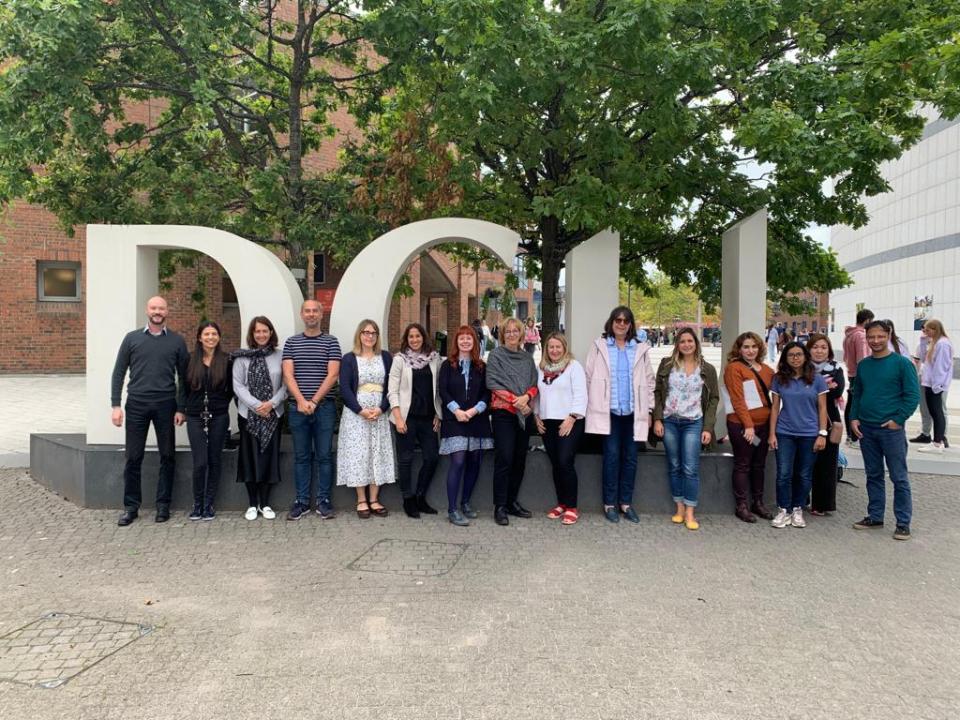 Welcome 
 Our researchers are active in such diverse areas as:
Computer-assisted language learning
Super-diversity and language teaching
Social justice approaches to language teaching
Language learning strategies  
Translation in language teaching
Task-based language learning and teaching
Language teacher education
Language planning and policy
Heritage languages
Pragmatics
Multimodal discourse
Our research encompasses three areas:
Innovative approaches to language teaching
We are constantly pushing the boundaries of traditional language teaching to provide students with a language learning experience that is not only meaningful but also informed by the latest developments in Applied Linguistics and intersecting disciplines. Our members are actively engaged in research related to virtual exchanges, Visual Thinking Strategies, translation, plurilingual pedagogies, and social justice approaches to language learning, among others. We also explore how to best support pre-service and in language service teachers. 
Plurilingualism in society
Our members investigate issues related to plurilingual societies such as heritage language maintenance, minority languages revitalisation, translanguaging, among others. We are also interested in exploring language policy and planning both at the micro and macro level in different domains (e.g., educational institutions, politics, media) and how different stakeholders navigate and appropriate these policies.
Language and communication
Language plays a vital role in communication. With the advancement of technology, communication is increasingly going digital, creating an environment where humans take advantage of multiple communicative inputs - linguistic, visual, aural, and more. Our members conduct research in areas such as pragmatics, exploring the intersection between verbal and non-verbal communication, multimodal discourse, and lexical innovation processes, among others.
Current students
Student
Thesis
Supervisors
Monireh Mokhtarzadeh
An exploration of Iranian language teachers' professional development: addressing educational inequality through virtual communities of practice. supervisors
Inmaculada Gómez Soler and Ryoko Sasamoto
Ma'arib AbdulKader Jastaniah
Exploring the processes of an internal evaluation in relation to an EFL Preservice Female Teachers' Training Programme in a Saudi University
Inmaculada Gómez Soler and Fiona Gallagher
Hannah Leonard
Slanguages connect: Pedagogical translation as a means for teaching sociolinguistic
variation
Lucía Pintado and Jennifer Martyn
Sagun Shrestha
ICT in education in crisis contexts: An cctivity theoretical case study of teaching and learning in Nepal during the COVID-19 pandemic
Françoise Blin and Jennifer Bruen
Aishowarza Manik
Learning Chinese via WeChat in a reciprocal peer-learning context: a study of the development of learner autonomy in Bangladesh
Weiming Liu and Françoise Blin
Lacie Raymond

The lived experiences of English language teachers in conflict and post-conflict settings: A study of the Palestinian context

Jennifer Bruen and Agnès Maillot
Ahmed Alhassani
Productive and receptive knowledge and avoidance of phrasal verbs: The case of Saudi Learners of English
Dorothy Kenny and Iker Erdocia
Catalina Amengual Ripoll
Effects of language ideologies on the learning and use of a minoritised language: the case of potential new speakers of Catalan in Mallorca
Iker Erdocia and Maria del Mar Vanrell Bosch (universitat de les Illes Balears)
Prospective students
Prospective PhD students are encouraged to browse the profiles of members of the Applied Linguistics Research Group and to contact those working in their area of interest directly.
For full information on postgraduate research at Dublin City University and application procedures, click here.
Past Doctoral Theses (from 2020)
Èrika Marcet i Torrijos. [2022]. Activating L2 Pragmatic Competence in Japanese Oral Interaction. Supervised by Ryoko Sasamoto and Lucía Pintado
Fiona Gallagher. [2021]. The classroom as a bilingual space: An exploration of attitudes towards mono- and bi/multilingual practices in English language teaching contexts. Supervised by Jennifer Bruen and Angela Leahy.
Elena López Cuenca. [2021] Integrating the visual arts into Spanish-as-a-foreign-language education: developing visual literacy and lexical competence using a visual thinking strategies-led teaching. Supervised by Ryoko Sasamoto and Angela Leahy
Ian Hurley. [2021] Kanji learning by Japanese language learners from alphabetic backgrounds: an examination of how 'component analysis' impacts learners of differential proficiencies. Supervised by Ryoko Sasamoto
Dey-Plissonneau, A. [2020]. Designed and emerging affordances in tutor-learner multimodal interactions via videoconferencing for second language learning and teaching: an activity theoretical approach. Supervised by Françoise Blin and Maria Loftus.
Caitriona Osborne. [2020]. The effects of focused memorisation, delayed character introduction, character colour-coding, and a unity curriculum on the character learning of Beginner CFL learners. Supervised by Qi Zhang.