Educational Disadvantage Centre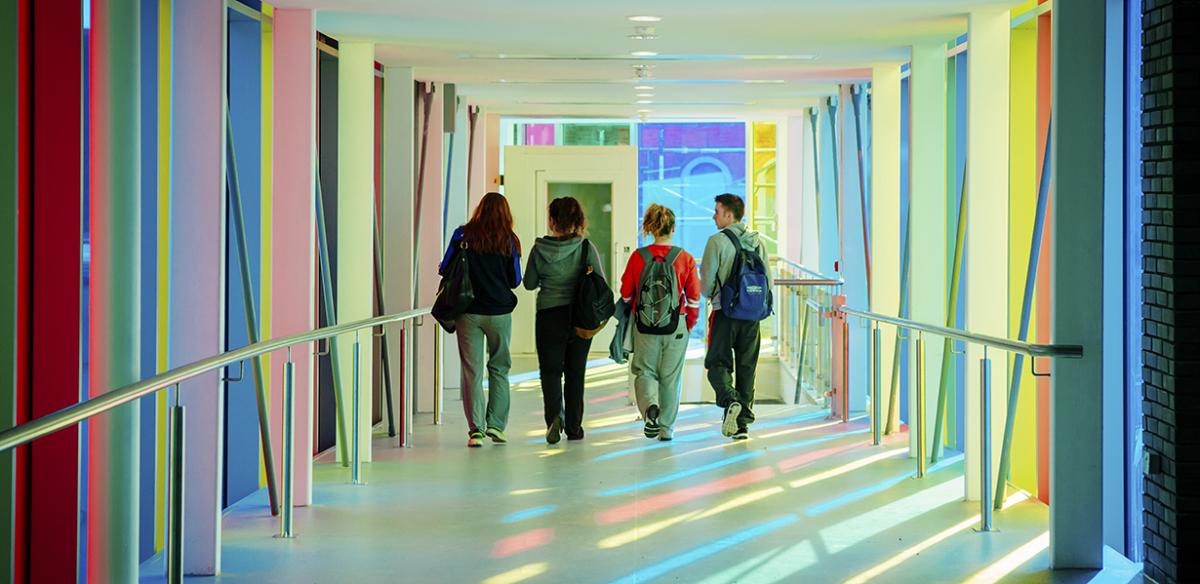 About EDC
Located within DCU's Institute of Education, the Educational Disadvantage Centre's purpose is to highlight the implications of social and economic exclusion in education across education and related sectors in Ireland and internationally.    The Centre's mission is to promote equality in education and to contribute to the shaping of teacher education, so that the cycle of socio-economic and educational exclusion is broken. The Centre aims to contribute to research leading best practice in national and international policy and practice regarding social inclusion and equality in education.
With this in mind, the Centre's stated aims are in the areas of:
Pre-Service Preparation
National and International Research
National and International Policy, Advocacy and Practice
Community Outreach & Projects
Continuing Professional Development
The Centre has helped contribute to Dublin City University's ranking as the 23rd Globally in 2021, 26th Globally in 2022, 27th Globally in 2023 and 27th Globally in 2020 for the United Nations' Sustainable Development Goals (UN SDGs) regarding SDG 1 - No Poverty, in the 2021 and 2020 Times Higher Education (THE) Impact Rankings, which capture universities' impact on society and is based on institutions' success in delivering the United Nations' Sustainable Development Goals. 
HISTORY
In September 2000 St. Patrick's College received funding under the special targeted initiatives from the Higher Educational Authority to establish an Educational Disadvantage Centre. Dr Ann Louise Gilligan was appointed to establish and direct the Centre and an administrator was appointed shortly thereafter. In November 2001 the College, with the then Irish Minister for Education and Science, Michael Woods, formally opened the Educational Disadvantage Centre. In January 2004 Dr Paul Downes was appointed as the new Director of the Centre; the Centre is administered by Valerie McLoughlin.
The Centre's research has been published in numerous books, research reports, international peer reviewed journal articles, as well as being disseminated through many keynote and invited presentations nationally and internationally, and through policy submissions. These have contributed to national and international policy documents, including across a range of European Commission and national documents, as well as the Council of Europe and Amnesty International. The Centre has led a 12 country European study on access to education, and major reports for the European Commission on multidisciplinary teams, inclusive systems, and school bullying and violence. The Centre's M.Ed Special Option Course, Poverty and Social Inclusion in Education offers a unique interdisciplinary focus across psychology, geography, philosophy and sociology for teacher education, engaging centrally with EU Policy initiatives on early school leaving and is a distinctive course internationally that is not available in other universities in Europe or beyond.
The Centre has engaged in research projects spanning from early childhood education, primary and postprimary school, access to higher education, lifelong learning, out of school services and prison education, adopting interdisciplinary approaches across areas of education, psychology, sociology, philosophy, law and social policy, bridging health and education domains in particular. It has led large national conference consultations for both the first and revised DEIS Irish national strategies on poverty and social inclusion in education, advised successive School Policy Working Groups of the European Commission and led the establishment of national advocacy working groups in the areas of hunger prevention in school, and Quality Development of Out of School Services (QDOSS).
GUIDING PRINCIPLES
The Educational Disadvantage Centre's research is committed to:
A child-centred and person-centred vision
A holistic view of children, young people and their families' needs, welfare and well-being in education
Engagement with lived experience of key stakeholders: a phenomenological approach
Community development principles
A developmental focus, including a lifelong and life-wide learning vision
A multidisciplinary and interdisciplinary approach (with particular emphasis on the interplay between education, psychology, geography, philosophy, sociology and social policy)
Commitment to innovation for systemic change and transformation
Advocacy to end the injustice of poverty
Academic and operational excellence
A critical analytical approach to research, policy and practice
A multilevel systemic focus across international, European, national, regional, local and institutional contexts
A commitment to translating knowledge into action