Educational Disadvantage Centre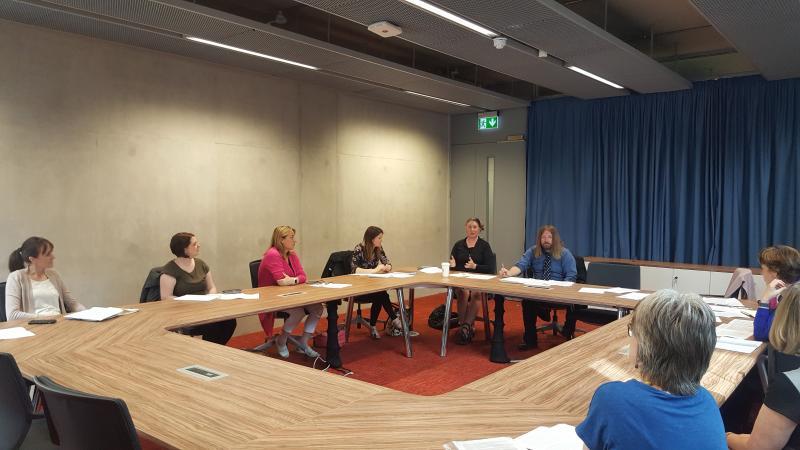 National Children in the Care of the State and the Education System Working Group
Dr Paul Downes, Director of DCU Educational Disadvantage Centre, Anne McCluskey Principal Our Lady of the Wayside, Bluebell and Professor Aislinn O'Donnell, Maynooth University have led the establishment of a new national policy and research Working Group to develop the education system in order to meet the needs of Children and Young People in Care.
The Educational Disadvantage Centre, DCU has hosted the initial meetings of the network in the Institute of Education, St. Patrick's Campus, Drumcondra. The network membership includes representatives from the INTO, IMPACT, Children's Rights Alliance, National Parent's Council Primary and Early Years, Empowering People in Care (EPIC),  Focus Ireland, Irish Foster Care Association (IFCA), Careleavers Network, Maynooth University, DCU and Maynooth Access Service.
 Wayne Dignam, Chairperson of the Care Leavers Network Ireland presented a written and oral submission on children in state care and care leavers to the Joint Oireachtas Committee on Education and Skills by the Care Leavers' Network Ireland, entitled 'Barriers to Education Facing Vulnerable Groups' on May 29th, 2018.
Dr Paul Downes gave a keynote Presentation at the EPIC -  Empowering People in Care – Webinar on February 16th 2021. The presentation is entitled The Holistic Educational Needs of Children and Young People in Care: Placing an Invisible Issue on the National Policy Agenda.
EPIC Webinar Podcast available to view here