Educational Disadvantage Centre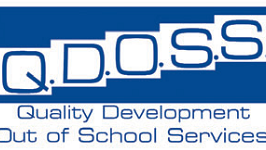 Quality Development of Out of School Services QDOSS
WHAT IS QDOSS?
QDOSS is a network of stakeholders, drawn from the Out-of-School sector, which aims to promote positive educational outcomes for children and young people, particularly those experiencing educational and social disadvantage. We are committed to the reality that Out-of-School Services play a key role in overcoming both educational and social disadvantage – helping children and young people's personal and social development, their motivation and confidence to learn, preventing early school leaving and anti-social behaviour. 
Barnardos;  Border Counties Childcare Network; City and County Childcare Committees;   Crann Community Childcare;  Dublin City Childcare Committee;  Early Childhood Ireland;  Educational Disadvantage Centre, DCU; Irish Local Development Network;  Limerick City Childcare Committee;  National Voluntary Childcare Collaborative; Roscommon County  Childcare Committee;  Transforming Education through Dialogue, Mary Immaculate College, Limerick
WHAT ARE 'OUT-OF-SCHOOL SERVICES'?
Out-of-School services refer to a range of structured developmental programmes, clubs and activities for school-age children and young people (4-18) which take place within supervised environments outside of formal school time and include school age childcare services, after school clubs, breakfast clubs, youth groups and programmes. They take place in a variety of settings, which include community childcare services, schools and various community venues. These services are funded and resourced from a range of sources including the EU, statutory and non-governmental agencies, parents, schools, community-based groups, faith-based organisations, youth organisations and other voluntary sector groups. Focusing firstly on the needs of children.
QDOSS recommends that key parts of a National Strategic Plan for Out-of-School Services should include:
1) LONG-TERM, RING FENCED FUNDING FOR OUT-OF-SCHOOL PROJECTS THAT GO BEYOND MERELY YEAR-TO-YEAR FUNDING Ring fenced funding must be put in place so that Out-of-School Services are equally available across the country, especially in contexts of urban and rural disadvantage. QDOSS recommends:  A consistent national and local strategy for funding of Out-of-School Services, inclusive of holiday provision, coordinated across the Departments of Education and Science, Health and Children, Justice, Equality and Law Reform and the Office of the Minister of Children
2) CONTINUITY OF OUT-OF-SCHOOL SERVICE PROVISION Full continuity and integration of Out-of-School provision for children starting school through to those reaching school leaving age is a vital part of any response to tackle educational disadvantage. QDOSS recommends that the National Strategic Plan make provision for integrated and coordinated Out-of-School Service provision at local level. Family support must be a key element of integrated and coordinated provision in contexts of rural and urban disadvantage. QDOSS recommends that:  The National Educational Welfare Board be adequately resourced so that Education Welfare Officers can fully engage these children and young people and their families, to support them to benefit from mainstream education as well as integrated Out-of-School Services  Out-of-School services are consistently available throughout the summer and other holiday times to provide a point of stability during a time of changing experiences for children and young people
3) CONTINUITY OF STAFF AND CAREER/PROFESSIONAL DEVELOPMENT OF STAFF IN OUT-OF-SCHOOL SERVICES Continuous relations to maintain trust between staff and children and young people are vital to psychological well-being and are particularly important for children and youth at risk of early school leaving. QDOSS recommends:  The development and implementation of staff retention and recruitment strategies  The facilitation of a national strategy for staff development and progression,  Examining training and accreditation, employment opportunities and defined career progression in the Out-of-School Service sector
4) OUT-OF-SCHOOL SERVICES AS AN INTEGRAL ELEMENT IN THE IMPLEMENTATION OF AN INCLUSIVE, CULTURALLY RELEVANT CURRICULUM QDOSS recognises the role that Out-of-School Services can play in implementing an inclusive, culturally relevant curriculum that can enhance children and young people's academic, personal, social and emotional development. QDOSS recommends that:  Funding is provided for Out-of-School programmes which recognise the vital role the Visual and Creative Arts can play for personal development, conflict resolution skills and in developing English language and literacy skills.  Funding is made available for school libraries to be developed as a resource within communities to enhance community based literacy schemes.  Strategies are put in place to empower parents of children/young people whose first language is not English or Irish to become involved in their children's education.
5) ALL SCHOOLS NEED TO BE MADE AVAILABLE TO THE COMMUNITY AS A LOCAL RESOURCE QDOSS recommends that the National Strategy make provision for new and existing school buildings to be made consistently available as a resource for the local community before and after school hours. QDOSS, working collaboratively, seeks a strategic approach at national and local community level to the provision of Out-of-School Services for those children and young people most at risk of educational disadvantage.
QDOSS ANNOUNCES ITS NEW CHAIRPERSON
The QDOSS (Quality Development of Out of School Services) network, of which the EDC is a founder member, announced that John Carr, former General-Secretary of the INTO, is its new External Chairperson.
QDOSS' REGIONAL CONSULTATIONS
QDOSS hosted three regional consultations: Limerick on the 16th October 2012, Carrick-on- Shannon on the 18th October 2012 and in Dublin on the 23rd October 2012. Valerie McLoughlin and Paul Downes attended the Dublin consultation. Paul Downes prepared the QDOSS prebudget submission on behalf of the network.