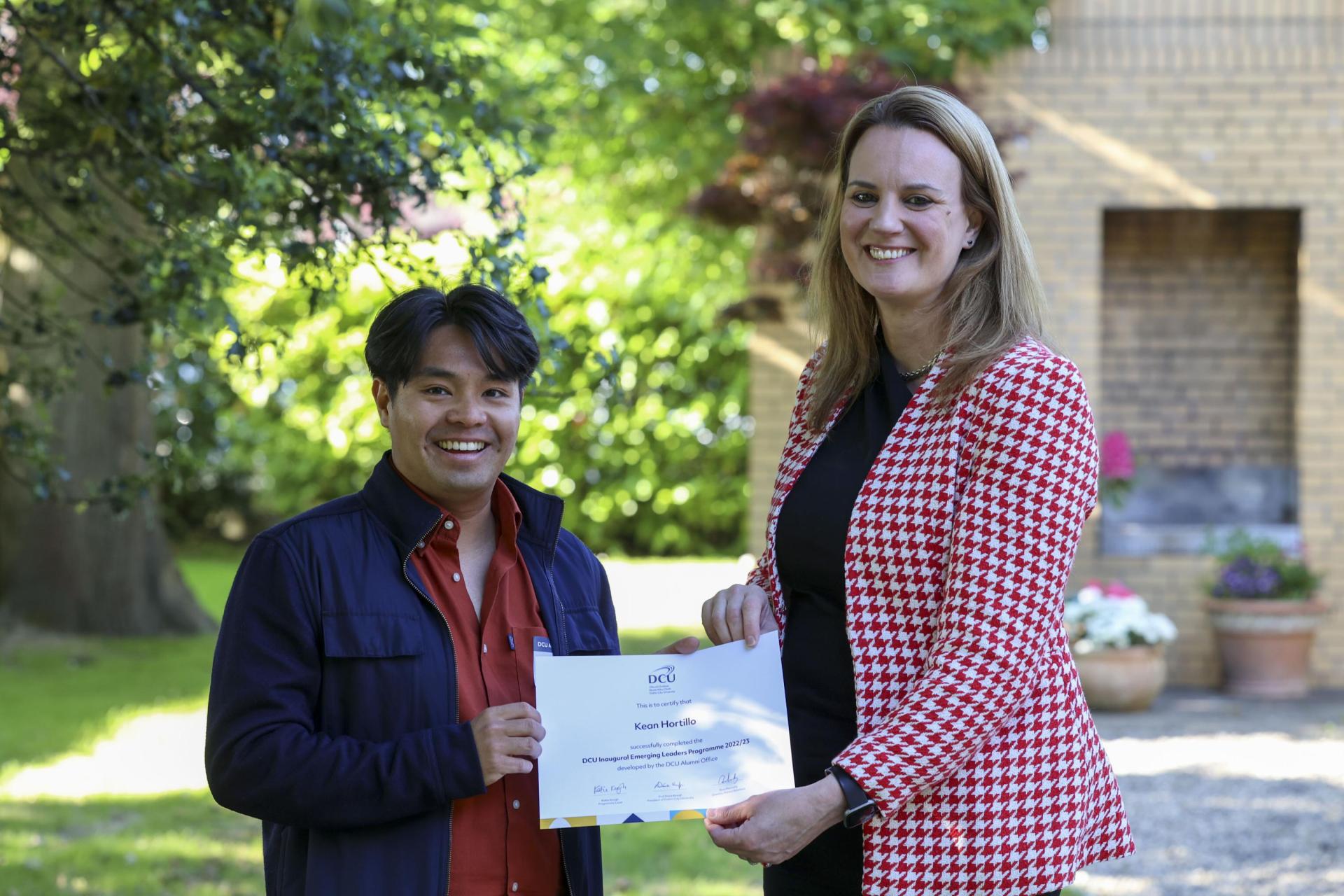 DCU Emerging Leaders Programme
DCU Alumni Emerging Leaders Programme 2023/24
The DCU Alumni Emerging Leaders Programme facilitates the next generation of leaders from our Alumni community through a schedule of innovative professional and personal development opportunities. This development, alongside networking across all DCU faculties and with alumni from the DCU&PNU programmes and ASU Thunderbird School of Global Management, provides programme participants the tools to grow in their careers and trajectories as effective leaders.
"A fantastic opportunity to meet the diverse group of individuals that DCU has educated throughout the years and learn from them. This programme not only provides the chance to help understand what a leader is but also show and share with us the experiences that a leader faces. Both the challenges and the successes.

Through a mix of in person and virtual meetings with successful leaders, I learned the importance of intentional networking and awareness about what leadership is and what it means to be a good leader – a continuous learning journey that brings people to grow into their potential.

I highly recommend this programme and hope it continues to grow over the years to come."
-Kean Hortillo
In the Emerging Leaders Programme you will:
Develop your individual leadership skills

Participate in guided reflection on personal development 

Build a thorough understanding leadership through case study conversations

Gain an expanded network with our international partner institutions and ELP Alumni

Take part in a psychometric assessment with a Chartered Work and Organisational Psychologist

Avail up to 5 optional leadership coaching sessions

Attend University events

Volunteer through DCU initiatives for further skill development
Leadership Coaching
Participants will have the option of applying for up to five leadership coaching sessions, kindly offered to the programme by The Coaching and Mentorship Partnership. These sessions will provide participants with dedicated space to think and reflect on their leadership journey.
 
Who Can Apply? 
This Leadership development opportunity is available to graduates who:
Are seeking the development opportunity to move to the next level of their career

Are advanced enough in their career to bring strong experience to the table in relation to their own functional area

Are a graduate from any of our five DCU faculties

Have high potential for future development
Application Process: 
Applications for the 2023-2024 cohort are now closed. 
Programme Schedule (subject to final confirmation):
Below you will find an outline of the Emerging Leaders Programme 2023/24. For participants to receive the full benefits of the programme, attendance at each event is expected. Event dates are subject to change, and will be finalised before the programme begins.
August
Participants apply

Applicants interviewed and selected 
September
Introductory Workshop - mid September

Official Programme Launch [in person] - end of September
October
Leadership Discussion Coffee Morning - early Oct

Authentic Leadership workshop with Insights Discovery [in person] - end of Oct
November
Leadership Case Study Seminar with International Partners - mid Nov
Leadership Discussion Coffee Morning - end of Nov
January
Leadership Case Study Seminar with International Partners - mid Jan
February
Leadership Discussion Coffee Morning - early Feb

An Evening with DCU Chancellor, Bríd Horan [in person] - end of Feb
March
Leadership Case Study Seminar with International Partners - end of Mar
April
End of Programme Celebration and Fireside Chat with DCU Alumni Award Winners [in person] 
The programme includes 10 hours of in-person and 10 hours of virtual engagements.
Programme Cost: 
This is a non-profit engagement programme designed to assist our graduates in developing and enhancing their leadership skills.
Participants are invited to donate a contribution of €300 to offset the cost of professional development tools and programme materials.
We encourage graduates to discuss this opportunity with their employer who may be in a position to sponsor their participation on the Emerging Leaders Programme. 
Applications for the 2023/2024 Cohort are now closed.
For further queries, please email alumni@dcu.ie