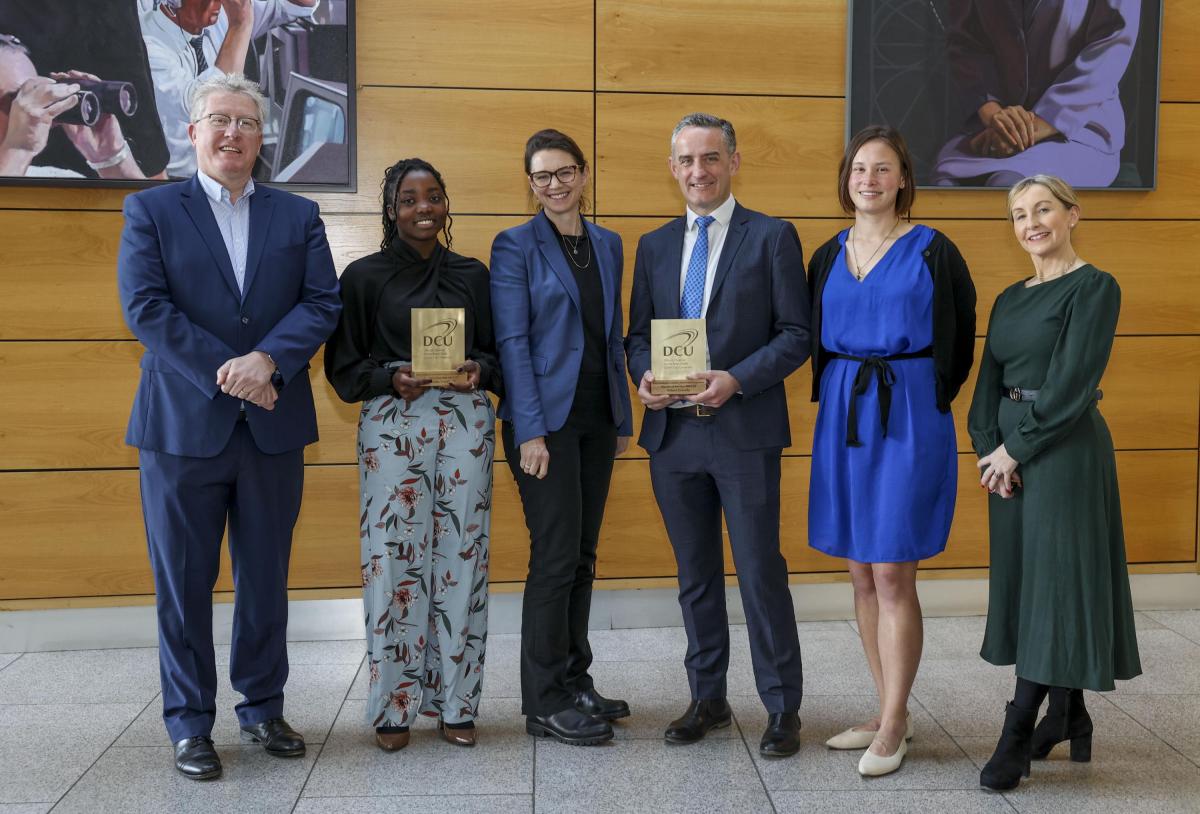 DCU Graduate to Student Mentorship Programme
Introduction
The DCU Graduate to Student Mentorship Programme, formerly known as the DCU Structured Mentorship Programme, won the prestigious IITD National Training Award for Excellence in Coaching and Mentoring for 2018 and was shortlisted as a finalist in 2020 and 2021. It is a joint initiative, co-organised by the Alumni Office and the Careers Service. The programme runs for six-months between November and April and pairs second-year students with alumni mentors for the purpose of career and professional development. Alumni and students are matched based on their areas of professional expertise, DCU course and areas of interest. Alumni mentors are asked, if possible, to provide their student mentee with a work-shadowing day as part of the programme. We appreciate that this may not be possible for everyone. 
The role of the mentor is to contribute to the transformative student experience at DCU by assisting the development of a second year student. Through the Graduate to Student Mentorship Programme our graduates give back to Dublin City University through time, experience and expertise. In return, the programme provides a range of benefits that can be captured on the Mentor's CV. 
To gain further insight into being a Mentor and to read Frequently Asked Questions, click here
Increase your confidence and motivation  
Develop leadership and management qualities
Engage in a volunteering opportunity, valued by employers
Benefit from a sense of fulfilment and personal growth
Reverse mentoring from student
Enhance your CV
Students and mentors make contact based on their own schedules and timetables. Time commitments for the programme are very flexible. As a general rule, we would ask graduates to make contact with their mentee twice a month for the duration of the programme (November to April).
The programme involves five main events / activities. Mentors are not required to attend all events, but we would ask both mentors and mentees to attend the opening ceremony/training session and the closing ceremony.
We are aware that it is not always possible for alumni to provide a work-shadowing day. In this circumstance, we would ask graduates to organise an extended session with their student mentee to focus on career progression, interview or CV skills, presentation skills or similar.
Interested in mentoring a DCU student as part of the 2023-2024 Mentorship Programme. Submissions for this year's programme closed on Friday 6th October 2023. We will be contacting all applicants on Monday 9th October with programme information and key dates. 
If you have any queries please contact DCU Alumni by email alumni@dcu.ie. We look forward to hearing from you.
To receive further mentorship updates from the Alumni Office or to share a query, update your details on the DCU Keep in Touch campaign or email alumni@dcu.ie 
2022 - 2023 Mentor and Mentee of the Year Awardees
Rob Costello, DCU Mentor of the Year 2022, in conversation with Ciara Cronin.
2023/2024 Structured Mentorship Programme Schedule
October
October - Welcome email to Mentors from the Alumni Office
17th to 19th October - Mentee Careers Service Information Sessions
17th to 20th October - Matching Process: Mentor/ Mentee matching selection via the portal
23rd October - Email from the Alumni Office to unmatched Mentors
18th to 24th October - Mentor/ Mentee introductory email sent by the Alumni Office
20th Oct to Nov 1st - Initial Mentor/ Mentee introductory meeting
November
9th November - Opening Ceremony
December/ January/ February
Mentee Work Shadowing
Progress and work shadow survey
Career Skills Session for Mentees
March
Nominations Open for Mentor and Mentee of the Year Awards
April
8th April 2024 - Closing Ceremony at DCU
Mentor and Mentee of the Year Presentations