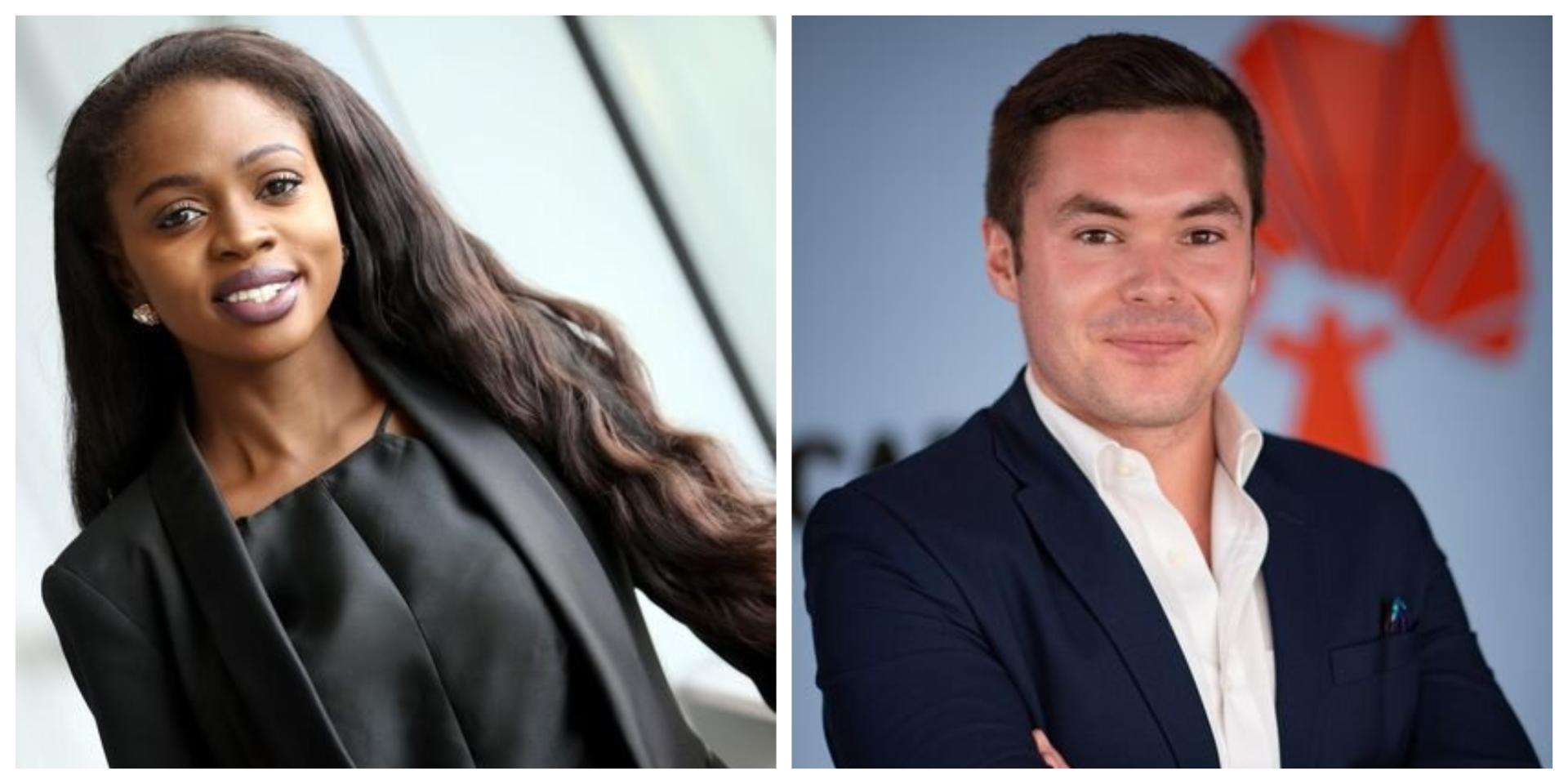 Below Image
Two DCU Alumni on the Forbes fifth annual 'Under 30 Europe' list
DCU graduates Lorcan O Cathain and Deborah Somorin feature on this year's Forbes 'Under 30 Europe' list under 'Social Entrepreneurs'.
The leading global financial publication said the list "is the result of thousands of international nominations, months of investigative reporting and the seal of approval from our panel of blue ribbon judges".
A total of 300 people from 10 different industries feature on the list, from across 32 countries. The list is headed up by Swedish Climate Action activist Greta Thunberg (16).
Speaking about their successes, DCU President Professor Brian MacCraith said: "DCU has a strong reputation for its commitment to fostering a culture of social entrepreneurship in our student body, so it was especially pleasing that both graduates had been recognised for their achievements in this area.

"I am delighted to see Lorcan and Deborah celebrated for their fantastic achievements that are making a profound impact in communities abroad and closer to home. Both social entrepreneurs have an attitude and ethic which reflects DCU's mission to transform lives and make an impact on society. Both serve as great role models for our students.

"We have so many talented alumni and students and, while Lorcan and Deborah have certainly set the bar high, I have no doubt other DCU talent will follow in their footsteps and feature on such a prominent list."
Lorcan O Cathain (27) studied for a BA in International Relations in Dublin City University, before completing an MA in Arts/Science in the London School of Economics and Political Science.
Lorcan is Chief Operating Officer for 4G Capital, a company with a 600-strong team across Kenya, Uganda and South Africa which Lorcan coordinates from his base in Nairobi.
Many small businesses in Sub-Saharan Africa are unable to get financing from traditional banks, and turn to 4G Capital which sends credit in the form of mobile money to customers' phones.
While in DCU, Lorcan was one of seven students successful in their application for the renowned Washington-Ireland Program (WIP) for Service and Leadership, a six month programme of personal and professional development that brings outstanding university students from Northern Ireland and the Republic of Ireland to Washington DC for summer work placements and leadership training.
Read Lorcan's Forbes profile here
Chartered accountant Deborah Somorin (26) graduated from Dublin City University with a BA in Accounting and Finance in 2014, and with an MA in Accounting in 2015.
Deborah came to DCU via the University's Access programme, the oldest Access programme in the country. Deborah was homeless at 13 and became a mother to son Liam at the age of 15. She has previously recounted her personal story on the Late Late Show.
Today, Deborah is a Senior Associate with PwC in Dublin, and is a board member on the board of directors for Chartered Accountants Support, which supports members and students of Chartered Accountants Ireland. She stays in touch with DCU's Access programme, and is one of its most passionate advocates.
However, it's her work with the charity that she founded which has propelled Deborah onto the Forbes Under 30 Europe list.
'Empower the Family' CLG was established by Deborah in 2018, and aims to help single parents enter and successfully complete their time in university.
It plans on opening student accommodation with an onsite creche for single parents wanting to attend university. They are hoping to provide 20 apartments for single parents in university, with a creche on site.
They are also planning to provide another 10 apartments for young people transitioning out of State care who are attending university.
They hope to have some or all of these projects completed by 2023, and are currently working with Dublin City Council in securing a site in the north of the city.
To donate to this wonderful cause, please go to empowerthefamilyireland.com for more information.
Read Deborah's Forbes profile here