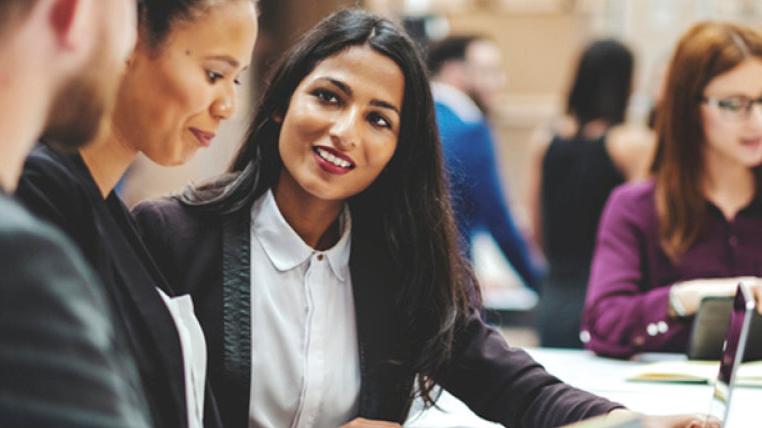 DCU Mentors and Mentees of the Year 2019/2020 announced
The Mentor and Mentee of the Year for the three Mentorship Programmes at DCU have been announced for 2019/2020.
Structured Mentorship Programme 2019/2020
Congratulations to BSc Actuarial Mathematics student, Lauren Culligan, who was named Mentee of the Year.
Lauren was nominated by her mentor, Enda Kyne (BSc in Information Technology, 1995) of FBD Insurance.
"I nominated Lauren for the Mentee of The Year Award in recognition of her excellent attitude towards the programme, her genuine curiosity to learn about careers aligned with her course of study, the mature and engaging behaviour she demonstrated during work shadow days, and her determination to make the most out of the new network of industry contacts she created. We worked together with openness and honesty to make the process a success for both of us. I really enjoyed working with her."
Congratulations to Eimear Ní Bhroin (MA in International Relations, 2001), who was named the Mentor of the Year. Eimear works as Language Affairs Officer at European Commission, and was nominated by her mentee and BA EPL student, Eimear Fox.
"I was lucky enough to be paired with Eimear Ní Bhrion as part of the Mentorship Programme. Eimear went above and beyond as a mentor. She took me to many events and immersed me into the work that she does. She was also always helpful with the many question I had for her and kept in constant contact despite her incredibly busy schedule. Eimear excelled herself as a mentor and did more than I ever expected. I am so delighted that the work she did in the programme is being recognised with this award. The skills and lessons I learnt from Eimear will always stay with me throughout my career."
Graduate to Graduate Law Mentorship Programme 2019/2020
Congratulations to Vladlena Soltan (Joint Honours, 2018 and LLM, 2019), who was named Mentee of the Year.
Vladlena's mentor was Conall Shaw (BCL, 2013) of Denis I. Finn Solicitors.
"Vladlena remained focused throughout the Programme by seeking to craft cover letters and a CV that would highlight her relevant work experience, education and achievements. Vladlena always welcomed my feedback and guidance and used it to further target her efforts when preparing for interviews, studying for professional law exams or creating a professional online presence, using LinkedIn. Vladlena's determination and interest resulted in her securing a paralegal position and gained experience in the sector that she passionately aspires to work in."
Congratulations to Adam Assahli of A&L Goodbody (BCL, 2013), who was named the Mentor of the Year.
Adam's mentee, Ciara McIntyre O'Shaughnessy (EPL, 2019) nominated him:
"I was delighted to nominate Adam for Mentor of the Year, as he was a great source of guidance to me in the year after graduating from DCU. Adam was extremely approachable and always willing to lend a hand with a broad range of queries I had. He was able to illustrate that although the qualification path may be challenging at times, it is manageable and extremely rewarding."
Graduate to Postgraduate MSc Public Relations and Strategic Communication Mentorship Programme 2019/2020
Congratulations to Emma Loo (BA in Comms and Media Studies, 2019 & MSc PR and Strat Comms, 2020), who was named the Mentee of the Year.
Emma's mentor was Paddy Carberry (BA in Journalism & Irish, 2013, MSc in Business Management, 2014) of Diageo.
"I was lucky to be given the opportunity to mentor Emma as part of the programme across the 2019/2020 academic year. From the outset, it was great to meet a current student so passionate for many areas of her studies, and in particular how Emma brought those passions to life through her academic work. I was able to introduce Emma to many people in my network, and had no qualms doing so given how professional Emma was from our first meeting onward.

I have no doubt I will see Emma's career flourish over the next number of years in the communications space and if ever Emma ends up at the other side of the desk to an interview panel, I hope they get the opportunity to read this."
Congratulations to Claire Moran of Boots Ireland, who was named the Mentor of the Year.
Claire mentored Romina Dashghachian (MSc PR and Strat Comms, 2020), who nominated her.
"Claire was and still is an amazing mentor. From inviting me to PR events to get a feel of how things run, to showing me around the office and introducing me to her colleagues. I got to get a great look behind the scenes and have someone to ask all PR-related questions that I had. We would have brainstorms together and she'd give me feedback on PR plans I was working on, which was incredibly valuable. In my current internship I get to work with her as our client, which is amazing. I couldn't have asked for a better Mentor."

Once again, congratulations to all the winners and a big thanks to all the mentors and mentees who took part in the three mentorship programmes for 2019/2020.
To register for the 2020/21 Mentorship Programmes or to find out more, click here.