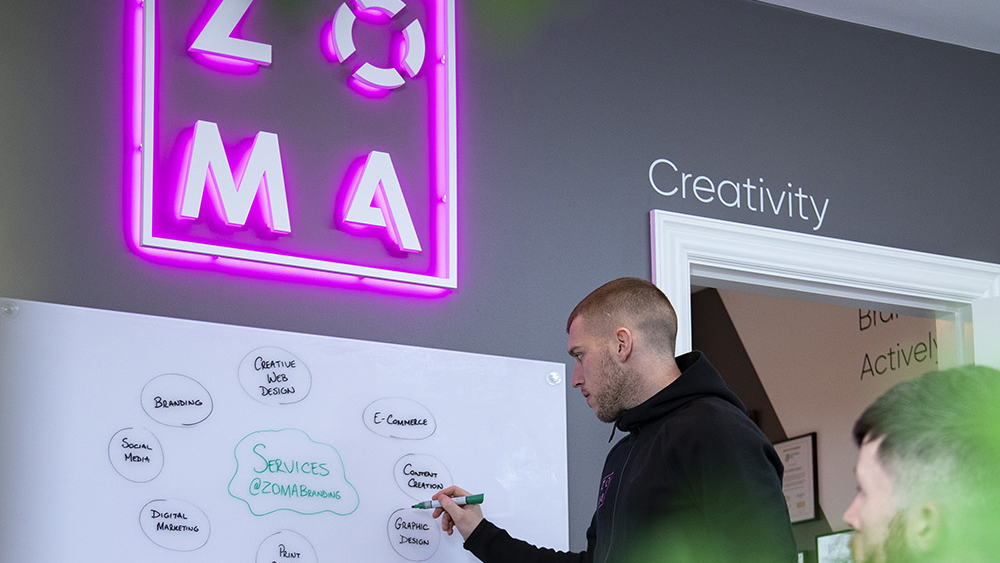 Alumni Spotlight - Business Owners: David Kieran and Chris Brennan of ZOMA Brand Agency
This month, DCU Alumni Relations Officer, Leanne Hanafin chatted with April's Alumni Spotlight Business Owners, David Kieran and Chris Brennan of ZOMA Brand Agency, which is a creative design and branding agency based just outside Dundalk, Co.Louth. Their team of creative experts specialise in taking brands to new heights, using cutting edge web design, content creation and digital marketing solutions. David, who is the Founder and Managing Director, is a 2013 graduate of the Bachelor of Business Studies. Chris, who works as the Creative Director, is a 2014 graduate of the BEng in Manufacturing Engineering with Business Studies. 
What are your recollections of campus life when you were a student? 
"Changing from a small secondary school to a national university opened our eyes to how much opportunities there are in the world. As we both lived on DCU campus we experienced the mix of different cultures and nationalities and how we can all work together to achieve something great. The social scene at DCU, with all the Clubs an Socs and Teams, helped us settle and broaden our network and develop our personalities."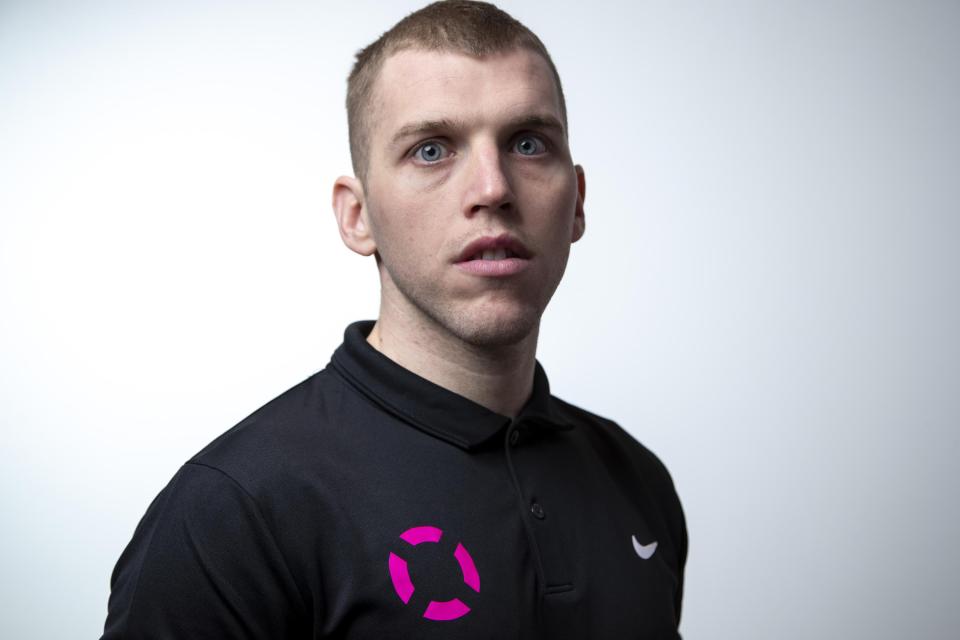 What's your favourite memory of your time as a DCU student?
David: "There are so many memories I have from DCU it's hard to pick one, but one that stands out to me today would be the success of our NED project in final year which pushed me to develop my own business in digital marketing."
Chris: "Winning a national freshers title in GAA which (funnily enough was 10 years ago this month) was one of the highlights of my college experience. Being constantly challenged to develop unique and independent ideas throughout college will always have a lasting impact on me."
What is your current role and what does it involve?
David: "I am the Managing Director and let's just say, I wear many hats. As a rapidly growing SME, my roles are constantly changing day to day from management to project development and even sales. I am actively developing relations and partnerships with clients and businesses to accelerate the growth of the business and the brand's awareness. As our team grows, managing the team and the brand identity and developing B2B relations will be my primary focus."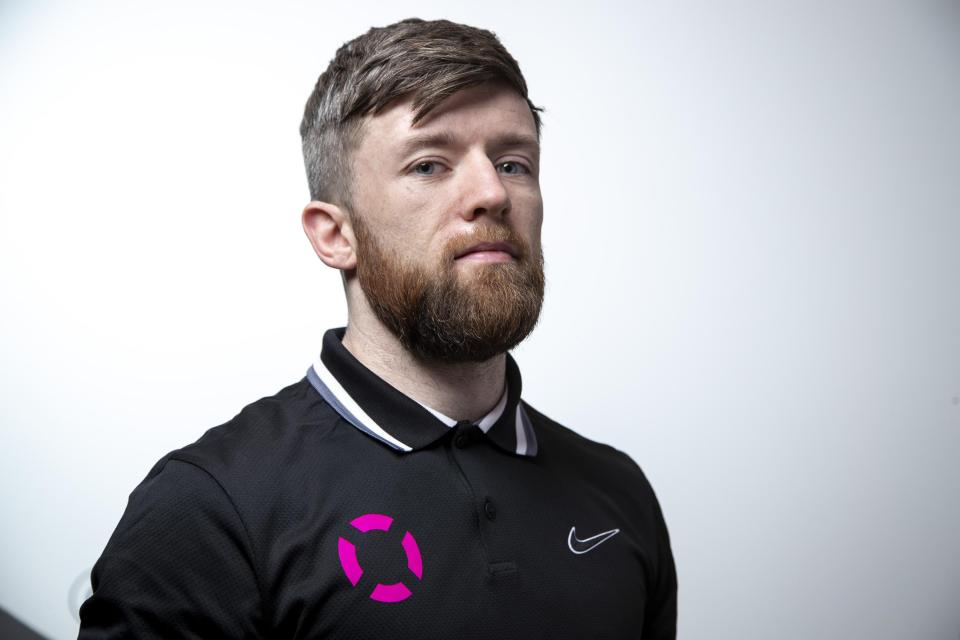 Chris: "In a small business, every day is different. The primary function of my role is to assist our clients in the development of their brand identity, to be the creative lead in projects and help put their vision on paper, or on screen, but some days I'm holding a microphone for our videographer".
What has your career looked like since graduating? 
David: "After graduating in 2013, I moved to Vancouver with my wife Fiona, where I worked with a digital marketing company learning all the tricks of the trade. Here I got experience in developing websites and marketing them on software that was not used in Ireland at the time. It opened my eyes to the potential businesses had in achieving success online. After finishing in Vancouver, my wife and I travelled all through North America, Central America and Europe for 6 months meeting some wonderful people along the way."
Chris: "I fell into my "dream" role the same summer I graduated but after a couple of similar positions with different employers, I decided I wanted to pursue my own path. After starting three businesses in 2018, I found a passion for brand development and that creative outlet keeps me motivated in my day-to-day work now. Having collaborated with David on a number of projects, when he asked me to join his growing business, I was delighted to get involved."
When did you start your business and what was the idea behind it? 
David: "After all my travels, I returned to Ireland and setup Marketing For Me Ltd in late 2016 – a marketing company providing web design, digital marketing etc. The company grew year on year and in 2019 was awarded with a Business All Star and had over 500 companies on it's book.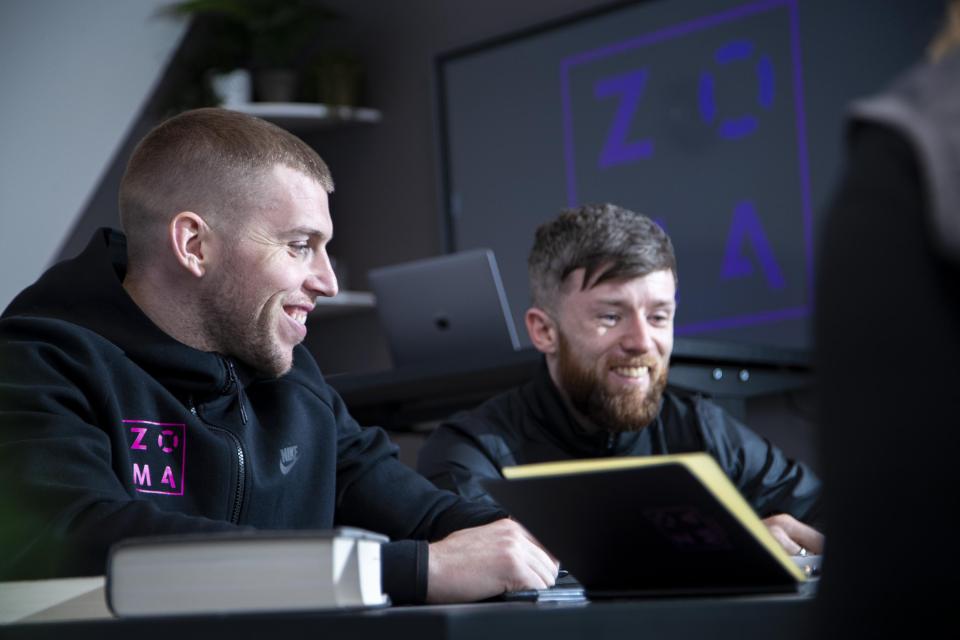 I always felt the brand was not strong enough and in Feb 2021, we launched the rebrand of the business – ZOMA to help us venture into new markets. I immediately approached Chris to become a company director as I say first hand his drive for developing brands and promoting the business day-to-day."
What are your career highlights or achievements to date you would like to share?
"We both won a County Minor Championship together. We were awarded the All Star Accredited Business & Breakthrough Business of the Year 2019. We are the largest Shopify & Wix Partner in Ireland. Finally, Chris' martial arts apparel brand, Coffee & Kimuras, has been worn by top professional athletes on biggest stages."
What are the key skills you learned at DCU that have influenced your career? 
David: "For me personally the communication and networking skills that I gained from my time in DCU have been fundamental to the success of me and my business as I use these skills every day to build long lasting and strong client relations. I loved the New Enterprise Development module in my final year and it developed my creative thinking skillsets that I never thought I had before."
Chris: "Aside from personal development and people skills, learning to think critically, analytically and independently has been a major factor in how I have ended up in my current position. Consistently working to deadlines, individually and alongside others, while ensuring a successful outcome has always been crucial too."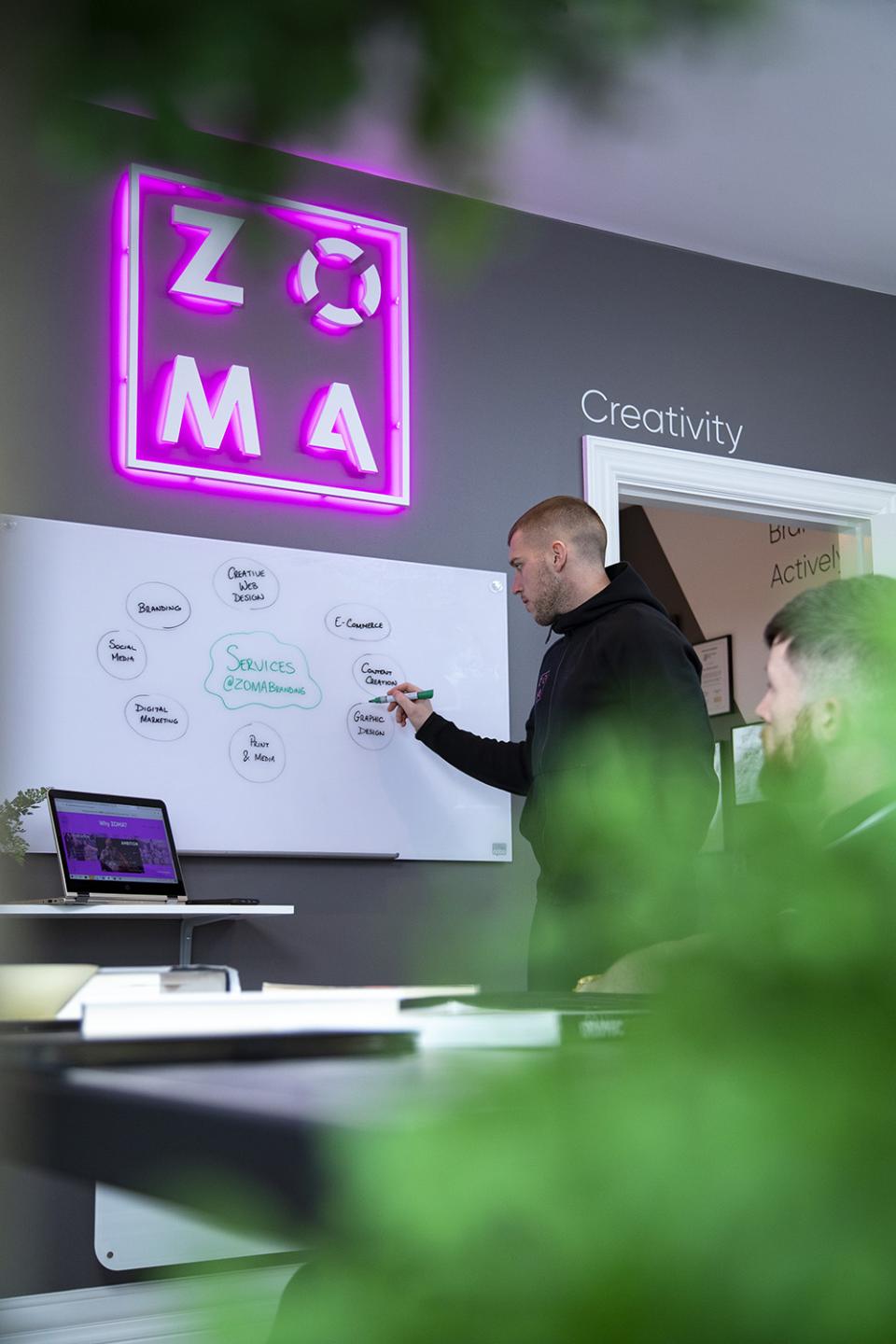 What advice would you give to current DCU students?
"We both would recommend that students should enjoy their time at DCU, embrace all it has to over from clubs and societies to social outings and events, as we look back today on those memories and the great time we both had at DCU. We are both proud to be DCU graduates and that's why we have it on our wall when you walk into the ZOMA office."