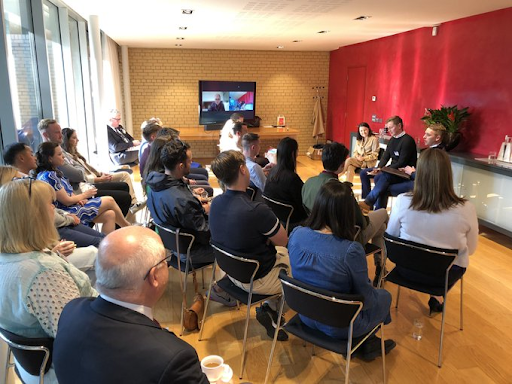 2021/22 Emerging Leaders Programme Closing Ceremony
In only its second year, the DCU Alumni Office was proud to acknowledge 15 new Emerging Leaders at the Programme's Closing Ceremony on 1 June 2022. The Emerging Leaders Programme aims to inspire the next generation of leaders from our Alumni community through a schedule of innovative professional development and network opportunities. The year included engaging seminars with DCU leadership team members, the Chancellor and Alumni Award winners, International networking opportunities, psychometric assessment with a Chartered Work and Organisational Psychologist,  and volunteering opportunities through DCU initiatives for further skill development.
An Grianán played host to the closing ceremony where the Emerging Leaders were treated to an intimate fireside discussion with DCU Alumni Award winners, Michelle Cullen and Rob O'Hanrahan. 
Programme Leader, Katie Keogh, welcomed the Emerging Leaders and their guests and sincerely thanked them for their commitment to the Programme. Soon after, President of DCU, Prof. Dáire Keogh explained "Our graduates transform lives and societies" and that he is "hugely grateful for your commitment to the programme".
Director of Alumni Relations, Ross Munnelly, invited Michelle and Rob to discuss their time in DCU, their paths to success and their advice to our Emerging Leaders.
Michelle Cullen (BA in Communications and PhD) reflected fondly on the role DCU has had in her career. She also mentioned the initiative she has worked on, Women on Walls, and its impact in encouraging inclusivity and diversity in STEM. 
Rob O'Hanrahan (BA, English and History, 2013) shared his experience of delivering breaking news during the worst days of the pandemic. When asked to reflect on his greatest success at DCU, O'Hanrahan noted an immense sense of pride associated with his St. Patrick's College side's victory in the Trench Cup back in 2011. 
The Emerging Leaders were invited to ask Michelle and Rob questions following the discussion. Conversation circled around being an inclusive leader, dealing with "imposter syndrome", career highlights and dealing with mishaps as a leader. There was  unanimous feedback that the fireside chat was insightful and inspiring. 
The evening concluded with the presentation of the certificates to our Emerging Leaders Programme lead by Katie Keogh and Gay White, Steering Committee member.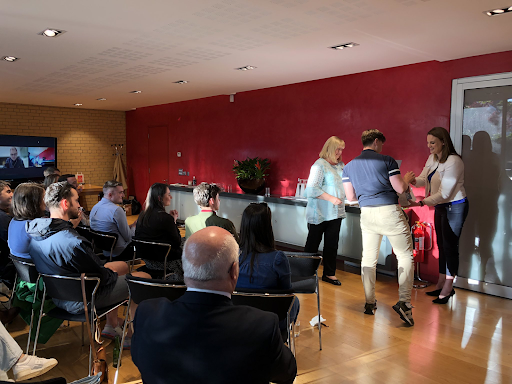 We look forward to seeing what our Emerging Leaders achieve in the not too distant future.
Applications for participation in the Emerging Leaders Programme 2022/2023 are open from 30th June to midnight on 7th August 2022. Click here.