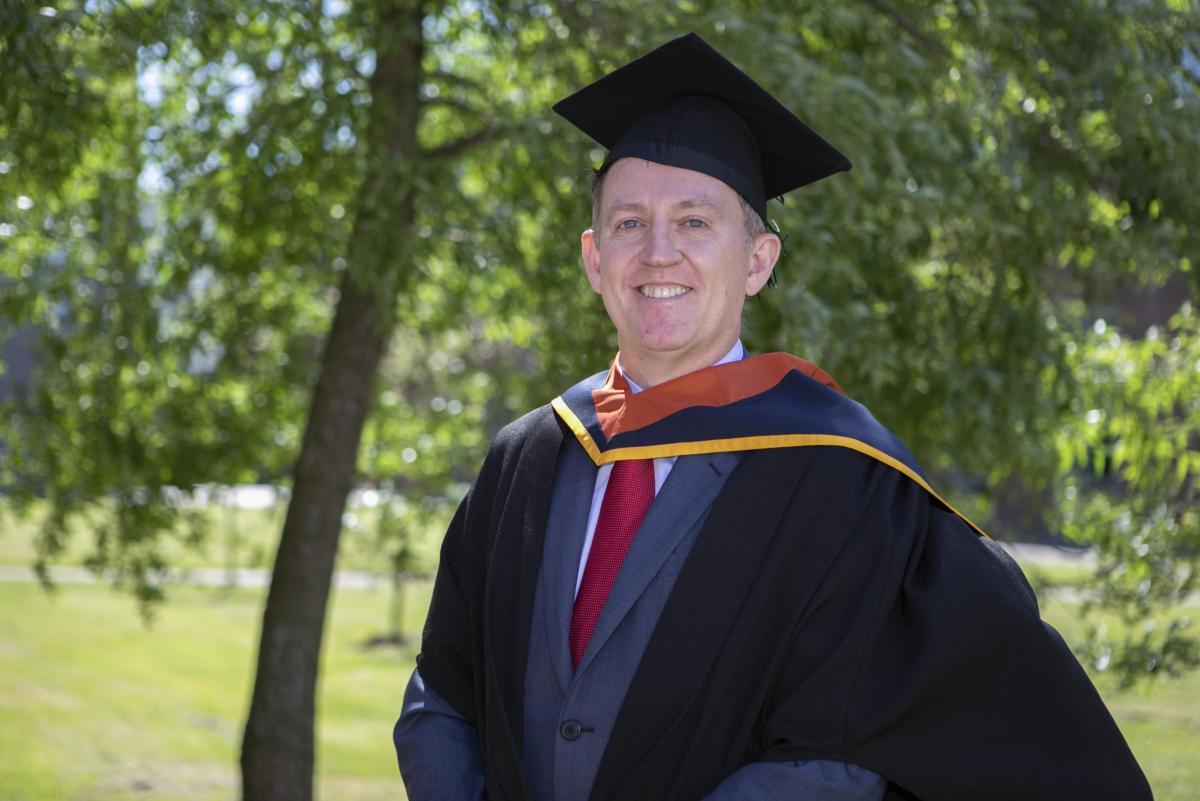 A gathering of DCU Alumni in Washington, prompted by RTE's Caitriona Perry, saw Irish man Tony Flynn complete a third level journey begun nearly 30 years earlier.
Tony is now Assistant Vice President, Network Support, Amtrak, Washington DC but he began his career in transport with Aer Lingus where in 1988 he was selected to be a trainee computer programmer.
While on a career based professional path, he had no degree or formal studies behind him.
After a couple of years Tony began a BSc in Computer Applications in DCU. That was in 1991 and he said, "the idea was to get the credentials to catch up with the work experience."
His career moved faster than he had expected and two years into his DCU course, he left to work for British Airways and "that meant I had to abandon my studies."
He spent a number of years travelling for work and said "there was no avenue and no real interest by me at the time in trying to pursue an academic career. I put it on the back burner."
Despite making that decision, as time passed and his career progressed, he said, "it is almost a given in the US that if  you are working and doing well, you must have gone to college. It is almost an introductory question to be asked 'where did you study' or 'what was your alma mater.'"
He admits he began to feel "a bit of imposter syndrome. It was definitely something I carried with me, a bit of guilt that went with it."
Then, "almost by accident I stumbled on DCU Connected."
When RTÉ's Caitriona Perry, who has a Degree in Journalism and a Master's in International Relations from DCU, was appointed Washington Correspondent, she set up an alumni chapter to connect with other DCU graduates there.
Tony had DCU on his LinkedIn profile and got an invite to the initial meeting of the Washington chapter in 2015.  
"I think the Alumni meeting rekindled the sense that there was a community that I could be part of and be a fully-fledged member of too."
Around the same time there Amtrak had a fatal derailment. It had a significant impact on him. He said, "A few days later I had a breakdown at work. I was really emotionally drained by it. I got interested in safety and safety culture and how we can change hearts and minds. You can't change hearts and minds without understanding how they work."
He went onto the DCU website and found a BA in Humanities with Psychology that resonated with him.
Having a connection with DCU from starting his BSc in Computer Applications and connecting with the Alumni in Washington he said he wanted to "punch my membership card of the Alumni association rather than showing up and again feeling a fraud."
He also had a sense of guilt for not having a formal third level qualification and, "I wanted to get rid of that and DCU Connected gave me a path for that."
The course structure allowed him to study online with numerous support tools including recorded tutorials and he flew back for on campus requirements such as workshops.
"I didn't feel like I was 5 time zones and an ocean away," he said.
Tony completed the 12 modules over five years  and did his final year research project on safety.
"I found the course very beneficial. It was a great education in a very practical field about how to understand data, how to analyse data and how to identify statistical significance in data."
Other key skills were learning to navigate the academic literature and understanding evidence-based research and evidence-based interventions.
"I had long regretted not having a cohort of college friends from the traditional path of college after the Leaving Cert. DCU Connected allowed me to have my college buddies. They arrived about 30 years late but I have them!"
"It has given me a lot of personal pride and satisfaction to complete a degree. It has taken away some doubt I had about myself and whether I could do it or had it in me."
When he sees people in college who are not in the 18-22 age bracket, he says, "we can under-estimate what we bring to the table as adult learners. We all have our own story. We all have our own journey. There are a lot of different reasons as to why we ended up in this place at different times in our life and all of those reasons are valid."