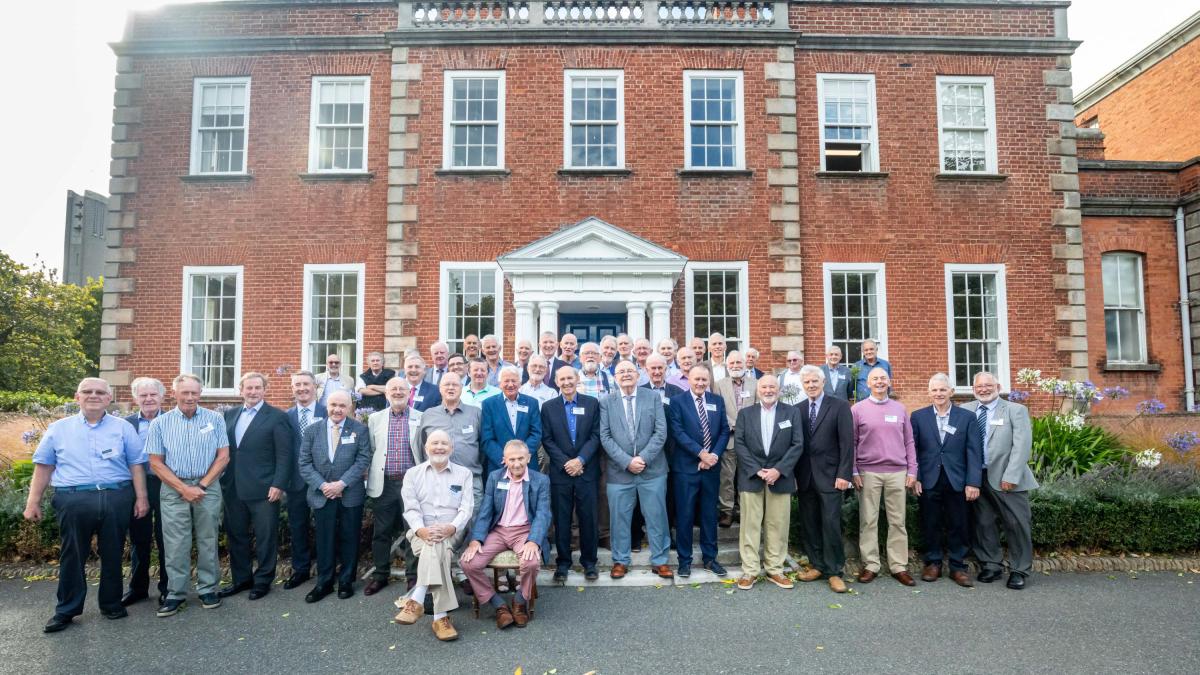 The Class of 1970 gather to celebrate 50th reunion year
The Class of 1970 celebrated their 50th Anniversary Reunion, on Thursday 18th August, at DCU St Patrick's Campus.
The class organising committee were congratulated, with special mention to both Jim Kells and Michael Griffin for their leadership, alongside the organising committee, for going above and beyond to ensure so many of their class members could attend this special occasion.
The evening commenced with a class organised prayer service, celebrated by DCU Chaplaincy Fr Paul Hampson, to remember classmates that are no longer with us and to celebrate their valued societal contribution.
DCU President Prof Dáire Keogh welcomed the class to campus as they celebrated their 50th anniversary year:
"On behalf of DCU, I want to express my great appreciation of the contributions you have made to Education and to society over the course of half a century. Some of you have travelled long distances to attend this event, and I think this speaks volumes about the formative influence of your time at St Patrick's College. It also indicates the strength of the life-long friendships you made while studying on this campus."
Prof Anne Looney, Executive Dean DCU Institute of Education, extended a warm welcome to alumni attending the evening:
"We are proud to host this anniversary celebration of your graduation, made even more special by welcoming you back to the campus to reminisce on times gone by and to take in the fantastic campus developments."
Following the prayer service, alumni visited Belvedere House and recaptured a class photograph to celebrate their reunion year.  Attendees were invited to attend a reception in the "Quad" with traditional music enjoyed by class members and performance by the DCU Trad Music Society.  The class enjoyed a celebration dinner in the campus restaurant were a collection of photographs from their group were available on display.
A number of the attendees stayed in campus accommodation, many of whom were placed in their original houses; Glendalough, Bangor, Clonmacnoise and Moville. 
The Director of Alumni Relations, Ross Munnelly, invited attendees to continue their connection;
"Looking to the future, I do hope that you stay engaged with the Alumni Office, there are so many exciting events and engagement opportunities for our graduates, we look forward to welcoming you back to campus in the months ahead."
After a two-year delay, due to the pandemic, the Alumni Office were delighted that this class group finally had the chance to celebrate the 50th anniversary of your graduation.
For further information on DCU Alumni reunion, email alumni@dcu.ie