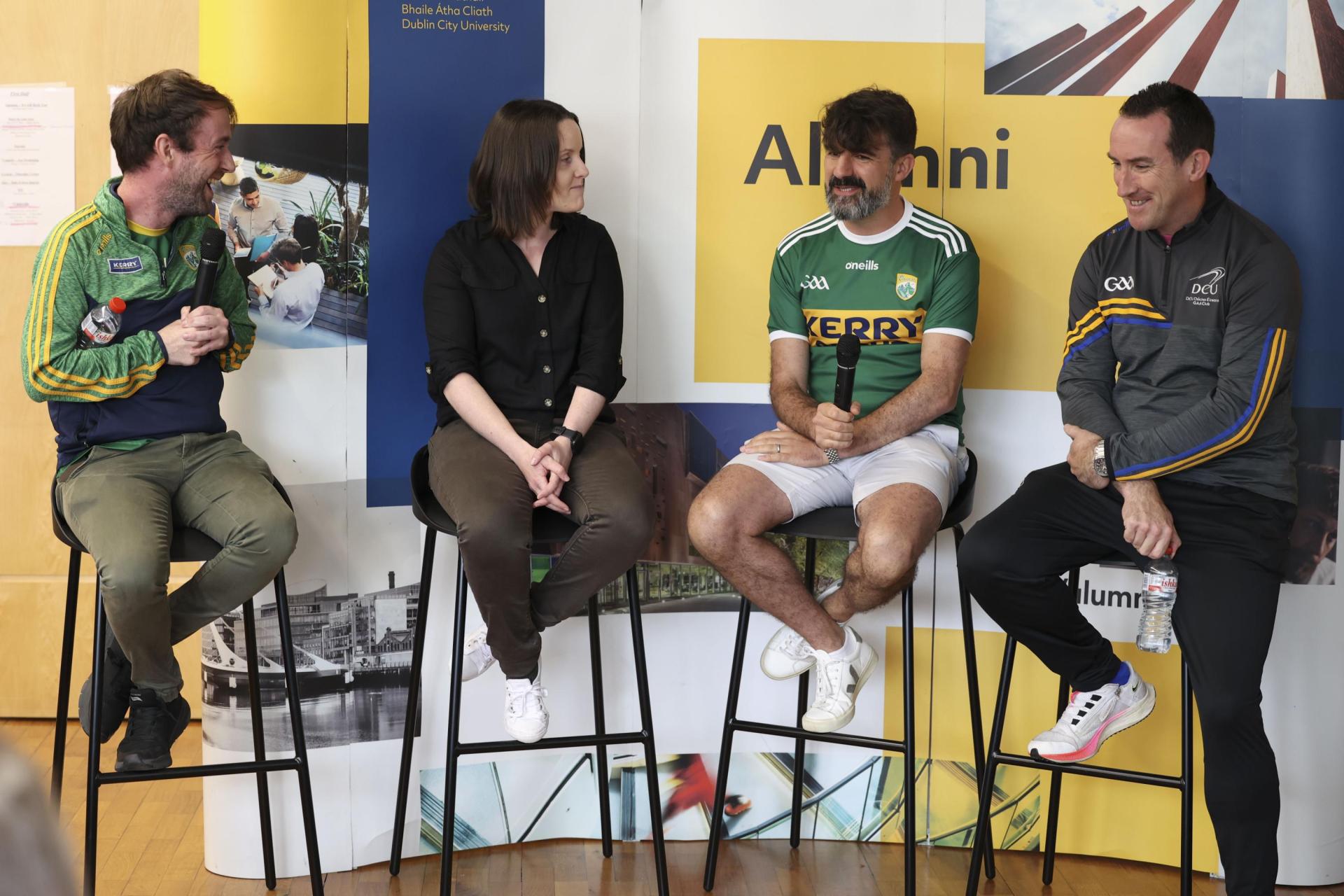 Alumni All - Ireland Football Final Brunch
Cillian Boggan - final year BA Journalism student
 
Over recent years our All - Ireland brunches  have become a popular event in our annual Alumni calendar. They are an opportunity to recognise and celebrate the achievements of our DCU graduates who are representing their counties in the All - Ireland Final and provide a fun experience for Alumni, students and staff who attend the game.
This year DCU graduates Sean Bugler, Stephen Cluxton, Cormac Costello, Evan Comerford, Lorcan O'Dell, Lee Gannon, David O'Hanlon, Ciaran Kilkenny, Tom Lahiff, Sean McMahon, Dean Rock, John Small, Paddy Small, team captain James McCarthy, High Performance Manager Bryan Cullen, and team manager Dessie Farell were representing Dublin as they took on a Kerry team looking for a second All - Ireland title in a row.
The opening address was delivered by DCU President Professor Dáire Keogh. At last week's All - Ireland Hurling Final brunch President Keogh said that as DCU President he would be impartial, but noted the name of his family dog was 'Cody'. This week Dáire was less ambiguous about what corner he was in, and hoped that his lucky Dublin hat would help get his home county over the line. He extended his thanks to the alumni team for providing such an enjoyable occasion for the university alumni community to come together.
The live pre-match panel discussion was hosted by DCU graduate and RTÉ Radio reporter & presenter Barry Lenihan (BA in Journalism). He was joined by DCU gaelic games officer Louise Byrne, DCU Sigerson coach and Kerry native Brian O' Connor, and two time DCU graduate, Dublin football legend and current Sigerson Cup Manager Paddy Christie. 8 time All - Ireland winner Jonny Cooper, made a special appearance. Our live panel discussed a number of interesting points.
Between 2014 and 2020 Louise Byrne was the performance analyst to the Kilkenny senior hurling team. This year she performed the same role for the Monaghan senior football team. Along with Monaghan manager & DCU graduate Vinny Corey, Louise put together a strategy which frustrated Dublin. Louise believed that securing turnovers would be key. In their semi-final battle, Dublin made ten shots from turnovers, scoring all of them, while Monaghan had 9 shots and only scored one. In elite sport those are the fine margins. Louise also heralded the return of Stephen Cluxton. The Dublin goalkeeper has represented his county in the championship on more than 100 occasions since his debut in 2001. Despite having now won nine All - Ireland medals he has been there for the best and worst of times for Dublin. His record of clean sheets stretches had stretched all the way back to 2019, until Paul Geaney scored the opening goal of the 2023 final.
While much of the talk was about Cluxton's return, the unexpectedness of it and the impact it had on Dublin, Brian O' Connor believed that Kerry goalkeeper Shane Ryan could be a crucial player. Ryan plays outfield for his club Rathmore. Rathmore won the All - Ireland intermediate championship last year. The man of the match in the final was Shane Ryan. He is a member of a youthful class of goalkeeper who are transforming the intercounty game by offering themselves as an attacking option.
It was a particularly special day for Paddy Christie. His clubmate and friend James McCarthy would go on to win his 9th All - Ireland medal, but Christie argued that he did not need another celtic cross medal to be highly regarded. McCarthy is a player who demonstrates his leadership ability through actions rather than words. It was difficult for Paddy to ignore how much the intercounty game has changed since he retired at the age of 31 in 2007. He praised Stephen Cluxton who is now 41 years old, and will be in contention for an All - Star award.
As our alumni brunch neared its conclusion, we had a fantastic piece of pre - game entertainment from Aidan Tierney - 'Tierney Talks'. In a conversation with alumna and 98 FM presenter Leanne Hanafin, he comedically impersonated the voices of some well known characters, and lit up the room with laughter. These included: Davy Fitzerald, Pat Spillane, Brian Cody, Colm O' Rourke, Ursula Jacob, Des Cahill, Colm Cooper, Eammon Fitzmaurice, Paschal Donohoe, Taoiseach Leo Varadkar and Arsene Wenger among others.
The concluding remarks were delivered by Head of Gaelic Games at DCU, Paul O'Brien, who expressed his personal pride at the fact 16 DCU graduates were involved with the Dublin panel. He expressed his personal pride that two DCU graduates: Stephen Cluxton & James McCarthy might win their ninth All - Ireland senior football finals. Indeed he was right and their names are forever etched into history.