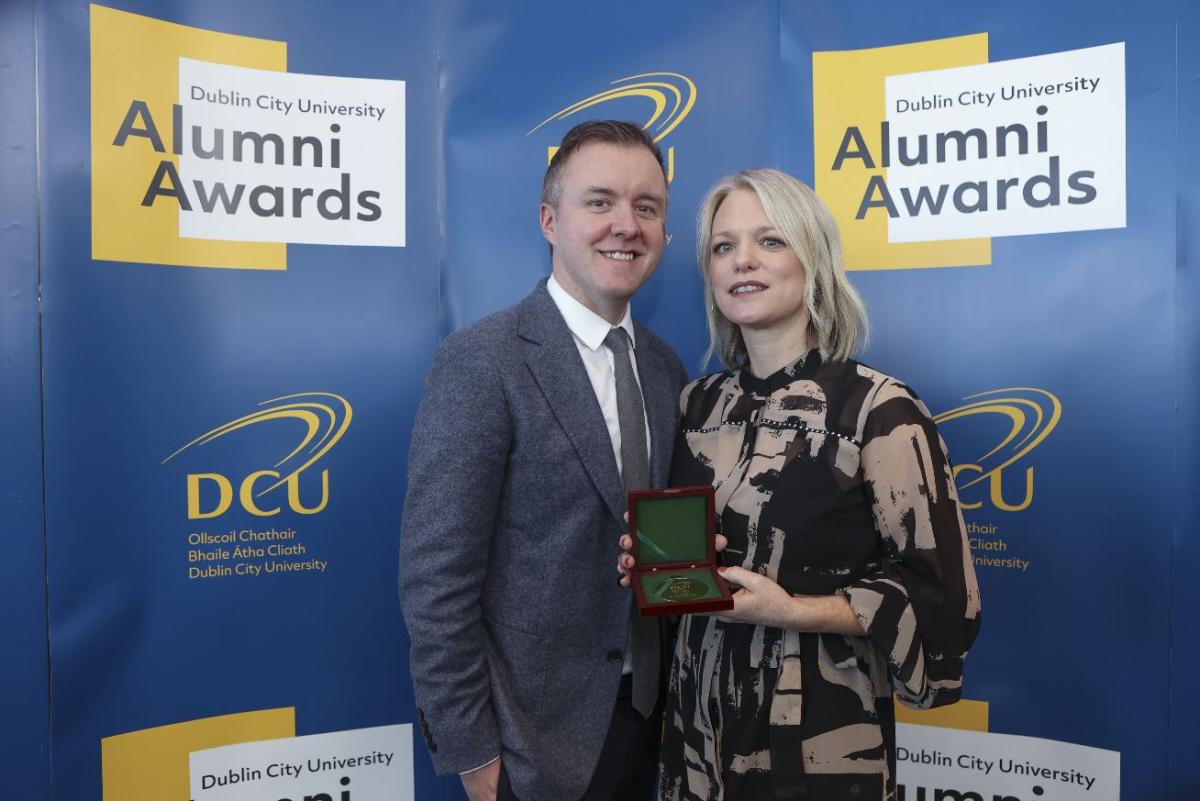 DCU Alumni Awards 2022: exceptional graduates honoured at Helix ceremony
The winners of DCU's annual Alumni Awards have been honoured at a celebration in The Helix at DCU's Glasnevin campus, joined by friends and family. The DCU Alumni Awards are presented annually to graduates who have made substantial achievements in their chosen fields, or who have contributed in a significant way to the social, artistic or economic development of Ireland. 
The DCU community includes approximately 100,000 graduates based in 220 countries around the world:  
The nine recipients are
Catherine Keogh is Chief Corporate Affairs & Brand Officer at Kerry Food Group. Prior to joining Kerry, she had a successful career at Alltech, where she was a key member of the leadership team. She holds a BA in International Marketing and Languages from the Business School
Rory Assandey began his professional career in SAP Ireland following his participation in DCU's third year internship programme. He later relocated to the US and delivered more than 40 services as an SME for customers within many sectors of industry. He has long been committed to supporting social enterprise & community projects. He founded La Ruche Health, which uses AI and instant messaging to connect communities to healthcare services in Cote d'Ivoire. Rory graduated from Faculty of Engineering and Computing with a BSc in Enterprise Computing. 
Suzanne Lindsay is a Senior Intelligence Analyst with An Garda Síochána. Previously, Suzanne worked in media research with the BBC, Fremantle Media & RTÉ. She joined the gardai as a civilian member in 2007, and her work focuses on the use of data and reporting both to track and prevent crime. Suzanne was named 'Criminal Analyst of the Year 2022' by for her analytical work on a Garda operation. Suzanne graduated with a BA in Communication Studies from the Faculty of Humanities and Social Sciences. 
Paula Melvin is President of Conradh na Gaeilge, the first female to hold that office since 1995. She is Senior Manager of the Fulbright Commission in Ireland, and has worked across the arts, media, education, youth work & professional bodies. Paula serves as Events Secretary of the Ireland US Alumni Association, & was among first group to participate in our Emerging Leaders Programme in 2020-21. Paula graduated with a BA in Irish Language, Literature and History from the Faculty of Humanities and Social Sciences.
Cleona Ní Chrualaoi is an award-winning film and TV producer. She has produced many flagship programmes for RTÉ, TG4 and Virgin Media. She produced the IFTA-winning Irish-language film An Cailín Ciúin, which has been nominated for two BAFTA awards this week. In the last 12 months, Cleona was selected as Screen International's 'Stars of Tomorrow' and also won the Film & Drama Award at the Irish Tatler Women of the Year Awards. Cleona graduated with a BA in Journalism from the Faculty of Humanities and Social Sciences. 
Derek Cleary is the director of Localise National Youth Volunteers. Derek and his team created Ireland's first second level national youth volunteer programme in 2007 - so far more than 50,000 youth volunteers have worked with over 5,000 community service projects. Derek and his team will soon launch the National Youth Volunteering Portfolios, an online system recognising the skills gained by youths volunteering, creating a pathway into Further Education and Higher Education. Derek graduated with a BSc in Education & Training from from the DCU Institute of Education.
Dearbháil Lawless is Chief Executive of AONTAS and works to raise awareness of diverse models of learning and clear pathways for marginalised and educationally disadvantaged communities underrepresented in accessing Further Education and Higher Education pathways. She sits on the Steering Group for the new National Access Plan and the Oversight Group for Funding the Future of Higher Education. She is also currently undertaking a PhD. Dearbháil graduated from the DCU Institute of Education with a with a BSc in Education and Training.
Michael Murphy is Head of Sport at Atlantic Technical University Donegal. He was named as captain of the Donegal senior football team in 2010 - and led his side to five Ulster titles and Donegal's second ever All-Ireland success in 2012. He won three GAA All-Star awards. He retired as an inter-county footballer in late 2022. He joined ATU Donegal in  2021 and is their Head of Sport, involving the planning & enhancement of all areas of sport. Michael graduated from the Faculty of Science and Health with a BSc in Physical Education with Biology
Brian Walsh is a software engineering thought leader who founded Réitigh in 2016 with two fellow DCU graduates, Mark Sexton and Darragh Pelly. The company works with a number of clients to solve data challenges. Brian built a powerful low-code software platform, IntegraLynx, to solve complex data processing and administration challenges. Réitigh is now Ireland's third fastest growing tech company. He has a BSc in Financial and Actuarial Maths and an MSc in Software Engineering, both from DCU
You can read more about our recipients here.
Commenting on the 2022 DCU Alumni Awards, Prof Daire Keogh, President of Dublin City University said:
"Our graduates are changemakers - people who embody our values, and who exemplify the can-do approach that is very much a part of the DCU DNA.  
For that reason, it is always a great pleasure to gather together, as members of the DCU Community, to recognise the exceptional contribution that our alumni make to the University's mission to 'transform lives and  societies'. The awardees' accomplishments, across so many aspects of society, are not only a source of great  pride, but these exceptional individuals also help to inspire our students to strive for excellence - providing role models for future generations of DCU alumni."
Ross Munnelly, Director of Alumni Relations, said:
"The Alumni Awards are very special for the university because our awardees were nominated by fellow graduates and staff at DCU. With each awardee, there is a story of how they departed DCU with a set of skills, on a mission to make a difference. For us in the Alumni Office, it is a marvellous occasion to welcome them home, to celebrate with their families and to highlight those achievements as an inspiration for the next generation of graduates."