Teaching Enhancement Unit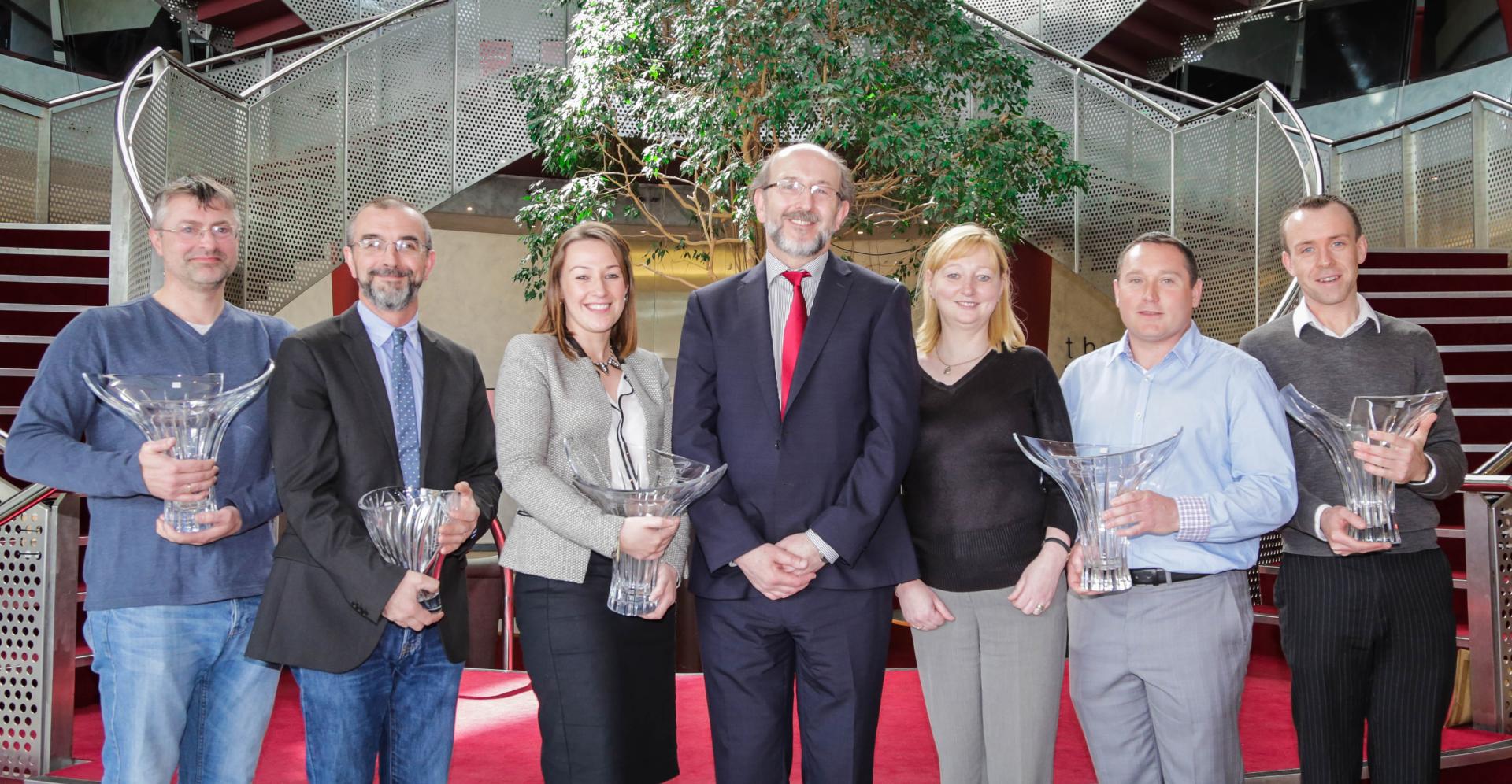 Presidents Award for Excellence in Teaching 2016
Left to Right - John Doyle, Dr Roddy Flynn, Dr Yseult Freeney, Prof Brian MacCraith, Muirel Keegan (representing the SAMA project), Keith Hickey, Michael Farrell
Academic Category: Dr Yseult Freeney, DCU Business School

"Yseult facilitated a lot of interaction within the class which enabled a better understanding of the course content. She gave great encouragement throughout the course and particularly with regard to the assignments."


"As a mature student, I found it difficult to get back into the swing of things but Yseult has a very down-to-earth manner which puts you at ease."


"Really fair and clear instructions/expectations from assignments."


"Yseult has an outstanding teaching style and approach to helping students."


"Her approach to teaching is to create an interactive learning environment - she uses tools such as discussions, interactive scenarios based on psychological principles, video clips, and self-assessment questionnaires."


"Her effective application of these tools ensures that her students really gain insight into the impact of psychological factors on their behaviour and their organisation's behaviour."
---


Academic Support Category: John Doyle, ISS
"Providing reliable IT services is a complicated interaction of network, storage, servers, databases and end users. To provide these services to the highest standard requires skill, expertise and very long hours at certain times of the year
"Ultimately to provide these services to the highest standard requires that you care about the people using the services. John Doyle has been caring about the DCU community for many years now. "
---


Academic Support Category II: Keith Hickey, Mechanical Engineering
"One example of a recent technology initiative that Keith is involved in is a new Lecture and Presentation capture system. The system allows Academic staff to record lectures for online learning. This allows students the opportunity to plan their study time around when they are at their peak energy. All of this makes online learning a great option for students who need to balance their study commitments.
Keith's interest and self initiative with this project has managed to develop a student learning aid that will greatly benefit the entire University."
---


New Lecturer/Tutor Category: Michael Farrell, DCU Business School
"He has several different ways of explaining something and will do so in whatever way he needs to ensure everyone understands."
"He really cares about his students and goes above and beyond to provide the best understanding for each student."
"He invites and ensures people ask questions, not taking silence as an answer, which encourages us to speak up and always results in further clarity."
"He has a very deep understanding of his subjects that he conveys in a way that is as easy as possible to grasp."
---


Special Award for Distinctive Teaching Approaches: Dr Roddy Flynn, School of Communications
The "flipped'' approach assumes that students consume material online in advance of face-to-face engagements with the lecturer. Each set of online lectures took between 20 – 30 hours to create.
Dr Flynn sought weekly feedback, actively encouraging students to highlight what they regarded as weaknesses. The responses point to a general enthusiasm for the flipped approach with students particularly valuing the scope to determine the time & place in which they watch lectures, the ability to rewatch complex material, and the extensive use of audio-visual material.
---


Special Award for Distinctive Approaches to Assessment & Feedback: SAMA Project, PNU
The SAMA project stands out because of the programmatic approach that it takes for assessment. Their (interdisciplinary) approach clearly supports the development of DCU graduate attributes like Global Engagement, Effective Communication and Active leadership.
The authentic nature of the assessment ensures that this programme utilises assessment for learning as well as assessment of learning.