Teaching Enhancement Unit
Universal Design for Learning (UDL)
Many staff involved in teaching, learning and assessment already engage with the principles of UDL in their practice, as much of the guidance around UDL relates closely to simply good teaching, learning and assessment. The first component of the toolkit is an introduction to UDL, which aims to introduce staff to the concept of UDL and how the principles connect with their existing practice. We designed this introduction using H5P, an open source content creation tool, allowing us to draw on the rich range of multi-media resources already available in relation to UDL, from organisations such as CAST in the US and AHEAD in Ireland.
In September 2019, a Moodle (Loop) page template was designed and rolled out across the DCU Moodle site, to promote the integration of UDL principles into teaching, learning and assessment on the VLE. The template also aims to address the need for consistency within the VLE, called for by students in the recently published INDEx report by the National Forum for Teaching and Learning (2020).
This brief video explains the rationale for the design elements within the template UDL principles. While the template was created in Moodle, we feel that the elements contained within the template can be replicated in other VLE platforms.
Two styles of checklist are available within the UDL toolkit, to guide you in further developing your UDL practice in Moodle. The checklists are framed by the three core UDL principles and include the various guidelines and checkpoints outlined by CAST. The first checklist takes the form of a progression style rubric, adapted from a rubric developed by Melissa Toland.  Both checklist styles are available below in Google doc format. Please feel free to adapt as required to your own context, creative commons licensing applies.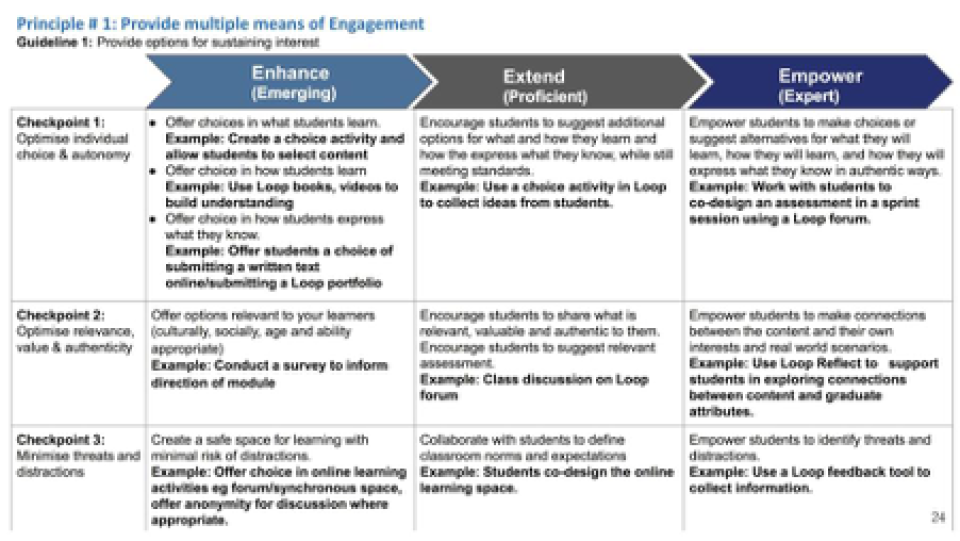 Progression Style Checklist - This checklist positions the UDL checkpoints across a progression pathway from emerging UDL practice, to proficient UDL practice and finally to expert UDL practice.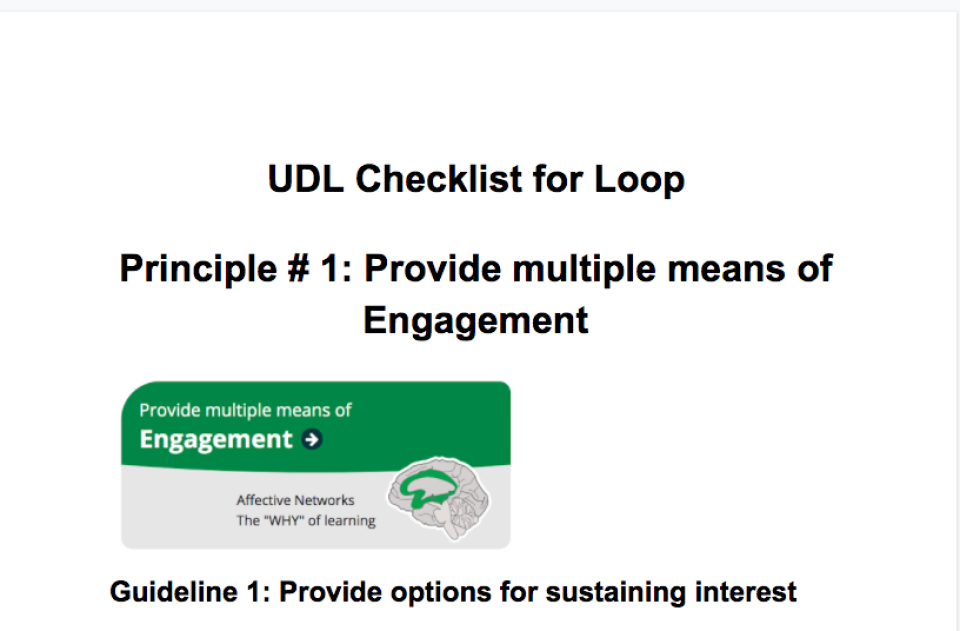 Box Tick Checklist - This checklist is laid out more simply as a list, again framed by the core UDL principles, guidelines and checkpoints outlined by CAST.