Teaching Enhancement Unit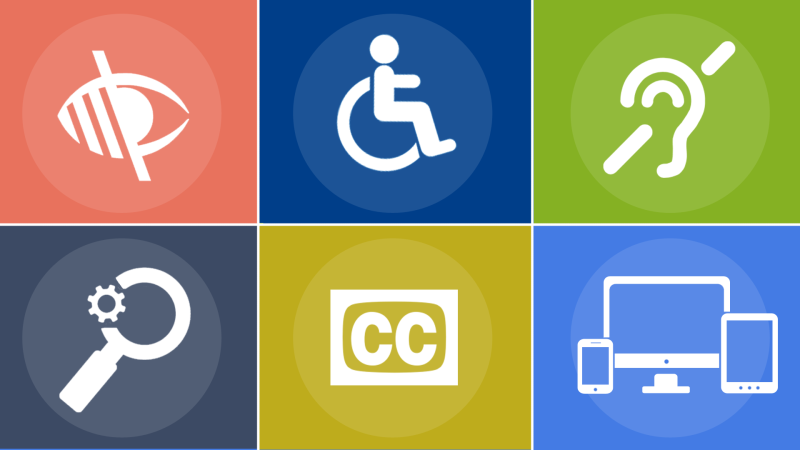 Universal Design for Learning & Accessibility
Accessibility is described by CAST as a 'key foundational principle' of Universal Design for Learning. As such, accessibility intersects with Universal Design for Learning principles although it is important to remember that Accessibility is not the only component of UDL.
The TEU draws on Universal Design for Learning to suggested approach to address accessibility relating to the teaching and learning aspect of the student experience. However, accessibility reaches beyond teaching and learning to include the entire student University Experience. Therefore it is also important to consider aspects of accessibility outside of teaching and learning.  Accessibility for students is also addressed by units in the University such as the Disability Office, Student Support and Development and the Equality and Diversity Unit.  
Addressing accessibility within the University community promotes equality diversity and inclusion and improves the University experience for all students. It also makes the University a more equal, diverse and inclusive place to work for all colleagues.
---
The short video below from CAST senior policy analyst, Skip Stahl, outlines the intersections between UDL and accessibility. 
Co-hosted by the Teaching Enhancement Unit and DCUSU, the inaugural DCU Accessibility Awareness Week ran May 17th - 21st, 2021  The aim of this week was get the DCU community talking, thinking and learning about accessibility and inclusive education.  
Several opportunities were available over the course of the week for conversations around accessibility and Universal Design for learning including:
curated online resources

30 minute practical workshops; and

60 minute panel discussions on key issues in accessibility, inclusive education and universal design for learning 
The events sought to offer participants both food for thought and practical advice on accessibility and inclusive education.  Most of the events were recorded and are now available in the section below. 
Given that the event was scheduled in May, the focus for this year was on raising awareness amongst the staff community in relation to accessibility. In 2022, we plan to schedule the event during semester time and to develop events for student participation.
Small changes for big impact: 30 minute practical workshops
The workshops, facilitated by experts from DCU and beyond, focused on providing participants with strategies to make small changes for a big impact on accessibility and inclusion. Recordings available below. 
MS Word and Accessibility (ISL translation)  
Facilitator: Trevor Boland, AHEAD 
Introduction to Assistive Technologies in DCU  
Facilitator: Mary McGovern, Assistive Technology Coordinator, DCU
Using the DCU Universal Design for Learning toolkit for Loop. 
Recording not available. Supporting resources 
Facilitator: Suzanne Stone, Teaching Enhancement Unit, DCU
Accessible ways of Working (ISL translation) 
Facilitators: Lorna Green, Equality, Diversity & Inclusion Unit, DCU and Helena McCanney, Learning and Development, DCU
Sounds good to me - A beginner's guide to audio feedback
Faciliator: Clare Gormley, Teaching Enhancement Unit, DCU
Panel discussions 
The panel discussions offered much food for thought in relation to addressing accessibility and striving for a truly inclusive University. The recordings are available in both video and audio only format and are well worth a watch or perhaps a listen as you take a walk during the summer months. 
How Universal Design for Learning and accessibility intersect to remove barriers to learning for all students
Video format with ISL translation; Audio format
The impact of accessibility on the student experience of University
Video format; Audio format
Accessibility in the Age of the Digital University – A Post-Covid Opportunity for Reform (pre-record) 
Video Format; Audio format 
How Accessibility supports student engagement with the entire University experience
Video format with ISL translation; Audio format
Drawing on UDL principles to improve accessible assessment design
Video format with ISL translator; Audio format