Teaching Enhancement Unit
Universal Design for Learning Toolkit July 2021
This UDL toolkit for Moodle (Loop @ DCU) aims to support staff to engage with Universal Design for Learning principles in their learning and assessment through the Virtual Learning Environment. The Toolkit is informed by research and policy in relation to UDL, and consultation/research with colleagues at DCU.
The toolkit comprises:
Introduction to UDL (H5P multimedia resource) 
Video introducing the DCU Loop template based on UDL principles; and
Set of UDL checkpoint resources
In September 2019, a Moodle (Loop) page template was designed and rolled out across the DCU Moodle site, to promote the integration of UDL principles into teaching, learning and assessment on the VLE. The template also aims to address the need for consistency within the VLE, called for by students in the recently published INDEx report by the National Forum for Teaching and Learning (2020).
This brief video explains the rationale for the design elements within the template UDL principles. While the template was created in Moodle, we feel that the elements contained within the template can be replicated in other VLE platforms.
Two styles of UDL checkpoint resources are available within the UDL toolkit, to guide you in further developing your UDL practice in Moodle. The checkpoint resources are framed by the three core UDL principles and include the various guidelines and checkpoints outlined by CAST. 
Both checklist styles are available below in Google doc format and are available under Creative Commons 4.0 attribution license. We encourage you to reuse/adapt these resources for your own context.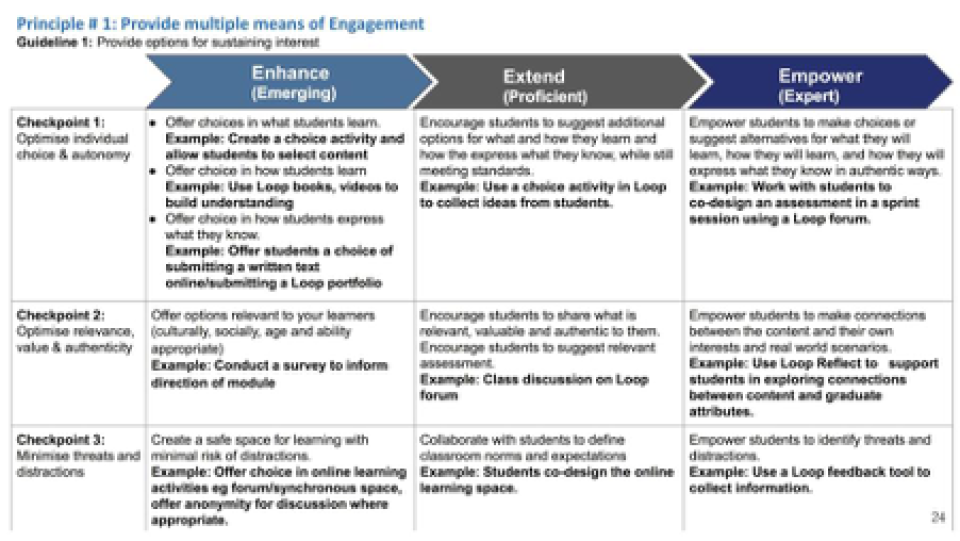 Progression Style Checkpoint resource - This checkpoint resources maps the UDL checkpoints across a progression pathway from emerging UDL practice, to proficient UDL practice and finally to expert UDL practice. Loop (Moodle) activities and resources are incorporated into each checkpoint.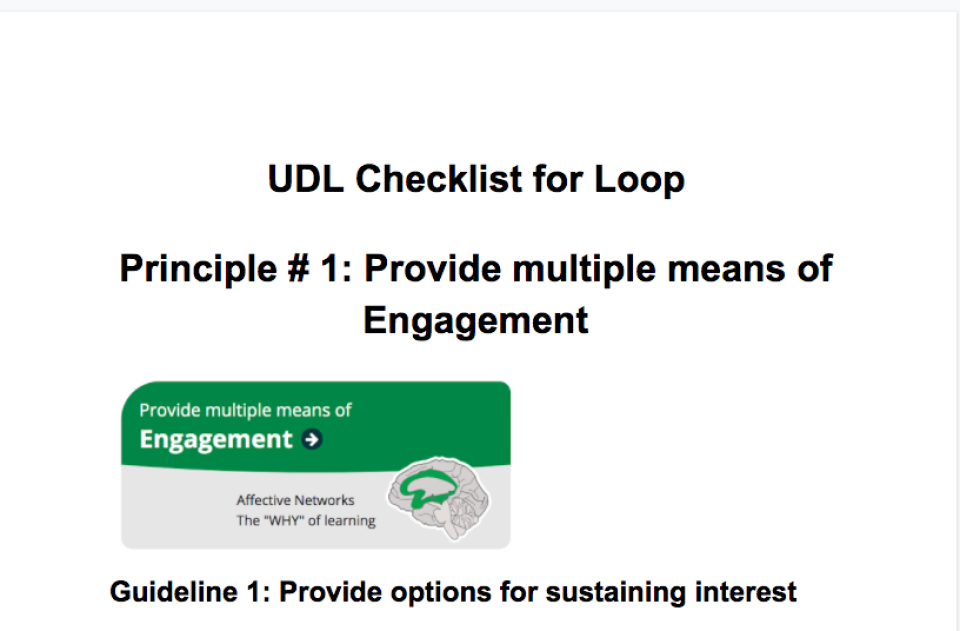 Simple list checkpoint resources - This checkpoint resources is simply a list of all the UDL checkpoints as outlined by CAST.