Teaching Enhancement Unit
Scholarship of Teaching & Learning
Scholarship of Teaching and Learning
The Scholarship of Teaching and Learning (SOTL or SoTL) is a growing movement in post-secondary education. SOTL is scholarly inquiry into student learning which advances the practice of teaching by making research findings public. SOTL necessarily builds on many past traditions in higher education, including classroom and program assessment, action research, the reflective practice movement, peer review of teaching, traditional educational research, and faculty development efforts to enhance teaching and learning.
The TEU actively support SoTL by assisting programmatic teams and individual staff who wish to conduct research into their teaching.
What is the Scholarship of Teaching and Learning (SoTL)? A fast description, and a very useful resource including links to other articles, is provided by Ass. Prof. Neil Haigh (2010:1), who said: "The first person to use the term scholarship of teaching was Ernest Boyer, a leading U.S. educator whose views have been very influential internationally. Boyer used the term when he advocated that: The time has come to move beyond the tired old teaching versus research debate and give the familiar and honorable term scholarship a broader and more capacious meaning, one that brings legitimacy to the full scope of academic work. (Boyer, 1990, p.16) By associating scholarship with teaching, Boyer sought to change conceptions of teaching and thereby the perceived value of teaching. He also offered a framework for thinking about the opportunities to enhance teaching practice through scholarship. Anyone seeking to improve the professional status of tertiary teaching needs to engage with Boyer's views about the scholarship of teaching and learning."
The resource can be found at https://akoaotearoa.ac.nz/download/ng/file/group-4/the-scholarship-of-t… (retrieved 5 October 2015)
AHRECS Scholarship of Teaching and Learning Research Ethics Manual
The Australian Human Research Ethics Consultancy Services (AHRECS) have been working in the human research ethics and integrity spheres in Australia and New Zealand for over 30 years. In 2014 the Australian Government Office for Learning and Teaching (OLT) commissioned AHRECS to undertake work to help OLT grant-holders and fellow avoid unnecessary difficulties and delays during research ethics review. AHRECS produced a resource manual to support the ethical conduct of the research that it funded. The manual consists of six booklets that include academic references, recommended reading and prompts for ethical reflections. The booklets are practically focused and incorporate examples of problems and suggested strategies. We are including this reference as it is quite comprehensive but be aware you need to check local Irish ethical policies as well.
For the full guide please click here
Disseminating Literature
The TEU believe there is a huge amount of relevant literature in both disciplinary and cross-disciplinary educational journals, books, blogs etc. As part of our commitment to assisting and supporting staff in their own ongoing development, as we come across relevant publications we pass these on in various ways.
Workshop resources: when we run a workshop, we usually post the literature and resources used into a google doc and share these with participants. The google doc can be updated as we come across additional, newer literature.
Diigo and Delicious libraries: each of us compiles our own Diigo or Delicious (see www.diigo.com or www.delicious.com ) library as we are conducting our own professional reading and searching. We save articles, papers, blogs and other resources that seem particularly interesting into the Diigo library. This can be easily retrieved, and also the entire library can be shared.
Individual forwards: the more we interact with DCU staff and learn of their research and practice interests, the more we are able to target articles that may be helpful to them as we do our own reading and research. We forward these on an individual basis.
NIDL staff list and research list: we forward articles and links to calls for papers through these lists.
Educational Research Group Affiliations
Staff from the TEU are involved with
For the full guide please click here
Eportfolio Practice and Evaluation - Ebook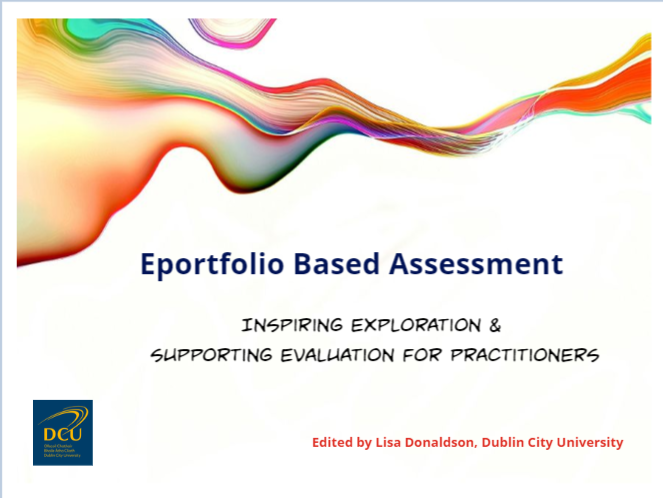 This ebook was collaboratively developed by members of the Eportfolio Ireland community of practice. It was designed to guide and inspire eportfolio practitioners by providing examples of eportfolio based assessment and evaluation across many Irish and UK higher education institutions.
The Ebook can be accessed here
Publications on Teaching
This site will be an ongoing 'work in progress' as we become aware of publications that our staff at DCU have gained from research on their practice. This is a field that we encourage all staff to consider, alongside disciplinary research. TEU members are happy to advise, mentor, sometimes even co-write, with staff wanting to undertake this aspect of the Scholarship of Teaching and Learning.
For the full guide please click here
Research Coaching and Mentoring
The TEU are keen to support staff undertaking research into their teaching practice. We are also happy to help staff wanting assistance with academic writing skills, advice on different research approaches with which TEU members are familiar, and encouragement to publish in relevant journals.
Among the coaching and mentoring services offered by the TEU are the 'Shut Up and Write' sessions that Muireann O'Keeffe facilitates for both staff and students on Glasnevin and St Patrick's campuses (an opportunity, in a collegial and closely-timed environment, to get some writing done). Muireann's research expertise is in professional learning in higher education, the use of social media, in particular Twitter for informal professional learning. She has carried out research on fostering reflective practice and writing and developing teaching portfolios in digital formats.
Pip Ferguson is available to support staff wanting to gain publications from teaching practice. Her specialist area is action research, but she will also act as a 'critical friend' to staff wanting to get started or to produce research publications, and to identify teaching initiatives that might be appropriate for research work. In limited cases, she can co-write with academics for whom this is a different field of research.
Mark Glynn has extensive experience of doing research in academia, including his specialist areas of e-learning and data analytics, assessment and the general area of technology enhanced learning. He has co-written papers with numerous academic staff helping to support the scholarship of teaching and learning wherever possible.
Clare Gormley's specialist area is that of learning design and its pedagogical application. For example, working in close collaboration with academic staff, she has helped to conduct research into effective use of wearable camera technology in a laboratory context and has co-written publications on this topic for a number of international conferences and journals. She has also assisted with research and publications relating to Irish language MOOCs, Irish Studies, and biomedical diagnostics.
What works & Why
Recognising that there is no 'one-size-fits-all' approach to the effective use of new digital technologies for teaching and learning, the What Works & Why project aims to build digital literacy and engagement for students and teachers by exploring the question: "What works and why?"
Focusing on supporting innovative pedagogy through learning technologies in discipline specific contexts, the project team seeks to identify what What Works and Why. Funded by the National Forum for the Enhancement of Teaching & Learning, the project partners of will offer a range of workshops, technology exploration sessions, formation of teaching groups and funding for TEL Innovation initiatives. Teachers will be supported in redesigning teaching and learning activities through technology integration leading to more rewarding learning experiences for students.
For more information on the project contact Lisa or visit the project website or our Twitter feed.