Teaching Enhancement Unit
Using ABC to design a new Clinical Exercise Science MSc at Dublin City University (DCU)
 

Institution:

Dublin City University (DCU), Erasmus+ ABC to VLE project partner

Description:

Using ABC to design a new blended Clinical Exercise Science MSc

Authors:

Academic team includes Professor Niall Moyna, Head of the School of Health and Human Performance at DCU; Dr Donal O'Gorman, Director (Interim), National Institute for Cellular Biotechnology and Associate Professor, School of Health and Human Performance at DCU; Dr Brendan Egan, Associate Professor of Sport and Exercise Physiology in the School of Health and Human Performance at DCU,  Dr Bróna Furlong and Dr Noel McCaffrey, formerly of the School of Health and Human Performance at DCU.

The Teaching Enhancement Unit team includes Dr Mark Glynn, Head of the TEU, Clare Gormley, Academic Developer, Suzanne Stone, Learning Technologist, and Dr Fiona O'Riordan, Academic Developer all of DCU Teaching Enhancement Unit.

Date:

30 September 2019

Course Details:

This is a proposed new Level 9 masters programme which would carry 90 ECTS credits. It will be taught in blended mode and would potentially be offered in both full-time (1 year) and part time (2 year) cycles.

Course goals/learning outcomes:

Draft programme learning outcomes discussed at the initial stages described how on successful completion of this programme, the graduate will have developed:

 

A systematic understanding of knowledge at the forefront of the field of clinical exercise science with a focus on exercise prescription.

A critical awareness of contemporary evidence-based knowledge and practice in clinical exercise science.

An ability to selectively apply the skills of exercise testing and prescription for a range of chronic diseases in hospital and community settings.

An ability to critically evaluate problems and alternative solutions in a variety of undefined and unfamiliar contexts related to exercise-based chronic illness rehabilitation.

An ability to communicate effectively in formal and informal scenarios to professional, research or lay audiences through a variety of means.

The competencies to lead a team to establish, design, deliver, manage and evaluate a clinical exercise service.

An ability to continually appraise research and reflect on and advance own knowledge, skill set and effectiveness as a clinical exercise specialist.

A commitment to continuously act with integrity and apply the highest ethical standards in the role of clinical exercise specialist.

Awareness of the importance of the clinical exercise specialist's role in society and how this role may be used to effect change where appropriate.
Context of change
The DCU School of Health and Human Performance (SHHP) academic team were keen to develop an exciting new programme in the field of Clinical Exercise Science and requested support from the TEU to help design it. The SHHP academic team has particularly strong expertise in exercise prescription and the programme team felt that the combination of content, delivery, and target audience could make this a unique and powerful course. For example, a key differentiator for the programme is that it is community-based at scale (not purely hospital based). It was identified from the outset that that a practical programme of this nature needed to embrace blended learning approaches that leverage technology in a pedagogically sound, innovative, and flexible way.
Because this is a brand new programme (which has not yet undergone a validation process), the TEU felt it was important to dedicate time to consideration of intended learning outcomes in advance of the ABC workshop. Previous ABC sessions with other groups had indicated that sometimes participants struggled to participate effectively if ABC activities were introduced before at least some initial discussions of learning outcomes. Therefore a 'Pre ABC' thinktank session was designed to help the SHHP team develop learning outcomes that captured the unique selling point(s) of the programme, were cognisant of DCU graduate attributes, adhered to guidance within Ireland's QQI Awards Standards, and were pitched at an appropriate level. Five team members attended this intensive and highly-interactive workshop which ran for 1 hour 45 minutes and focused on the Programme Learning Outcomes (PLOs) primarily. Follow up discussions over the next week ultimately led to a grid that mapped module-level learning outcomes to each of the five core modules and the two optional modules of the programme.
ABC workshop plan
The academic team had not used a collaborative learning design methodology such as ABC previously. The ABC workshop was facilitated by Clare Gormley and Mark Glynn of the TEU on November 9th, following the classic 90 minute ABC format. In addition to the ABC materials, key policy leaflets (eg Teaching & Learning policy) were also distributed on the tables. Participants also brought along post it notes from previous conversations connected with learning outcome mapping. 
Five members of the SHHP academic team, representing all of the anticipated module co-ordinators, attended the session. Given the small size of the team, rather than attempting to address all modules within the programme, two tables focused on two specific modules – one of which is largely theoretical, the other largely practical. These have the working titles of: 'Integrative Clinical Exercise Physiology' and 'Clinical Exercise Testing'.
 A learning technologist (Suzanne Stone) and an academic developer (Fiona O'Riordan) supported discussions at each table while the facilitators presented and moved around the room throughout the workshop. The originators of the ABC approach, Natasa Perovic and Clive Young of UCL, were also in attendance at the session to observe the facilitators and ensure they were sufficiently prepared for and familiar with the format.
ABC design
The session itself was lively and highly interactive with rich discussions taking place (particularly at the storyboarding stage) about potential designs. Storyboards outlining the intended learning experience for both modules were created. Below are photos from the session including storyboards and tweets from each of the modules: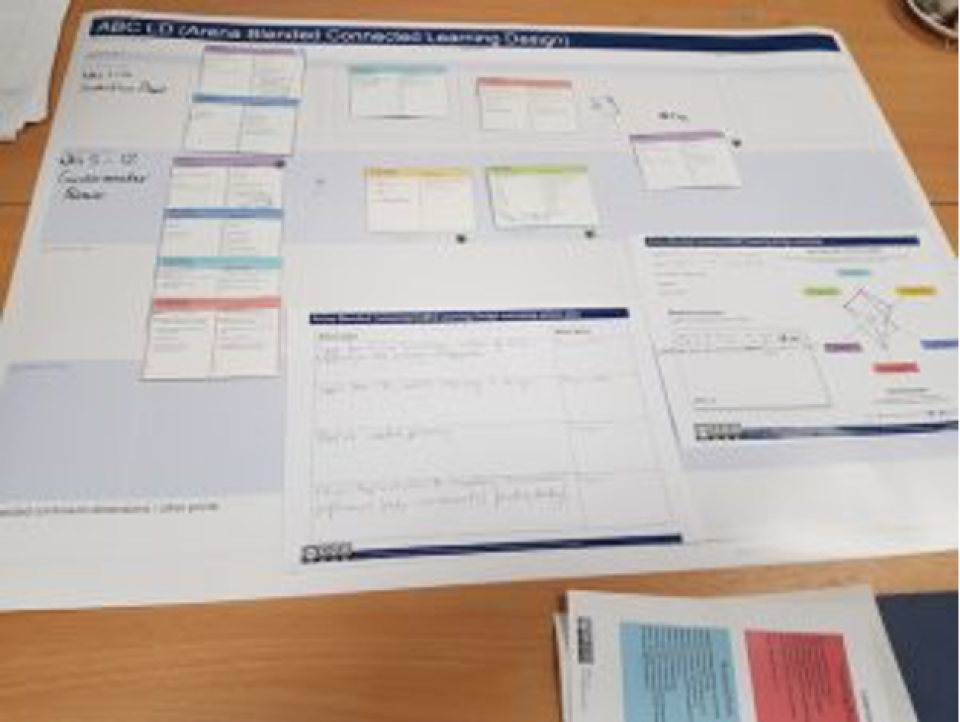 Proposed Storyboard and Action Plan for Module 1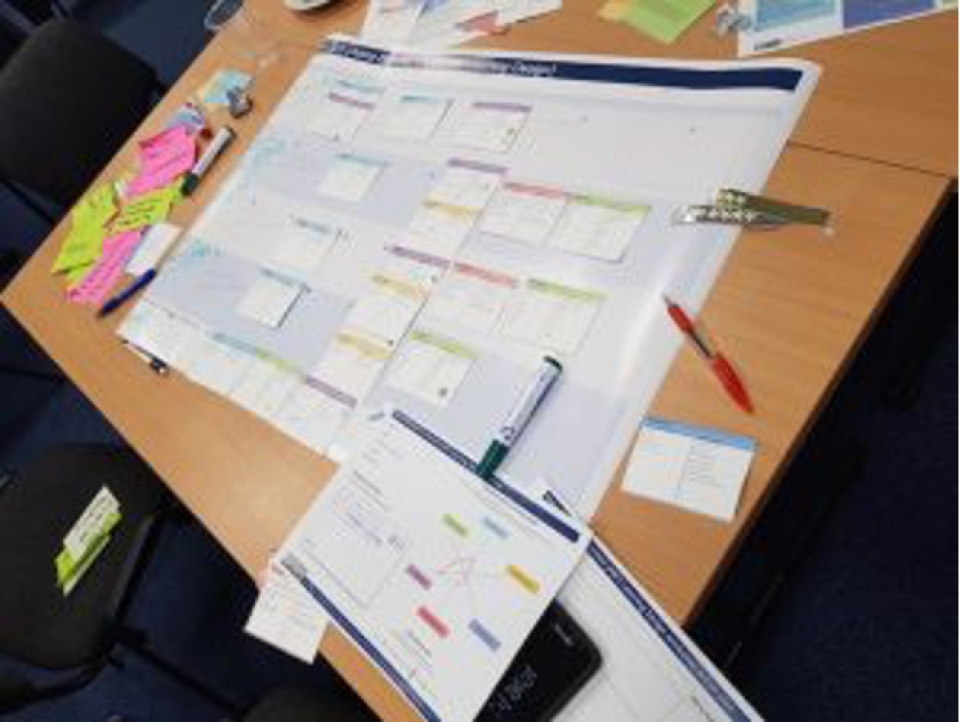 Proposed Storyboard and Tweet for Module 2
In terms of priority areas for development, the following were identified as key areas requiring follow up engagement with the TEU:
Support with pedagogical and technical development of multiple choice questions (MCQs) to enable execution of the desired 'Practice' activities and help to fulfill professional body requirements 

Support with video recording and production tools to enable variety and flexibility in the 'Acquisition' activities outlined

Support on course design within the Moodle-based VLE (known locally as 'Loop') to enhance the programme's overall presentation and usability for students
It was also recognised that the SHHP team needed to engage in further discussions amongst themselves and with other colleagues to further plan and implement the proposed designs.
What was actually done
As a result of the priorities identified at the ABC workshop, two follow-up workshops have taken place:
10 Things to Know about Quizzes 

Course Page Design Workshop 
The goal of the Quizzes workshop was to highlight the substantial functionality available via Moodle Quizzes and spark further ideas for developing creative and challenging question types appropriate for the module being designed. For example, it was highlighted to the SHHP team that they can randomize questions from student to student,  exert control over quiz availability, and choose from a range of potential question types (including essay questions, numerical questions, drag and drop, and video- or audio-based questions). The idea of developing scenario-based questions seemed to resonate particularly with the team. 
The goal of the hands-on Course Page Design Workshop was to help the team consider how they will present content and other learning activities on the course page. They were introduced to the different page layout options, provided with simple design recommendations (including advice re the accessibility benefits of Moodle Lessons versus PDFs) , and then given sample 'sandbox' courses to work with to begin the process of implementing their designs. Team members were also briefly introduced to the ABC to VLE app wheel to highlight the post-workshop online supports available to them.
What support was required/provided
Through all of the workshops described above, the TEU provided approximately 6 hours of workshops to the SHHP team. All of these workshops provided opportunities for staff to think through their designs and most importantly, discuss their ideas with one another in a collaborative and collegial spirit. 
All workshop resources were printed and provided by the TEU, who also organised the physical space for the workshops, coordinated with the participants, and booked refreshments etc.
Impact and evaluation
It is probably too early to comment definitively as to impact. The process to date has certainly informed development of the validation proposal for the new programme. Unfortunately, due to unforeseen staffing changes on the academic team, the validation process has been temporarily delayed. A future source of evidence will be successful validation and accreditation.
Comments received from participants via the evaluation survey were generally very positive about the workshop activities, particularly the discussion with colleagues about course design, educational technology, and assessment & feedback methods. For example, when asked about whether they would recommend the workshop to a colleague, one participant said "It was excellent and we need this support" while another highlighted the fact that it offered a "Holistic view of the module/programme". The role of the facilitator(s) at the ABC workshop was also referred to as being "very useful as a sounding board/touch-stone to confirm best practice".
Another evident source of impact was the clear identification by the team as to areas of support that were needed post-workshop – the ABC workshop therefore directly influenced the follow-up technology-focused sessions, enabling the TEU to design highly-targeted, hands-on sessions that could develop the practical skills required:  As one participant said about the Course Design Workshop:
"I found this session very valuable in terms of improving the appearance of my courses, and by extension, the student experience I would hope, but we'll find out this semester… Having the hands-on experience in the session and the "pretend course" on Loop with which to experiment was very useful on the day."

"The ABC workshop ensured alignment between module learning outcomes, teaching and learning activities, and assessment."
Successes and lessons learnt
As is clear from the above comments, the highly discursive and practical nature of the workshop(s) generated no small amount of conversation about course design and the potential of various educational technologies. The fact that the ABC methodology requires staff to approach design in a collaborative (as opposed to individualistic) fashion, is a powerful benefit. If anything, one of the challenges of the workshop is getting through the activities within such a tight timeframe when conversations are mid-flow and ideas are being stimulated. There are particular challenges when the groups are coming together for brand new projects and unfamiliar ideas/concepts are being discussed:
"I don't think we got through everything in the 90 minutes, although that could have been our own fault. It felt like because we were designing from scratch rather than a redesign, and many of the concepts were new, that we needed more time."
This type of feedback reiterates the need for a preparatory 'Pre ABC' workshop for new programmes especially and confirms the need for adequate, well-thought-out post workshop supports.
Scalability and transferability
The ABC practice is scalable and transferable to multiple disciplines and contexts. Once interested parties have attended some sessions as a participant and observed closely, they are well positioned to facilitate future sessions with staff and students. 
The workshop resources developed by the UCL team and subsequently adapted by DCU are openly available and can be downloaded and printed by anyone who wishes to run this approach themselves. It is important to allow sufficient time to prepare for the practicalities of the workshop (typically half a day for this, including printing and room set up).
In terms of scalability, there are times when pared down versions of the workshop may be required due to time restrictions, for example. At DCU we have run versions of the workshop focusing on the learning types/storyboarding aspect of the workshop and removing the Tweet and graph activities. There are therefore opportunities to 'hack' the format and use specific aspects for specific purposes with different groups. Furthermore, by participating in the 'ABC Swap Shop' special interest group, there are opportunities to connect further and learn from Irish colleagues using this approach in different contexts.
Further information
Current Version of 'Pre ABC' Workshop Slides (O'Riordan, Gormley & Glynn, 2018)
---

You are free to share and/or adapt this material in any medium or format, but you must give appropriate credit, provide a link to the license, and indicate if changes were made. You may do so in any reasonable manner, but not in any way that suggests the licensor endorses you or your use. You may not use the material for commercial purposes.