Archival Collections
Special Collections & Archives
Our archive collections contain holdings of national and international standing, including papers of noted literary, political, and professional figures, photographic and audiovisual collections, historic manuscripts and records of corporate bodies and associations.
We are in the process of arranging, cataloguing, and making our archive collections accessible to researchers. See below a list of collections currently available for consultation and some others that will be made available in due course. 
We regret that at present these collections cannot be consulted in person due to Covid-19 restrictions.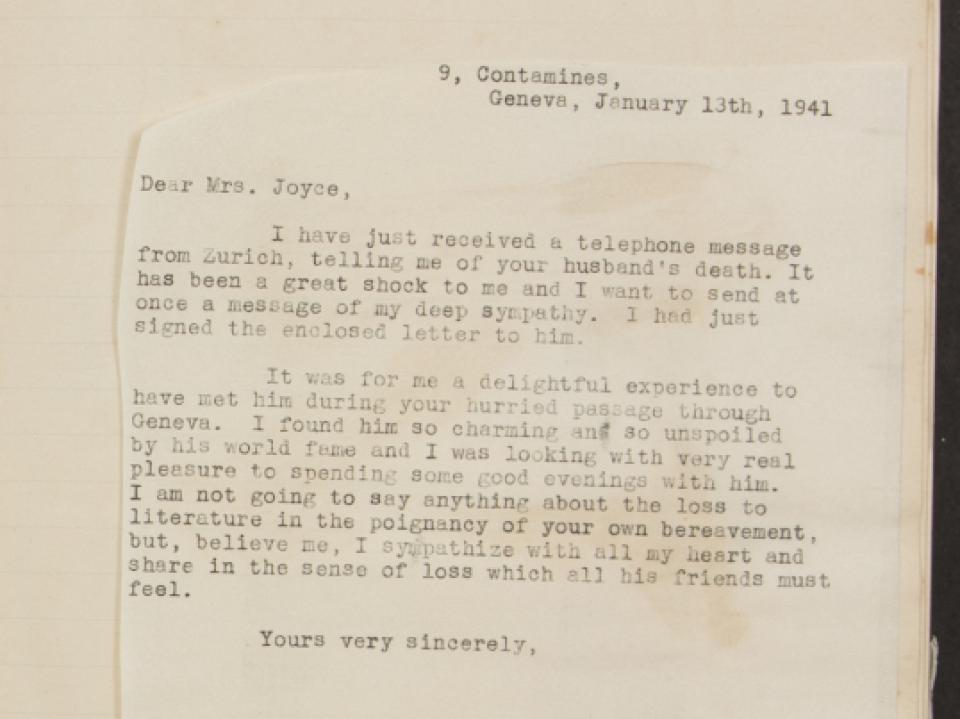 Digital Collections
We are also in the process of creating and publishing digitised content from our collections.
Our Seán Lester Collection is the first of these to be made available in this way and can be accessed here (link will open in a new window).
In due course we will make further collections and content accessible digitally in different formats using a range of platforms. A notice and takedown policy is also in place for our digitised collections.
This collection consists of the diaries of Irish diplomat Seán Lester (1888-1959), covering his time as High Commissioner of the League of Nations in Danzig [Gdańsk, Poland] from 1935 to 1939, and part of his time as Deputy, and subsequently as Acting Secretary General, of the League in Geneva, Switzerland, from 1940 to 1941.
Lester's diaries offer a fascinating insight into the rise of the Nazis and the lead-up to and outbreak of the Second World War, while Lester and his colleagues struggled to maintain the existence of the League with, as he noted, "the world falling about our ears". Fearing the discovery of his diaries by the Nazis, Lester buried them in a metal case beside a bench in the Palais des Nations [the headquarters of the League] in Geneva. This metal case is also included as part of the collection at DCU.
This collection can now be accessed in digitised form here.
A finding aid for the collection is accessible below. 
This collection consists of material relating to the lives and careers of Kevin J Kenny (1881-1954), Michael B Kenny (1919-1992) and Colum J Kenny (born 1951).
The majority of the material relates to Kevin J Kenny who founded Kenny's Advertising Agency in 1902, one of the first full-service advertising agencies in Ireland. The agency provided placement opportunities in publications for clients, as well as other services, which brought Kenny into contact with many notable historical figures of the day, such as Roger Casement, Patrick Pearse, Arthur Griffith, Hanna Sheehy-Skeffington and James Creed Meredith. The collection includes letters from these figures as well as other papers providing important insights into major historical events such as the Easter Rising, the Gallipoli Landings, the recruitment controversy of 1915-1918, the War of Independence and Civil War.
A finding aid for the collection is available for consultation here. Hard copies are also available in the Reading Room.
The Larkin Family Collection was kindly donated to DCU Libraries by Stella Larkin McConnon in June 2018. The collection is a fascinating insight into the history of the Larkin family, particularly Stella's grandfather, the legendary trade union leader James 'Jim' Larkin (1874 – 1947), and her father Denis Larkin (1908 – 1987), trade union leader, Labour Party T.D. for Dublin North-East and Lord Mayor of Dublin. 
Note: Cataloguing in process, collection not available for consultation at this time.
This collection consists of the papers of Cathal O'Shannon (1928 – 2011) generated by him through his life and career in television and journalism. The collection includes numerous scripts, research notes, newspaper cuttings and letters relating to various television programmes he worked on throughout his career, including: Even the Olives are Bleeding (1976); Emmet Dalton Remembers (1978); Thou Shalt Not Kill: Murder in the Park (1995), and Hidden History: Ireland's Nazis (2007). The collection also includes papers and photographs relating to O'Shannon's personal life and parts of a memoir he wrote. The collection is currently being processed and catalogued and will be made accessible to researchers in the Reading Room in due course.
Note: Cataloguing in process, collection not available for consultation at this time.
This collection consists of papers generated by Gerry Mulvey (1920 – 2010) during his long and distinguished career in journalism. The collection includes correspondence relating to his work as a correspondent and freelance journalist for several newspapers in the 1960s, including Farmers Weekly, Medical News, Medical Tribune, and the Sunamong others, and his work as deputy news editor, news editor and eventually deputy editor at the Irish Times from the 1960s to the mid-1980s. The collection also includes material relating to Mulvey's membership of and work with the National Union of Journalists. 
Note: Cataloguing in process, collection not available for consultation at this time.
This collection consists of the records generated by Afri [Action from Ireland] in the course of its operations since being founded in 1975 up to 2018. An NGO based in Dublin, Afri's 'goal is the promotion of global justice and peace, and the reduction of poverty; this includes, but is not limited to, the progressive reduction of global militarisation, and responding to the threat of climate change, corporate control of resources and water, and interference with food sovereignty.' The collection includes material relating to all aspects of Afri's functions during that 43-year period, particularly the numerous campaigns and protests it has contributed to, with a significant portion of the collection consisting of photographs, posters and banners. 
Note: Cataloguing in process, collection not available for consultation at this time.
This collection consists of newspaper leaders written by Douglas Gageby (1918 – 2004) during his tenure as editor of the Irish Times from 1963 to 1972, and again from 1974 to 1986. Gageby is widely credited with moving the newspaper from being a marginal pro-Unionist publication to a successful newspaper of record. The collection was kindly donated by the Gageby family to form part of the Media History Collection at DCU Libraries. 
Note: Cataloguing in process, collection not available for consultation at this time.