Research Collections : Digital
We create and make accessible digitised versions of our special collections and archives in a range of formats to enhance their discoverability and usability.
We publish these collections locally and also collaborate with partner and aggregator sites such as DRI and Europeana where they can be viewed in the context of wider cultural heritage collections. In addition we create curated digital exhibits to interpret and contextualise our collections and bring to the surface the stories and people behind them.
Where possible we make our content available for reuse with a CC-BY 4.0 licence.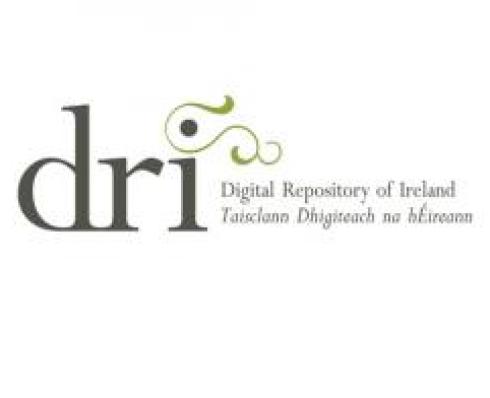 DCU on DRI
DCU on DRI
Digital Repository of Ireland (DRI) is a national digital repository for Ireland's humanities, social sciences, and cultural heritage data. DCU Library joined DRI in 2020. Making our digital collections available on the platform enhances their visibility and discoverability and also supports their long term preservation. 
Viewing our content via DRI provides IIIF (International Image Interoperability Framework) functionality, enabling the user to :
view high resolution image versions
work with multiple objects at the same time
link to objects for new digital projects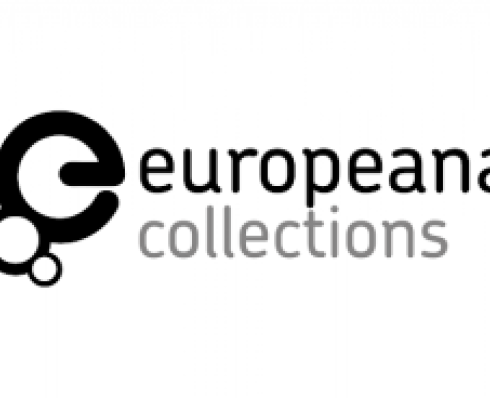 DCU on Europeana
DCU on Europeana
Europeana provides access to millions of cultural heritage items from institutions across Europe. It aims to inspire and inform fresh perspectives and open conversations about history and culture, and to encourage reuse of digitised cultural heritage collections to curate and create new things.
View our digital collections on Europeana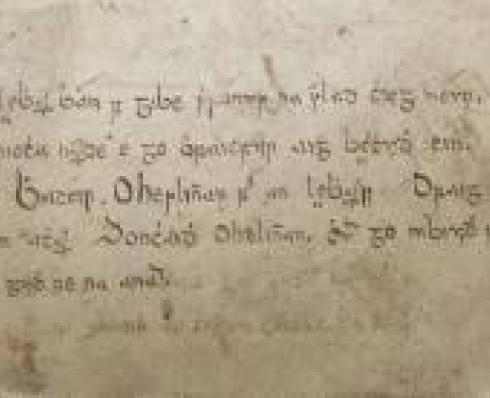 Lámhscribhínní on ISOS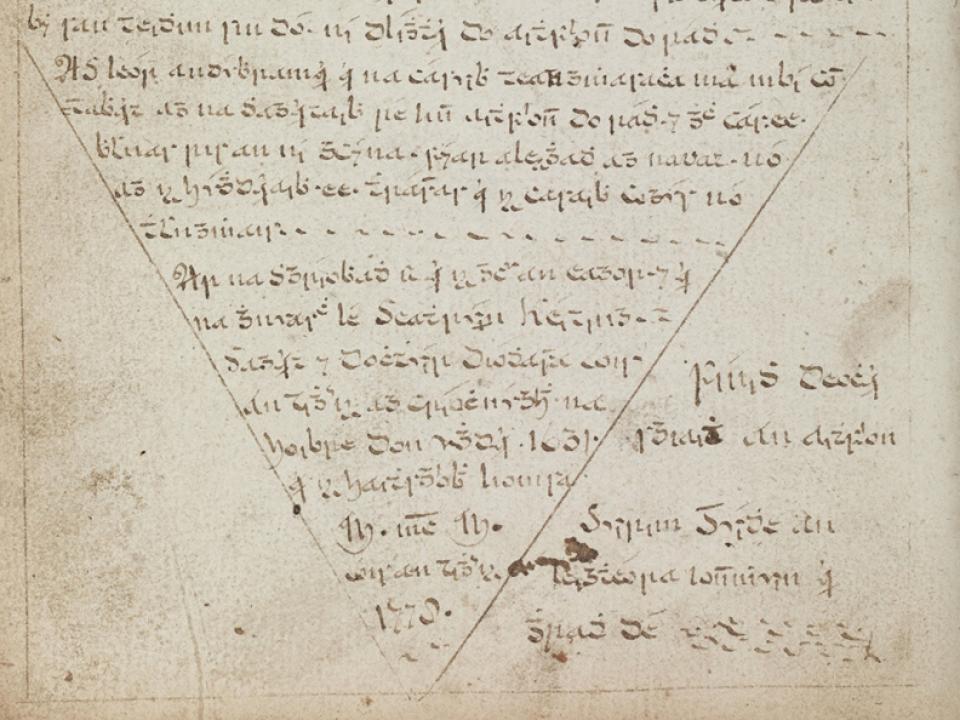 Lámhscribhínní
Four manuscripts from our collections, indexed as Lámhscribhínní I, II, III and IV, can be viewed online on Irish Script on Screen (ISOS), a project of the School of Celtic Studies, Dublin Institute for Advanced Studies.
The manuscripts date from the 18th and 19th centuries and contain mostly religious or devotional material, although they also include other poems and prose texts. 
Lámhscribhínní III is unusual in that it was written on the back of printed acts of parliament in Dublin, which date from 1772. Two of these acts deal with bankruptcy, while a third contains proposals for dealing with unrest in mid- and north-east Ulster which was ongoing at the time of its compilation. A detailed description of the manuscripts was compiled by Prof. Séamus P. Ó Mórdha and appeared in Studia Hibernica, Vol. I (1961), pp.172-94.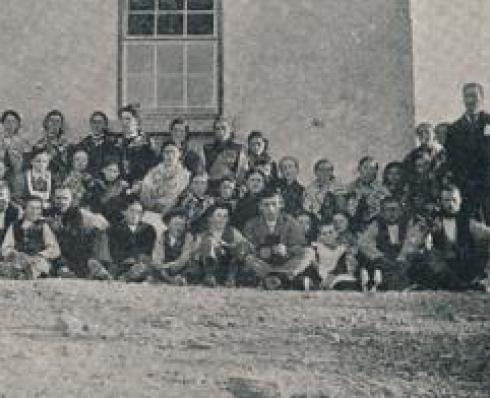 Agnes O'Farrelly Exhibit
Agnes O'Farrelly | Úna Ní Fhaircheallaigh
This bilingual exhibit features the life and works of Agnes O'Farrelly (1874—1951), an important figure in the cultural nationalist and women's rights movements in the early twentieth century.
In 1901, she became the first female Irish language writer, upon the publication of the novella Grádh agus Crádh. She went on to become an Irish-language scholar, the leading female figure in the Gaelic League, and a professor in Irish in University College Dublin. She was a chief instigator of Cumann na mBan in 1914. 
The exhibit includes digitised versions of a number of O'Farrelly's publications held in our Conradh na Gaeilge collection and was created by DCU Library on the Omeka S platform.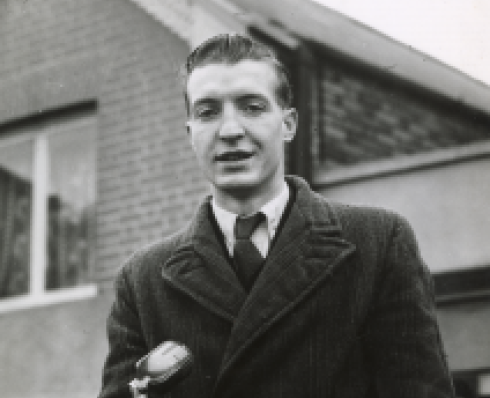 Charles J. Haughey Exhibit
Charles J. Haughey Collection: An Introduction
Selected highlights from our Charles J. Haughey Collection, a hugely important collection which includes correspondence, photographs and papers from all periods of Haughey's public and political life.
The collection covers his involvement with Fianna Fáil from the 1940s onwards and includes election pamphlets and leaflets, private and official photographs, videos of speeches, events and other memorabilia.
This exhibit is our first digital release from the collection and is also our first contribution to the Google Arts and Culture platform. It provides a high level introduction to the collection and a taste of forthcoming releases.
ArcGIS Storymap : Engaging With Sources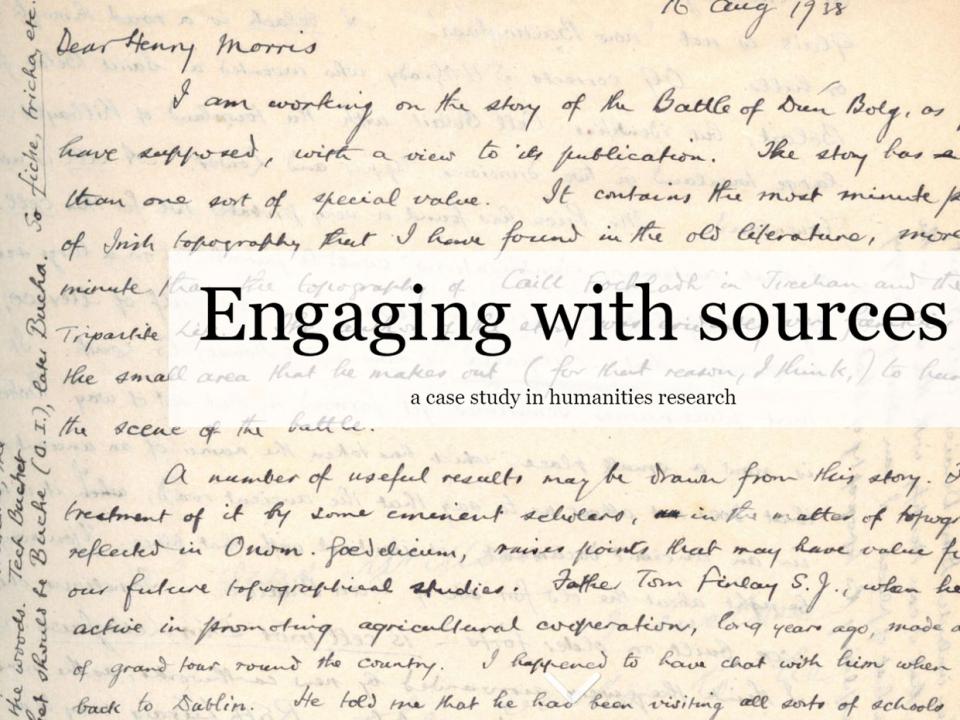 Storymap: Engaging With Sources
Created with ArcGIS, this narrative tutorial features a deep dive on an individual letter from our Henry Morris collection, written by Eóin MacNéill in 1939 to Morris, to identify and illustrate good research practice. It blends data mapping and digital storytelling to present information literacy in a fresh context.