Library Publications & Policies
DCU Library continues to develop a range of policies and publications.
These inform and shape our strategic direction. 
These include: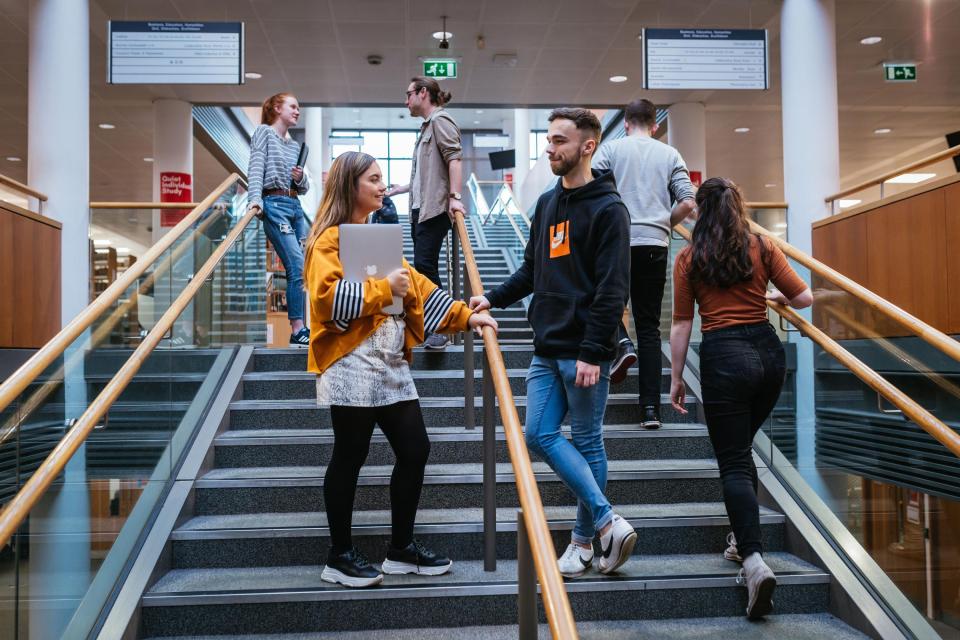 Since the completion of the previous Library Strategy, DCU has grown significantly in terms of physical presence and organisational complexity and the Library played and plays a pivotal role in this through the provision of enhanced information services. DCU Library has developed into a single service based on three campuses with Woodlock Hall and the landmark Cregan and O'Reilly library buildings.
Building on Success
The previous Library strategic plan resulted in tangible benefits and developments for DCU. DCU Library staff have embraced the challenges and opportunities of strategic changes and comprise a responsive functional structure supporting and delivering a range of academic library services to students, faculty, and the community. 
Current Context
This strategy has been informed by responses to the COVID pandemic. DCU and the Library shifted to a predominantly online offering and developed and deployed a variety of services to ensure continued access to collections, support and content. The challenge now is not to simply revert to a pre-COVID model but reflect on our learnings and refine our services to continue to deliver in a hybrid environment.
DCU Library strives to be a neutral and trusted space, one with equality of access and service. The measure of success for DCU Library is the continued evolution of a flexible, engaged organisation delivering, leading and partnering in supporting the mission and vision of DCU. The centrality of the Library will be obvious, its expertise acknowledged, and its connectedness will be apparent in the range of initiatives and engagements it develops.
Mission
To empower DCU's research, teaching and learning ambitions through the development of innovative services, diverse spaces and the provision of deep and rich collections.
Vision
Our vision is of a library that is vital to the success of students and staff, one that is at the heart of academic life, actively contributing to the transformation of citizens and society.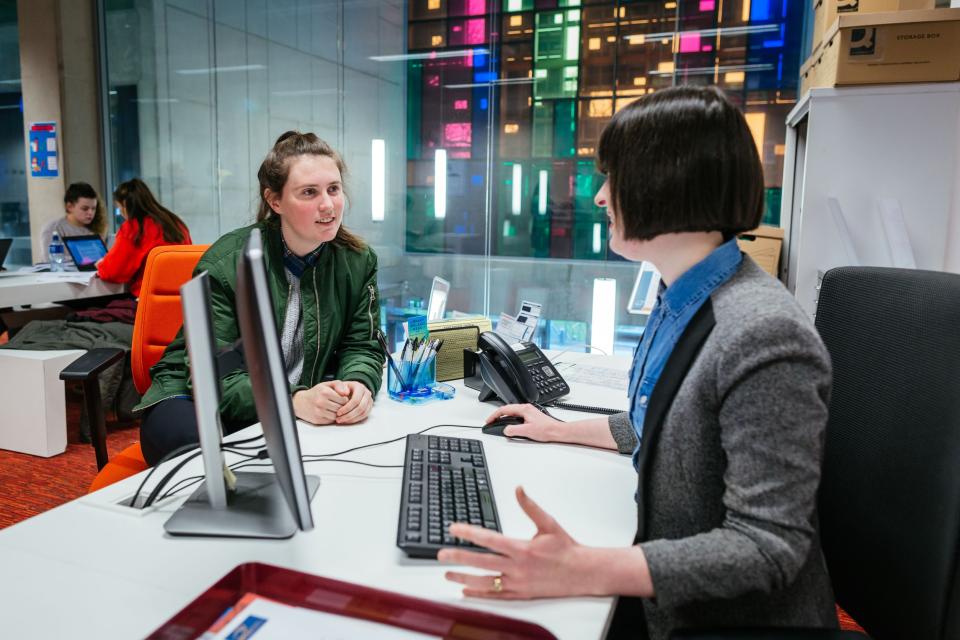 Values
We support and celebrate a culture of openness and inclusivity

We are collegial and collaborative

We aim to be student and research focussed and are ambitious in our reach and our plans

We pride ourselves on service excellence and work in an environment that is responsive, flexible and risk taking and strives for innovation in the delivery of our expert services
Strategic Priorities
We have articulated and agreed three key strategic themes reflective of our current environment and broader sectoral and societal challenges. As a library we prioritise visible, expert and connected services to our users, our communities, and our university.
Visibility
The Library will be focussed on delivering services that support and encourage active engagement to provide an outstanding student experience. We will ensure our collections, both physical and digital are visible and accessible supporting research, education and outreach.
Expertise
We will strategically partner on the advancement of open scholarship initiatives and build a comprehensive offering of research services and systems engaging fully with the University's research priorities. We will continue to put the Library at the centre of the student learning experience assisting them in working with scholarly content, delivering diverse learning spaces and providing responsive, flexible and innovative services. To ensure our currency, we will continue to develop and adapt our skills and expertise.
Connectedness
We will work with colleagues in faculty and research to embed our collections and expertise. Beyond the university, we will contribute to national and international academic library consortia and partnerships and will identify avenues for continuing our outreach activities.
These priorities will be articulated and developed within annual business plans.
Conclusion
DCU Library has met and overcome significant challenges thanks to the goodwill and resilience of its committed and responsive staff. We will contribute to the articulation of a new DCU strategic plan, one in which our significance and centrality will be clear. DCU Library is a vital hub of infrastructure, expertise and knowledge.
The aim of these regulations is to ensure that a suitable study and learning environment is maintained throughout the library for all users.  They require all users to take responsibility for their own behaviour and give due consideration to the needs of other library users. 
Library Membership
Library membership is conferred automatically on all registered students and University staff.   External membership is available at the discretion of the University Librarian.
If requested by a member of the library staff, users must show their current University Identity Card (staff and students) or Library Membership Card (others) at any time in the Library.  These cards must also be shown at the Issue Desk by users wishing to borrow any library material.  It is a breach of library regulations to allow another person to use one's Identity Card or Membership Card in connection with any use of the Library, or to use another person's card.  Breaches may be referred to the Disciplinary Committee, and the Library may retain cards for collection by their owners. 
Behaviour in the Library
Mobile phones must be set to silent mode in the Library.  Calls can only be made or received on the ground floor of the library and conducted in a manner that does not disturb others.  All other areas are designated quiet zones and as such, users must refrain from making or receiving calls in these areas. 
Users must behave in an appropriate manner in the library. Noise should be kept to a minimum throughout the library, and a rule of silence is to be strictly observed in designated quiet study areas on the first and second floors.
Users must not cause any disturbance that is likely to distract or inconvenience others.
Users must not reserve reading/study places by leaving their belongings on tables of desks.
Smoking is not allowed in the Library. This includes the use of e-cigarettes. Breaches of this regulation will be referred directly to the University Disciplinary Committee.
Food cannot be consumed in the library.  Water in non-spill bottles is permitted throughout the library. Hot or cold drinks (containers must have tops or lids) may be consumed on the ground floor only (except at workstations in the Information Commons).
Library stock, equipment and fittings must not be damaged, defaced, removed without authorisation, concealed or otherwise interfered with. Any such damage, removal, concealment, interference or loss of any Library item must be reported to the Library immediately. The user responsible may be required to make good any consequent temporary or permanent loss or damage. 
Borrowing
No materials may be removed from the library without having been borrowed using the library's express service point or Issue Desk service.
All items on loan are subject to recall at any time by the library.
Library items may normally be borrowed in accordance with the appropriate procedures. Certain items, however, are either confined permanently to the library, or are available only on a restricted basis. 
These regulations are the minimum consistent with the proper operation of library services for all members. Users who do not abide by the library regulations will be liable to a range of penalties including fines, referral to the Disciplinary Committee and/or withdrawal of library services
Details about external access and membership (TBC)
Mobile phones must be set to silent mode in the Library. Calls can only be made or received on the ground floor of the library and conducted in a manner that does not disturb others.  All other areas are designated quiet zones and as such, users must refrain from making or receiving calls in these areas.
Before entering the Library please ensure:
Ring tones are switched off
Key tones are switched off
Text message indicators are switched off
Vibrating tones are switched off
If the policy is breached, the following sanction will be imposed:
First breach  - a note of this offence will be kept on file
Second and subsequent breach: - €6 fine will be imposed, and borrowing rights will be suspended until the fine is cleared in full.
The Library recognises that DCU students and staff with children may need to bring their children to the library on rare occasions. Whilst the Library cannot facilitate children in general, it endeavours to offer the following support to these parents:
Children accompanying library users will be permitted into the Library for a short period only which would allow library users:

to return material, pay fines, collect a reserved item
to retrieve a book from the shelves
to avail of the photocopying service on the ground floor
to seek advice a the Library's Information Desk

During their brief visit to the Library, children must be fully supervised at all times by parents/guardians.
Parents/guardians are fully responsible for their child's health and safety while in the Library.
Children may not avail of the computers in the Library.
Users must be aware that the Library is for study and learning purposes and should leave the Library if a child's behaviour causes a disturbance to others.
Please note that because of restrictions imposed by the library's design, it may not be possible to allow access for some types of children's buggies or prams.
Groups of school children are occasionally invited to Cregan Library, they will always be supervised by teachers or responsible adults, and visits are strictly by invitation only.
| LIBRARY | NAME | EXTENSION |
| --- | --- | --- |
| O'Reilly Library | Aoife Murphy | 5457 |
| O'Reilly Library | Claire Mason | 8741 |
| O'Reilly Library | Cliona Ni Liathain | 5930 |
| O'Reilly Library | Ellen Breen | 5210 |
| O'Reilly Library | Geraldine McNamara | 8744 |
| O'Reilly Library | Gordon Kennedy | 8745 |
| O'Reilly Library | Mags Lehane | 5028 |
| O'Reilly Library | Sharon Ryan | 5041 |
| O'Reilly Library | Shauna McDermott  | 5780 |
| O'Reilly Library | Siofra O'Loughlin | 5041 |
| O'Reilly Library | Stephanie Collins | 5041 |
| Cregan Library | Colm Priestley | 9134 |
| Cregan Library | Dave Stanford | 9196 |
| Cregan Library | Paraic Elliot | 9189 |
| Cregan Library | Patrick Dennan | 9134 |
| Cregan Library | Siobhan Nolan | 9199 |
| Cregan Library | Sophie Dowling | 9118 |
| Woodlock Hall | Alana Mahon O'Neill | 8517 |
| Woodlock Hall | Anna Zieba-McLoughlin | 8517 |
| Woodlock Hall | Aodhán Keegan | 8517 |
| Woodlock Hall | Margaret Lambe | 8517 |
Book Donations
DCU Library has temporarily suspended the acceptance of donated books/textbooks for our general collection. It is expected that this will remain in place until early 2024 
DCU Library conforms to national copyright regulations.  Details of how to make permitted copies are available on DCU's Copyright Policy Page.
1. Introduction
DCU Library's Special Collections & Archives Directorate (SC&A) preserves, manages and provides access to research collections in line with international best practice. This collection development policy is a commitment to our users, communities, and university, and part of an ongoing process to ensure our approach is active and transparent.
2. Collecting Areas
We acquire extensive holdings through donations, bequests and strategic cooperation, developing valuable collections of early and modern manuscripts, early printed books, rare monographs, periodicals and pamphlets, and archives of leading national and international figures and organisations. Our research disciplines include education, literature, media and journalism, politics, philosophy and theology, where DCU has strong academic profiles.
3. Collecting Priorities
We prioritise visibility, expertise and connectedness. In developing and managing our collections, we have a number of strategic focuses:
To acquire new collections, augment existing collections and identify emerging research themes distinctive to the University;

To develop a theme around the University memory, its culture and its core research;

To preserve in perpetuity, as part of the national and international documentary heritage, these and other unique, rare or distinct resources;

To make collections available in a timely manner onsite and, where possible, online.
4. Collecting Considerations
Donations and acquisitions place substantial demands on our resources, and we have to manage the order in which we process and provide access to our collections. It is our policy to prioritise collections which relate directly to the University's research priorities.
Where we are offered donations, or are prioritising existing collections, we will give precedence to projects where funding or resources are provided by donors or third parties. Any such assistance is warmly welcomed by the Library.
We actively gather information about our collections from the point of accessioning onwards, to manage and provide meaningful onsite and online access. For example, collections are often enhanced through donor oral histories and other individuals whose stories augment collections.
Although most of our collections are rooted in recognisable disciplines, many reflect the outstanding roles people or organisations have played as innovators, leaders and pioneers, creating new realities and legacies in their fields.
We have holdings in physical and digital formats. Our physical resources are stored in controlled environmental conditions, and can be consulted through the Special Collections & Archives Reading Room in the O'Reilly Library, Glasnevin Campus, Dublin 9. Our digital collections are managed onsite in DCU with professional partners to ensure their security, accessibility, and usability over time.
We will generally not collect or retain:
Cuttings or clippings from or copies of periodicals or other publications;

Reproductions or duplicates of material already held by DCU or by other repositories.
Policy review procedure: This policy will be reviewed and published annually. 
Date at which this policy is due for review: July 2022
DCU Library manages DCU Press, an open access publishing press. 
Details about the Press and about how to make a submission can be found on the DCU Press site.