Teaching Enhancement Unit
2020 Winners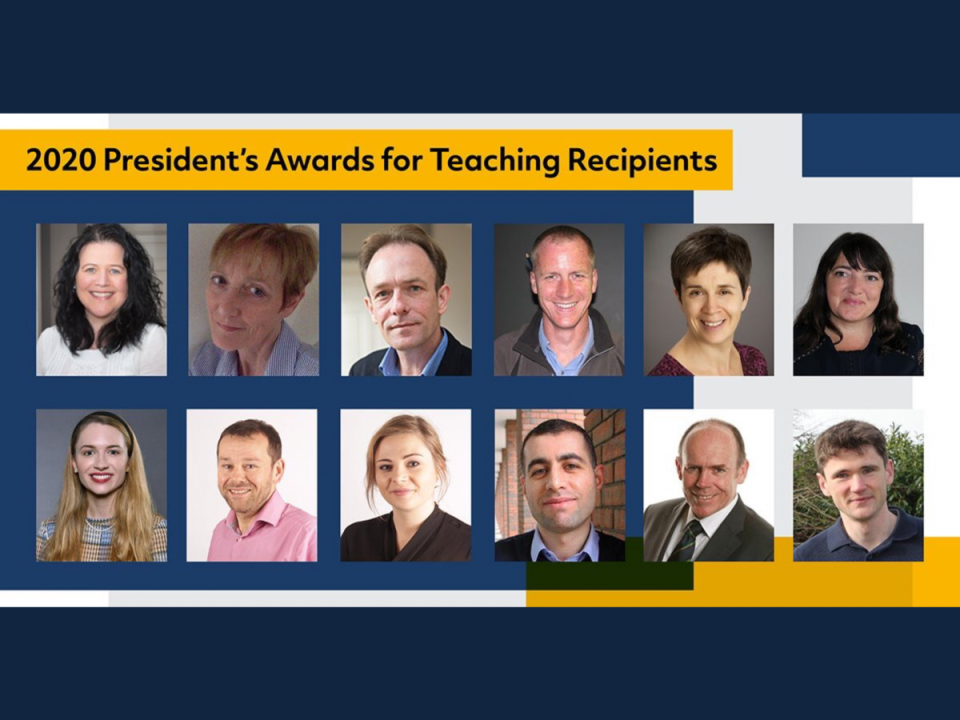 Left to right (top row) Ann Marie Farrell, Joanne Lynch, Dr Martin Brown, Dr Stephen Blott, Orla Bourke, Suzanne Stone
Left to right (bottom row) Dr Catherine Faherty, Prof Colm O'Gorman, Dr Roisin Lyons, Dr Shadi Karazi, Dr Peter Robbins, Dr Philip O'Donnell
Teaching Support Category
Suzanne Stone, Teaching Enhancement Unit
"Suzanne has provided outstanding support for academic staff attempting to enhance the learning experience for their students. Her enthusiasm has made a huge difference to my willingness to embark on new challenges.
Her Loop assistance hours have been critical for getting staff to engage with Loop and Loop Reflect, but Suzanne's impact extends well beyond this!"
Team Category
DCU Life Module Team - Dr Catherine Faherty, Prof Colm O'Gorman, Dr Roisin Lyons, Dr Shadi Karazi, Dr Peter Robbins, Dr Philip O'Donnell and Karen Maguire
According to one supporter "this module deserves to be celebrated and showcased. We will definitely be looking out to hire graduates of this programme".  Another adds "the module the team have created is truly world-class and provides our students in DCU with best in class education".  
As one student put it "this whole event and learning experience about entrepreneurs and entrepreneurship has really helped and changed my hopes and dreams for my future".
Special Awards:
Distinctive Approaches to Teaching: Dr Martin Brown, School of Policy & Practice
"Martin has managed to do the impossible for me - he has made quantitative research understandable! He has a very effective way of presenting class material and keeps everyone engaged throughout the class.
I find his classes exciting and inspiring. His academic expertise paired with a clever sense of humour make him a most brilliant teacher."
Distinctive Approaches to Assessment & Feedback: Joanne Lynch, DCU Business School
"Ms Lynch is a large part of the reason I want to work in marketing. She's made a lasting impression on how I will approach marketing in the future. Her dedication to passing on her knowledge to students is beyond compare. 
Amazing lecturer, always keeps content up to date to make as relevant as possible. Knows our class group of near 70 students by name and provides insightful feedback."
Distinctive Approaches to Innovation in Teaching: Dr Stephen Blott, School of Computing
"CA282 is a new module that is everything that was missing from a Computer Applications student's education. Steve has gone above and beyond in developing einstein, the tool that evaluates hundreds of student's work. 
I truly believe that I learned how to program well because of Steve Blott.  He is very modest about the impact his use of educational technologies has had. The best lecturer I've ever had." 
New Lecturer/Tutor Category
Orla Bourke, School of Communications 
"Orla has, not only a fluent command of the subject area but real-work experience of the related work that she can use to inform her teaching. She makes considerable extra time beyond her teaching hours to prepare content, offer feedback, and to develop her own teaching ability. 
Comments on her approach to teaching regularly mention the comfortable environment she creates where student contributions are welcome."
Overall Winner for the President's Awards for Excellence in Teaching 2020 
Ann Marie Farrell, School of Inclusive & Special Education
"Ann Marie is a teacher that I and a huge majority of my classmates look up to and admire. Each lecture was so enjoyable and engaging as she put so much effort into organising outside parties to talk to us and make it real for us. This lecturer loves her job and it is so evident during her lectures.
Her ability to educate a group of students the way she does is beyond inspiring. Her dedication and passion has touched all BEd students."