Teaching Enhancement Unit
TEU, Events
Seminars, Workshops and Events
The Teaching Enhancement Unit hosts a number of events throughout the academic calendar; these include scheduled workshops, webinars and "hot topic" sessions. The calendar below outlines when the event and also provides details on how to book the event in question.
The President's Awards for Excellence in Teaching
The TEU organise the President's Awards for Excellence in Teaching. These annual awards recognise outstanding contributions to DCU's Teaching and Learning activities. The awards are considered under three categories - Academic, New Lecturer/Tutor (with less than 3 years teaching experience) and Teaching Support. For more information on the awards, the nomination process and information on previous winners please visit - http://www4.dcu.ie/teu/presidents_awards.shtml
DCU Teaching & Learning Day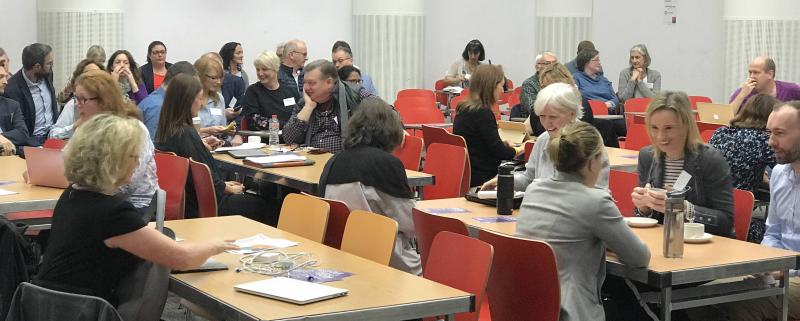 Some of the attendees at DCU Teaching & Learning Day 2018.
Each year the TEU organise a highly successful Teaching & Learning Day where staff from across the DCU campus join forces to share and enhance their teaching practice. This is an opportunity for staff to unpack new ideas, discuss practical experiences and develop their understanding of research related to a central pedagogical theme. In 2018 the theme was 'Assessment: Rising to the Challenge of Testing Times', which prompted over 20 presentations and debates on a range of topics including group assessment, negotiated assessments, and assessment overload. Further details, including several presentations from the day, can be accessed from the DCU T&L Day Programme.
Conferences
Conferences
The TEU both organise and promote a variety of teaching and learning related workshops.
For a list of upcoming conferences please visit conferences page
If you are organising a conference that you would like to add to our list please contact teaching.enhancement@dcu.ie
Hot Topics
The Hot Topic sessions run by the NIDL at DCU provide an opportunity for bite size professional development on topical matters related to digital teaching and learning. Set up to promote research-informed practice, they take the form of round-table sessions that run for no longer than an hour approximately once a month. These sessions take place over lunchtime so they are ideal for staff who want to hear about different perspectives on teaching in a timely and engaging way.
The format of these sessions is quite relaxed and collegial - we send out a general invitation to all members of staff to come along to discuss a topic of the day. After a brief introduction to a selection of current research, questions are posed and the topic is opened up to the floor for discussion. Frequently, the conversation stirs up a range of heated viewpoints and through debate, and maybe even disagreement, attendees leave the room more informed than when they walked in. Itís an enjoyable way to think about teaching issues, hear about current research, and participate in a stimulating conversation with other university staff.
So far, topics have been wide-ranging and previous titles include:
Open Educational Resources: Unknown, unused and unloved?
The VLE is Dead: Life in Post-Apocalyptic Learning Environments
The Battle for Open
Turning Teaching Upside Down: Should the classroom be flipped?
Social Media: A deep or surface approach to professional learning?
If you'd like to see how the Hot Topic sessions work, or maybe even propose a Hot Topic idea, come along to the next one and join in!
Webinars
Webinars can be very effective forms of professional development and a great way to get an insight into what other colleagues and institutions are involved with. The TEU offers a selection of webinars covering a wide variety of teaching and learning topics. In addition to webinars provided by DCU we also highlight webinars provided by other institutions. Please click here for the schedule. (insert link to events page)
Workshops
The workshops provided by the TEU can be broadly classified into two categories - regular workshops available to all staff and requested workshops for schools/units or programme teams. The details on regular workshops are available in the calendar below and a list of workshops that we provide upon request for schools/units or programme teams is available through this link