Teaching Enhancement Unit
TEU, Events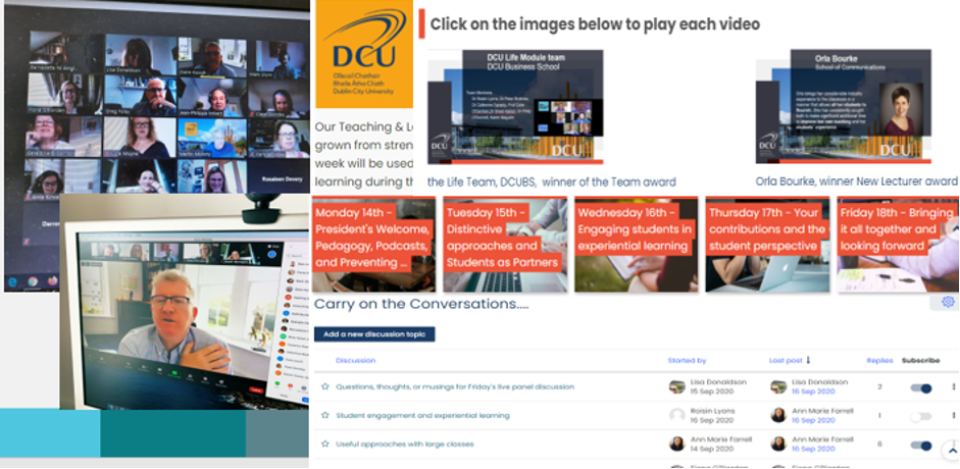 Our Teaching & Learning Day is normally a highlight in the annual DCU calendar of events. Whilst a different format to prior years, the Teaching Enhancement Unit welcomed DCU staff to Teaching & Learning Week 2020, September 14th through 18th. 
A hybrid learning approach spread over a week was used to help showcase good practice and ensure that the DCU community could continue to share and engage in discussions about teaching and learning during these extraordinary times. A variety of insights from award winners at this year's President's Awards for Excellence in Teaching & Learning were offered, live workshops on topics such as "contract cheating" and "students as partners in assessment", as well as podcasts and online discussions which were centred on the theme of Pedagogy in Practice: Teaching excellence, in class and online.
This mix of synchronous and asynchronous resources and activities were offered through our Moodle instance, internally called Loop, supported by Zoom webinars and recordings which enabled staff to engage with the resources as best suited them. The Edge of Discovery podcast series was launched as part of the event and to date has notched up over 175 downloads. The Loop page had over 3,300 interactions by DCU staff incorporating 415 unique visitors. Importantly, the online space facilitated learning to continue beyond the designated week with over 200 interactions occurring post event. This highlights one of the benefits of a longer online versus a finite face to face event. A further comparative is planned to examine the relative impact of our annual Teaching & Learning event across both formats.
The TEU were delighted to create an opportunity for so many DCU staff to connect with each other and engage with best practices around pedagogy online during these unusual times.  Sincere thanks to all our contributors who made Teaching & Learning Week such a success:  Ann Marie Farrell, Martin Brown, Joanne Lynch, Lucien Waugh-Daly, Suzanne Stone, Orla Bourke, Roisin Lyons, Fiona O' Riordan, Rob Lowney, and Orna Farrell.  The materials will remain available to review for the upcoming semester.
We look forward to planning the next Teaching & Learning Week for August 2021.
The TEU both organise and promote a variety of teaching and learning related workshops.
For a list of upcoming conferences please visit conferences page
If you are organising a conference that you would like to add to our list please contact teaching.enhancement@dcu.ie
The Hot Topic sessions run by the NIDL at DCU provide an opportunity for bite size professional development on topical matters related to digital teaching and learning. Set up to promote research-informed practice, they take the form of round-table sessions that run for no longer than an hour approximately once a month. These sessions take place over lunchtime so they are ideal for staff who want to hear about different perspectives on teaching in a timely and engaging way. 
The format of these sessions is quite relaxed and collegial - we send out a general invitation to all members of staff to come along to discuss a topic of the day. After a brief introduction to a selection of current research, questions are posed and the topic is opened up to the floor for discussion. Frequently, the conversation stirs up a range of heated viewpoints and through debate, and maybe even disagreement, attendees leave the room more informed than when they walked in. Itís an enjoyable way to think about teaching issues, hear about current research, and participate in a stimulating conversation with other university staff.
So far, topics have been wide-ranging and previous titles include:
Open Educational Resources: Unknown, unused and unloved?
The VLE is Dead: Life in Post-Apocalyptic Learning Environments
The Battle for Open
Turning Teaching Upside Down: Should the classroom be flipped?
Social Media: A deep or surface approach to professional learning?
If you'd like to see how the Hot Topic sessions work, or maybe even propose a Hot Topic idea, come along to the next one and join in!
Webinars can be very effective forms of professional development and a great way to get an insight into what other colleagues and institutions are involved with. The TEU offers a selection of webinars covering a wide variety of teaching and learning topics. In addition to webinars provided by DCU we also highlight webinars provided by other institutions. Please click here for the schedule. (insert link to events page)
The workshops provided by the TEU can be broadly classified into two categories - regular workshops available to all staff and  requested workshops for schools/units or programme teams. The details on regular workshops are available in the calendar below and a list of workshops that we provide upon request for schools/units or programme teams is available through our Events Calendar.