Teaching Enhancement Unit
Teaching Excellence Awards
Each year, DCU recognises outstanding teachers and those who support teaching through the annual President's Awards for Excellence in Teaching.
President's Awards 2022/2023
Are you a current or former DCU student who would like to recognise someone who has made a significant impact on you during your time at DCU?
Are you a staff member who would like to see a colleague's outstanding contribution to teaching and learning in DCU recognised and rewarded?
Would you like to nominate someone for their outstanding contribution to teaching and learning at DCU?
The President's Awards for Excellence in Teaching recognises outstanding contributions to DCU's teaching and learning activities.
Deadline for receipt of nominations
The deadline for nominations will be announced in January or February of each year.
The awards are considered under four categories - Teaching Support, New Lecturer/Tutor (with teaching experience of three years or less), a team award and an overall Academic award. Click on this link to learn about how Teaching Excellence is defined ).
2018/2019 Winners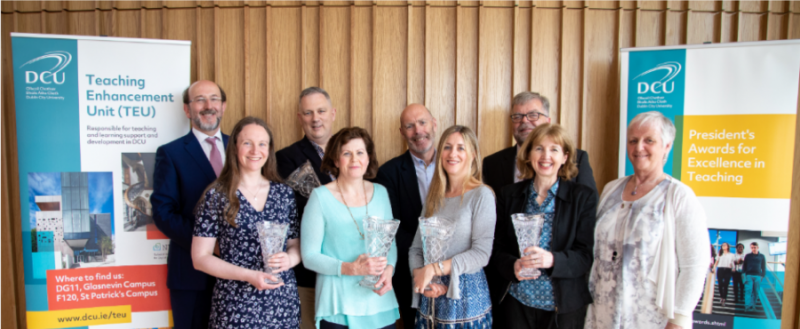 Who is eligible for the award?
All DCU staff members who are involved in teaching or teaching support in DCU may be nominated. Nominations may be made for individuals or for groups or teams. Nominations can be made under one of the four following categories:
Academic Support (anyone who makes an indirect contribution to teaching - these may include, but are not limited to, lab technicians, demonstrators, librarians, etc.
New Lecturer/Tutor – (any person with teaching experience of three years or less);
Team Award (core staff teams that provide an exceptional, innovative or transformational contribution to the student experience in either an academic or teaching support category);
Academic (any person who has taught in DCU for more than three years);
Note:
Previous award winners are not eligible to be considered for another award for three years after receiving their award. Please check previous award winners before nominating, as such nominations will not be considered. If you wish to recognise those providing administrative support outside of teaching, it is preferable to use the Human Resources Reward and Recognition System for Administrative, Support and Technical Staff.
Additional information