Teaching Enhancement Unit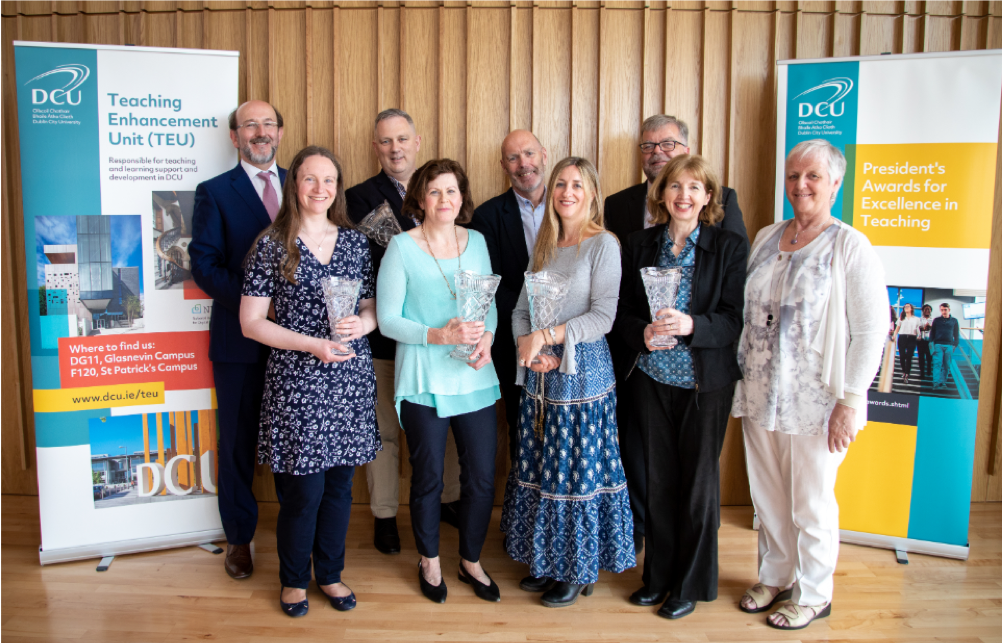 President's Award Winners for Excellence in Teaching 2019
Teaching Support Category
Shirley O'Brien, Open Education Unit
"Shirley has taken a leading role in the Humanities programme student success initiative. She takes on the front line role of contacting students identified as being at risk, helping them to get back on track, access local or institutional supports, or use the appropriate process to postpone modules. As one student said: "Shirley can explain and clarify easily and simply, without complexity or fuss...she is unflappable and her sense of calm has exuded sanity when the laptop was in danger of going airborne." "I am an online student with DCU for the past six years. Over that time when in difficulty or seeking clarity about one thing or another, Shirley was my first port of call. There is not an issue I have raised with her that I have not had a successful result. In fact she was the first person I spoke to about pursuing the online BA in Humanities at DCU. It was her positive attitude that contributed to my decision to take on the course. She is well regarded by my fellow students who always refer to her in a very positive manner."
Team Award:
DCU Careers Service Team, Student Support & Development - Yvonne McLoughlin, Siobhan Murphy, Elaine Daly, Sheila Barr, Miriam Jones and Marie Calnan
DCU's Careers Service offers exceptional support by offering advice and guidance to students on employability and academic colleagues about the labour market and career planning. They offer curriculum delivery, career development initiatives, job applicant support, mentoring and networking, employer engagement and partnership development options which are tailored to the needs of each faculty and often programme of study. As one student said: "The careers discussion night gave great insights into what industries expect from an MBA graduate. This alone has given me great guidance as being in my last semester, the reflections from this night will shape my approach to interviews at a senior level in the near future."
Team Category - Highly Commended
B.Rel.Ed. Music Team, School of Theology, Philosophy & Music - Dr Róisín Blunnie and Dr Seán Doherty
"Róisín and Seán exemplify teamwork and a commitment to a transformational teaching and learning experience. A B.Rel.Ed. graduate sums it up well: "Róisín Blunnie and Seán Doherty are the perfect example of a 'Dream Team'. They are the ideal combination of conductor and composer, united in their good humour, passion for music, and above all, their willingness to go above and beyond to help each student on the B.Rel.Ed programme reach their full potential and fall in love with all aspects of music."
Special Awards:
Distinctive Approaches to Teaching
Dr Eabhnat Ní Fhloinn, School of Mathematical Sciences
Eabhnat coordinates the Maths Learning Centre (MLC) and students state that support from Centre has influenced their decision not to drop out of University due to mathematical issues. She has had a significant influence on national practices in third level mathematics support through her work with the Irish Mathematics Learning Support Network.
Distinctive Approaches to Assessment & Feedback
Dr David Robbins, School of Communications
"David is an excellent teacher. The classes are clearly laid out with a nice structure and decent pacing. No second is wasted with David! David provides strong and fair feedback that always improves our work. He is patient and clearly has a strong command of the subject. He also uses innovative teaching tools to improve our learning and make our lives easier.
Distinctive Approaches to Innovation in Teaching
Paula Murphy, School of Arts, Education Movement
"Paula is very informative and she puts her students at ease very easily. Her delivery of the module was very well planned out and paced, never going too fast or overwhelming us, but rather </span><span>letting us experience the drama experience for ourselves.  She is thorough in her teaching and wishes the best for her students."
New Lecturer/Tutor Category
Padraig McKeon, School of Communications
"Padraig is an excellent communicator who facilitates engaging lectures and is generous with his time. He goes above and beyond to help and advise every student. Padraig challenges his students to bring out the best in them, in a supportive manner.  Padraig's students remarked that he has consistently exceeded their expectations and demonstrates excellent teaching.
"He helps in any way he can, puts hard work into getting great guest speakers, and gives great advice."
Overall Winner for the President's Awards in Teaching Excellence 2018/2019
Anne Kirwan, School of Nursing and Human Sciences
"Anne makes herself available to students for questions, feedback and support. Her feedback on work submitted is invaluable to our learning."
"Anne has a huge heart and her kindness is always something I look up to. Her dedication to her work and her students is incredible and she has always been someone I admire</span><span>."
"Anne demonstrates excellent teaching in how her module is designed, and how lectures are delivered...  She is always watching for signs of gaps in our knowledge and works these topics into her lectures to ensure we have every opportunity to learn. Anne shows true compassion, commitment and all of the most amazing values that an educator should have. Since day one, we have all felt how much she cares and how much she wants us all to succeed, not only in our learning, but in our lives."