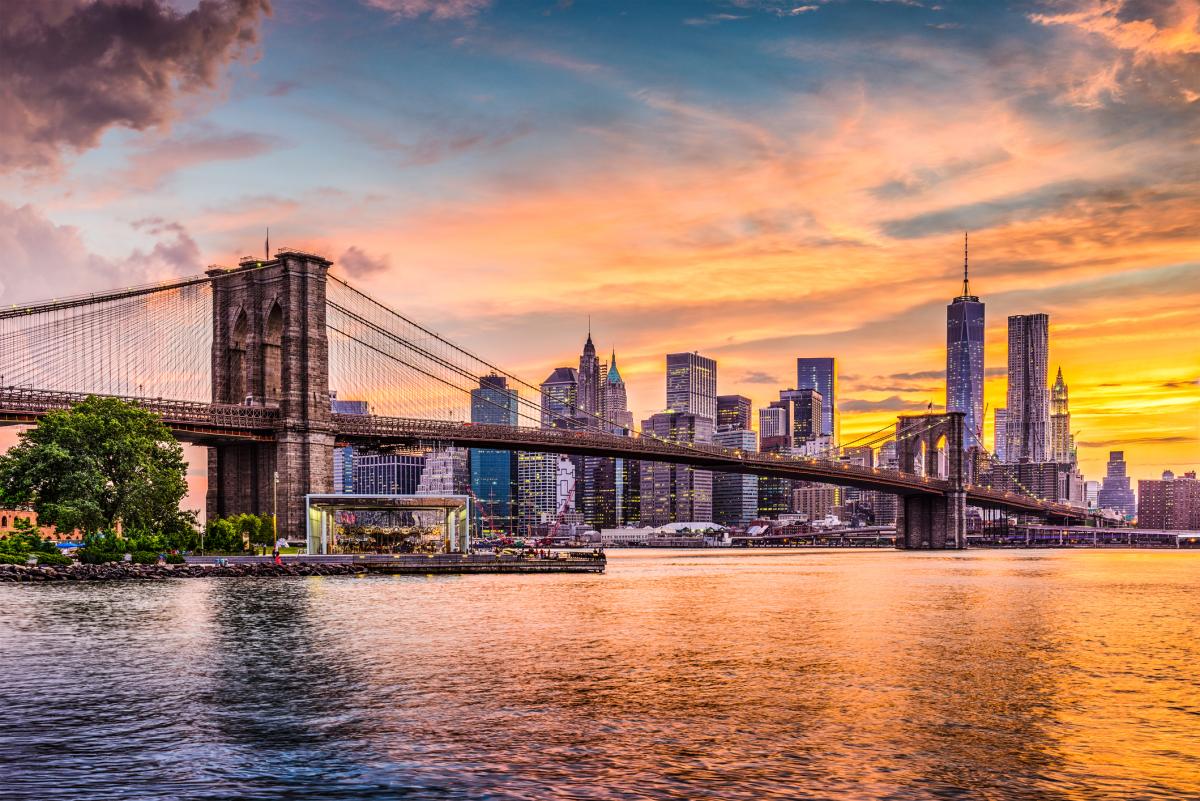 The international dimension
The Singapore and New York DCU Alumni International Chapters hosted very successful events during 2022 .
New York Chapter aiming to paint the city green.
"DCU is the number one university in Ireland for graduate earnings, so don't mess it up!" That was the tongue-in-cheek message from DCU President Prof Dáire Keogh when he addressed a DCU New York Alumni International Chapter event at the Irish Consulate on Park Avenue last November. It was the first gathering of graduates from Dublin City university since before Covid struck and the New York Chapter plans to make up for lost time with another event already being planned for March. Ross Munnelly, director of DCU alumni relations said: 
"We will be in town to celebrate St. Patrick's Day with our grads – there are approximately 600 DCU grads in the New York area."
Daire Browne, a managing director with Bank of America Securities, is one of them, and he shared the stage with some other graduates. He now heads equity research in the Americas for the bank, but recalled how as an undergrad he felt lost in large classes. He later switched to DCU for a Masters, specifically an MSc in investment and  treasury management.
"At DCU, the small classes of 15 to 20 people were great," Browne said. 
"I couldn't hide, and I needed to be, as Professor Keogh said, 'rounded and grounded.'"
In addition to attempting to create well-rounded students, DCU aims to be equitable, Prof Keogh noted.
"We are ranked number eight in the world for equality and number one in Ireland for equality."
Lisa Stewart, manager of global publicity at Sony Pictures Entertainment, told the event about how she started third-level at Ballyfermot College of Further Education in Dublin. Adding a one-year course at DCU allowed her to get a degree, a BA in media production management. Molly Muldoon, vice president of marketing at MSL Group public relations, was also on stage. 
"In this country the education we got at DCU would have cost us hundreds of thousands of dollars," she said, adding, "I'm guessing many of us are debt free."
Jason Sherlock, the former Dublin footballer, now Director of Development at DCU Educational Trust, said the spirit among DCU alumni is the same as when he played for his county. "We used to say, 'it's about giving the jersey back in a better place." Other speakers from the floor were Bizzy Coy, MSc Creative Writing, and Gnim Bazim, who spent two months in DCU as part of an exchange programme while studying for a BA in Communication and Media Studies at Muhlenberg College in Allentown, Pennsylvania.
In all, about 80 DCU alumni attended the Consulate event at which Vice Consul General Dermot Fitzpatrick did double duty, being both host and DCU alumnus. This article originally ran in The Irish Echo, the USA's most widely read Irish-American newspaper, which is published by Belfast Media Group. Story by Irish Echo contributor Orla O'Sullivan.

Singapore: Irish Ambassador hosts DCU networking evening.
As social and cultural events became a possibility in a post-Covid world, DCU Alumni Singapore International Chapter hosted a
very special in-person networking event last June at the invitation of Ireland's Ambassador to Singapore, writes Derrick Moloney.
His Excellency, Mr Pat Bourne, who is also a DCU alumnus, was delighted to welcome the Singapore Chapter members to his residence before the end of his term in Singapore. Ambassador Bourne (MA in International Relations and Affairs, 2004) spoke fondly about his time at DCU. He was a founding member of our Alumni Chapter here in Singapore three years ago and we wish him all the very best in his new role as Ireland's new Ambassador to Thailand. In early December, we also hosted an informal festive gathering at Molly Malone's Irish Pub. It was a great opportunity to meet some new arrivals in Singapore who heard through the grapevine about our DCU Alumni Singapore International Chapter.
In 2023, we look forward to hosting a keynote speaker event for the DCU Alumni community in Singapore as well as a few more social gatherings. We are always open to new ideas for networking, social and cultural events. Derrick Moloney is a founding member of DCU Alumni Singapore Chapter.
If you are a DCU graduate, new to Singapore, please join our DCU Alumni International Chapter Singapore LinkedIn page. Please email alumni@dcu.ie if you have requests or ideas to share.