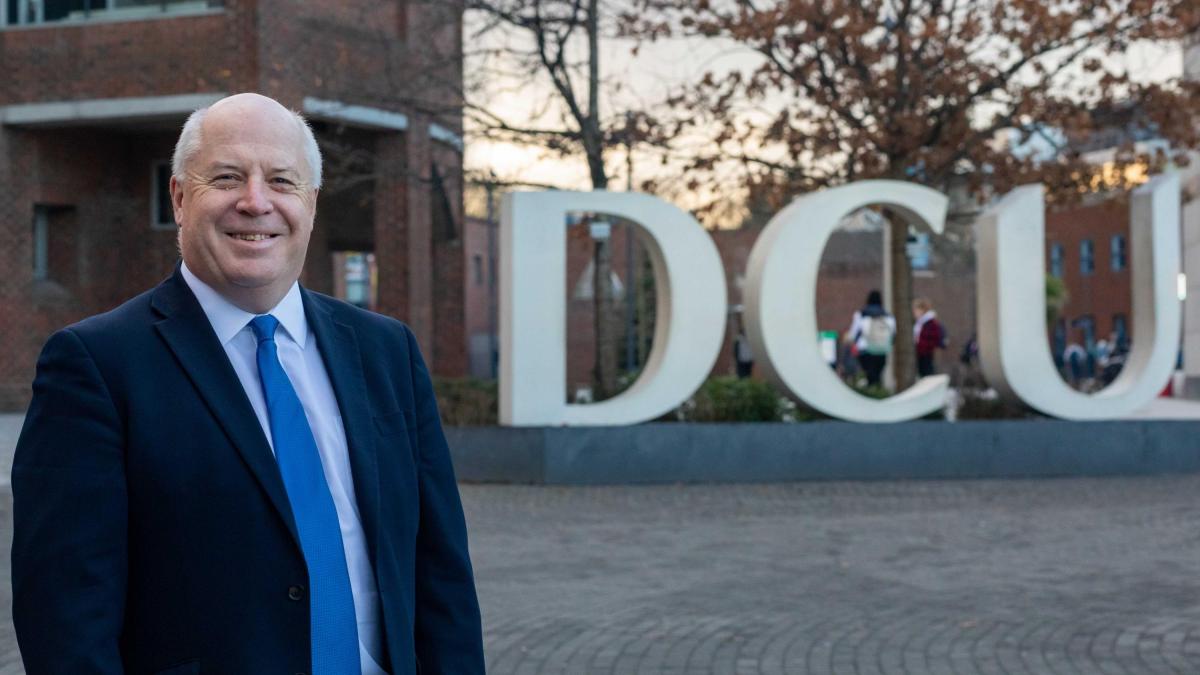 The power of giving back
A graduate of DCU's Executive MBA Programme, Joe Quinsey has been CEO of DCU Educational Trust since 2019. He discusses the role alumni play in raising philanthropic income to advance the University's mission and ambitions.
Q: What drew you back to DCU to lead DCU Educational Trust's fundraising efforts for the university?
I completed my MBA at DCU in 1996, and the university has held a very special place in my heart since that time. For me, DCU has always been a dynamic and progressive university that moves with the world, is committed to solving societal problems, and is innovative in preparing its students for the future. 
With so much impactful research and many inspiring initiatives taking place here, it was really a no-brainer for me to join the university's foundation. I was confident that like me, other DCU alumni would be inspired by DCU's leadership in addressing inequality and societal challenges and would want to support this important work. 
Q: You joined the Trust in November 2019, just before the Covid-19 pandemic struck. What have been the highs and lows for philanthropic giving to DCU over the last three years?
Despite our concerns at the start of the pandemic, thankfully we have had a lot more highs than lows. One of the first major initiatives I led was launching the DCU Covid-19 Student Emergency Fund, which saw an outpouring of generosity from alumni who wanted to ensure that the education and mental health of current students did not suffer during the pandemic. 
In general, pledges to support the university have grown significantly in recent years, rising from just over €3 million in 2018 to €6.4 million last year. This represents a doubling of philanthropic impact in transforming lives and societies, and we're really grateful to DCU alumni for their role in making this happen. 
Our alumni make a difference in many ways, from their personal philanthropic gifts to introductions to their company to secure an Access to the Workplace internship for DCU Access students. Sometimes, a simple introduction by a DCU graduate can help us to connect with like-minded individuals and companies who share our vision for projects that address some of society's greatest challenges, such as the DCU Centre for Climate and Society, DCU Water Institute and DCU's award-winning widening participation initiatives.
Q: How does the Trust hope to work with the DCU alumni community moving forward?
We were heartened to receive the results of the latest DCU alumni survey, where over 70% of alumni expressed an interest in giving back to support the university.
Over the next four years, we hope to significantly increase our alumni giving programme, with an ambition to create a €1 million annual fund to support DCU's mission to transform lives and societies. If just five percent of DCU alumni give €21 per month, we will achieve this goal. We're very optimistic that DCU alumni will embrace this goal and join us on this journey.
A philanthropic fund like this could really accelerate DCU's mission, enabling us to seed-fund research for society and innovative new initiatives, to provide scholarships that support educational opportunity and excellence, and to provide top class facilities and experiences for our students.