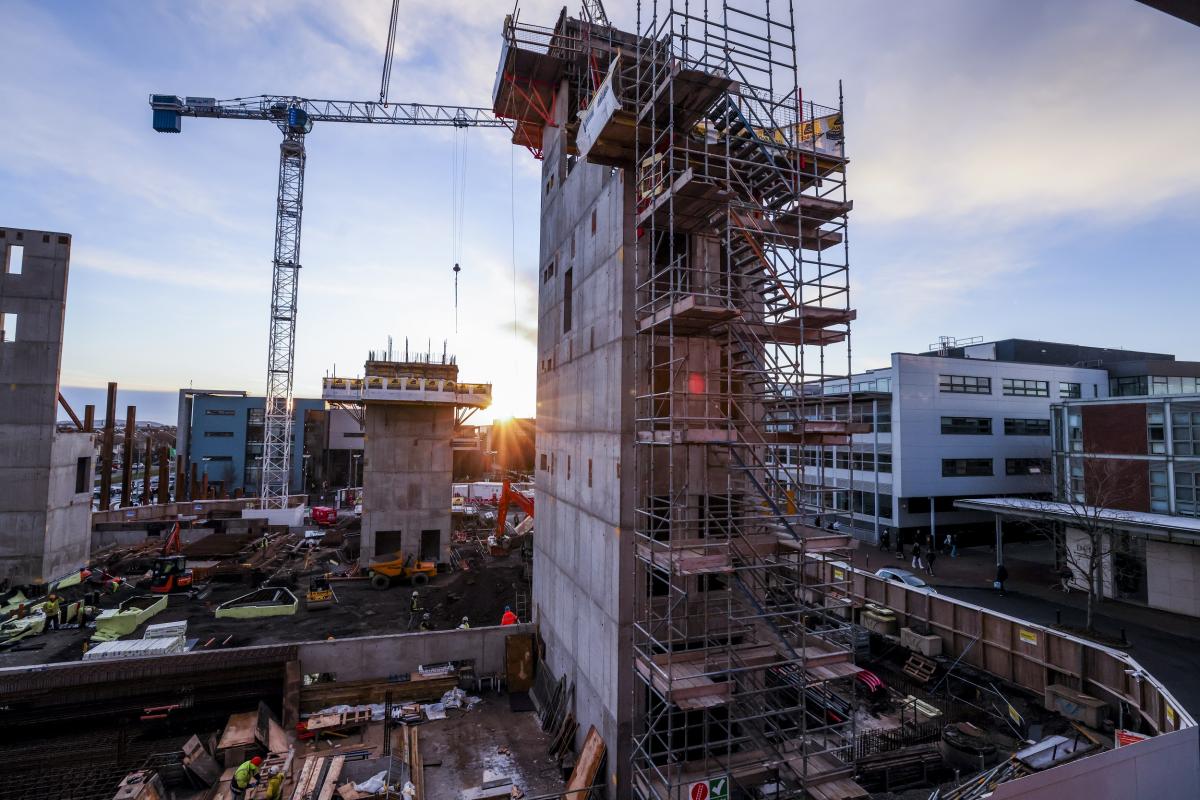 Raising the bar
Faculty Update: DCU Science & Health
2022 was an exceptionally busy year for DCU's Faculty of Science and Health with nine new programmes launched, innovative achievements and research winning national recognition. Below are some of the collective and individual highlights.
− There were five new undergraduate and four new postgraduate education programmes launched during the year. These included the BSc/MSc Athletic Therapy and Strength and Conditioning, MSc in Child and Family Health and Wellbeing, MSc in Health and Social Inclusion and MSc in Specialist Nursing for Future Healthcare.
− The first year of DCU Futures was completed with three new student pathways in Bioprocessing, Chemistry with A.I. and Physics with Data Analytics.
− The BSc in Analytical Science and BSc in Chemical & Pharmaceutical Science were accredited by the Royal Society of Chemistry.
− The Richard O'Kennedy early career award went to Dr Naomi Walsh, and the overall award went to Dr Anne Parle-McDermott.
− The President's Award for Teaching and Learning – new lecturer category – was won by Dr Ciara White.
− The President's Award for Engagement went to Professor Eilish McLoughlin for her work on the STEM Teacher Internship Programme.
− The Science Foundation Ireland Plastics Challenge went to DCU's Grain-4-Lab Project, which was awarded €2.4 million. This project led by Dr Brian Freeland took waste produced by the brewing and distilling industry in Ireland and used it to produce compostable bioplastics.
− The Chancellor's medal went to doctoral student Molly Williams, who developed a new genetic method for species detection from water.
− Professor Christine Loscher won the Staff Leadership Award for her role in establishing and promoting the DCU Covid-19 Research and Innovation Hub. The President's Award for Engagement
– in the student category – went to Taylor Allen-Coyle for her work on pancreatic cancer and direct provision.
− Dr Aoife Morrin secured €220,000 in funding for research into how the body's health biomarkers – such as skin odour – could be an early signal of health issues.
− Dr Andrew Kellett was awarded an Irish Research Council Consolidator Grant for "Gene Editing with Nucleic Acid Click Chemistry" - worth €599,590.
− Professor Brian Devitt joined the faculty as Chair of Orthopaedics and Surgical Biomechanics.
− Funding worth €210,569 from the Department of Agriculture, Food and the Marine was awarded to Dr Siobhán O'Connor, Dr Donnla O'Hagan, and Aoife Burke for "FarmHealth: Mental  Health Help-Seeking in Irish Farmers".
− The School of Mathematical Sciences was awarded a Bronze Athena SWAN Award in recognition of its commitment to advancing gender equality, representation, progression, and success for all.
− The President's Award for Teaching and Learning – new lecturer category – was awarded to Dr Ciara White.
− The President's Award for Research Impact went to Dr Paul van Kampen.
− The renowned psychologist, Professor Roy Baumeister, University of Queensland visited DCU to open the School of Psychology Seminar Series.
− The Water Institute, along with the Nore River Catchment Trust, announced a citizen science partnership empowering local people to collect data for water quality testing on the River Nore and its tributaries.
− The Centre for eIntegrated Care, and the Insight SFI Research Centre for Data Analytics completed the NEX project which aimed to develop technology that could enable older adults to live independently at home for as long as possible, and to facilitate caregivers to support family members in a non-intrusive way. This research was led by Dr Kieran Moran and Dr Catriona Murphy.