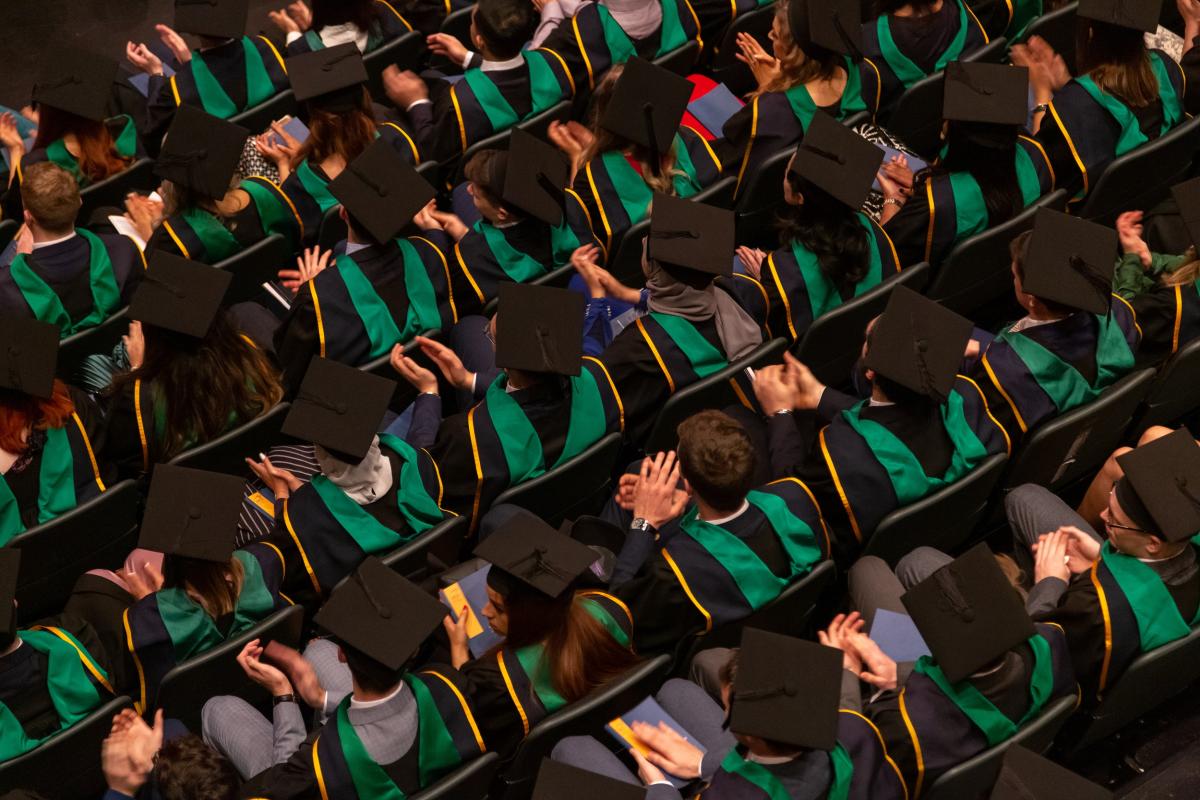 Leading change
Faculty Update: DCU Faculty of Humanities and Social Sciences
DCU's Faculty of Humanities and Social Sciences is breaking new ground with its postgraduate courses.
The Faculty of Humanities and Social Sciences is the largest faculty at DCU. The Faculty delivers a unique set of undergraduate and postgraduate programmes that equip our students with the knowledge and skills for the challenges and opportunities of modern society. Our seven schools are: the School of Applied Language and Intercultural Studies; the School of Communications; the School of English; Fiontar & Scoil na Gaeilge; the School of History and Geography; the School of Law and Government, and the School of Theology, Philosophy, and Music.
Across these schools, our teaching and research cover long-established areas like literature, history, journalism, policy, law, languages, ethics and theology. In addition, to reflect our changing world, there are newer disciplines such as climate change and society, international relations, security and conflict resolution, global health communication and translation technology. It is within these disciplines that our world class academics explore the many issues facing society and the human condition, leading change and challenging assumptions.
Our postgraduate offerings also reflect our Faculty's commitment to facilitate our students to shape new and emerging career opportunities. For example, the European Master in Law, Data and Artificial Intelligence (EMILDAI), funded by the Erasmus Mundus Joint Master programme of the European Union, offers a highly multidisciplinary programme in a cutting edge field with several supporting partners.
The MA in Data Protection and Privacy: Law and Computing also has an interdisciplinary focus with legal specialisations. On the MA in Creative Writing, students with writing aspirations are supported to develop their work and foster connections with the wider literary community. On the MA in Ethics programme, students receive a grounding in the foundations of ethics, human rights and social justice. Students also develop the analysis and decision-making skills to apply ethical perspectives and principles to real-life and professional dilemmas.
The MSc Science and Health Communication uses the climate emergency and Covid-19 as some of the examples on the importance of clearer scientific communication and dispelling disinformation.
The MSc in Translation Technology provides advanced technical training in translation. And we are extremely pleased to introduce this year a new master's programme, the MA in Documentary Practice. This course builds on 30 years of experience in teaching film and television in the School of Communications, and responds to growing student interest in, and industry demand for, long-form documentaries. This is timely given the recent international success of the critically acclaimed An Cailín Ciúin produced by one of our alumni from the BA in Journalism, Cleona Ní Chrualaoi, winner of a 2022 Alumni Award at DCU.
In the 2022 QS World University Rankings by subject Communications and Linguistics at DCU are considered within the top 150 of these courses offered worldwide. DCU offers the best Communications course and the joint-best Linguistics course in Ireland. Furthermore, Arts and Humanities subjects including History, Philosophy, Theology, Languages and Linguistics rank 176-200 globally in the Times Higher 2023 Subject Rankings. Our postgraduate courses work closely with DCU Placement to organise international study and work placements. Internships are a particular focus for many of our postgraduate programmes run by DCU INTRA programme. This is an accredited and, for some programmes, compulsory element of many degree programmes where employers can benefit from the talent and skills of students across a range of disciplines in the Faculty of Humanities and Social Sciences.
Read more at www.dcu.ie/humanities-and-social-sciences/pgt-testimonials