Newspapers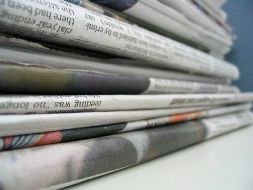 The Library provides access to a vast range of national and international newspapers. Many are available online via our subscription databases.
Online Newspaper Collection
We have a number of full-text databases where you can search for newspaper articles from Irish and international newspapers.
NexisUK - this database covers 43 Irish newspapers and many European and international news sources in French, German, Spanish and Italian. Click here for a short tutorial and guide.
The Irish Times - you can access the most recent content of the Irish Times Online or through NexisUK
Irish Times Digital Archive - provides access to the archive of the Irish Times covering the period 1859 to 2018. Select Publications on top menu and then Search.
Irish Newspaper Archive - this database comprises digital image copies of a large number of Irish national and regional newspapers from as early as 1763.
Older editions of both national and international titles are also available online. Check the library catalogue