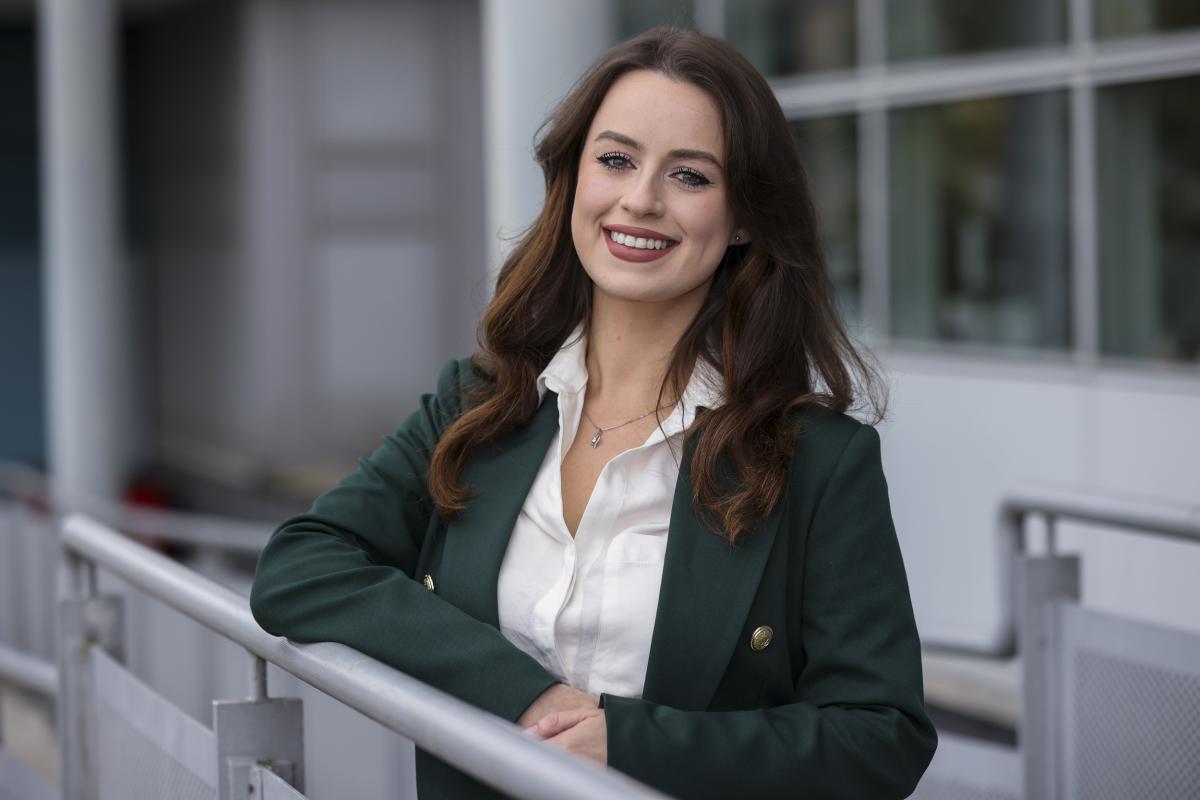 "An engineering degree is a passport to incredible opportunities around the world"
Dr Éadaoin Carthy, Assistant Professor in DCU School of Mechanical and Manufacturing Engineering. 
BSc Physics with Biomedical Science, 2014 and PhD, 2019
What do you consider to be the most rewarding aspect of a career in engineering? 
A career in engineering is so much more than the "design, build, test" model that most people consider it to be. Engineers are creative thinkers, problem solvers, team players and fantastic communicators. It's no shock that they are highly sought after for a diverse range of jobs. They are innovators who make tangible changes to society. A degree in engineering offers amazing opportunities to travel because it's a globally recognised qualification. It's a highly collaborative and social industry that offers the opportunity to contribute significantly to society. An engineering degree is a passport to incredible opportunities around the world, often where you might least expect it. 
What is your primary area of research?
 
My research area is centrifugal microfluidics. This includes design, integration and automation of bioanalytical methods for rapid sample to answer systems. Microfluidic platforms are an exciting area because they have huge applications in a large variety of sectors, including healthcare, agriculture and food safety. 
This is an area of research with the ability to have a huge impact on society. Centrifugal microfluidics is a really exciting area to work in, not only because they can automate assays, but they can be tested on portable instruments which makes them a robust, bioanalytical  system for on-site, rapid detection.
 
What sparked your interest in this area of research?
My initial interest was sparked by the third year work in microfluidics labs I took as an undergraduate student here in DCU. I was fascinated by the prospect of creating a 3D model on CAD and being able to create physical microfluidic platforms using the available manufacturing processes, such as laser ablation and UV lithography. This was the first time I stepped foot into a lab where I could carry out experimental design from start to finish and apply critical thinking to analyse data and reiterate experiment protocols. Here, I was introduced to many talented Postdoctoral Researchers working on projects such as HIV therapy monitoring. Being part of such amazing work was really exciting. 
I have since had the opportunity to work on a variety of diverse projects, including plant pathogen and rapid E-coli detection, an automated Covid-19 device and qPCR platforms and instrumentation. What advice would you give to someone thinking about pursuing a career in engineering? I highly recommend engineering as a career path for anyone who likes to be challenged and wants to make an impact. Whether it's Mechanical, Biomedical, Electronic or Sustainable Engineering you are interested in, the career opportunities are endless. I would advise prospective students to attend our Open Days and to come speak to the Academic and Research staff to learn more about how we can help you achieve your goal of becoming an engineer.
Engineering & Computing Final Year Projects Expo
The Final Year Projects Expo is a special event held annually by the Faculty of Engineering and Computing to celebrate its soon to be graduates and the Faculty's links with industry leaders. It has been successfully running for over 30 years and brings together final-year students with industry-leading employers, providing both parties with the opportunity to make valuable connections. Last year's Expo saw almost 300 final-year students from both the disciplines of engineering and computing showcase over 196 projects to employers.
The Final Year Projects Expo 2023 will take place on Thursday, 9th May. More information: dcu.ie/engineeringancomputing