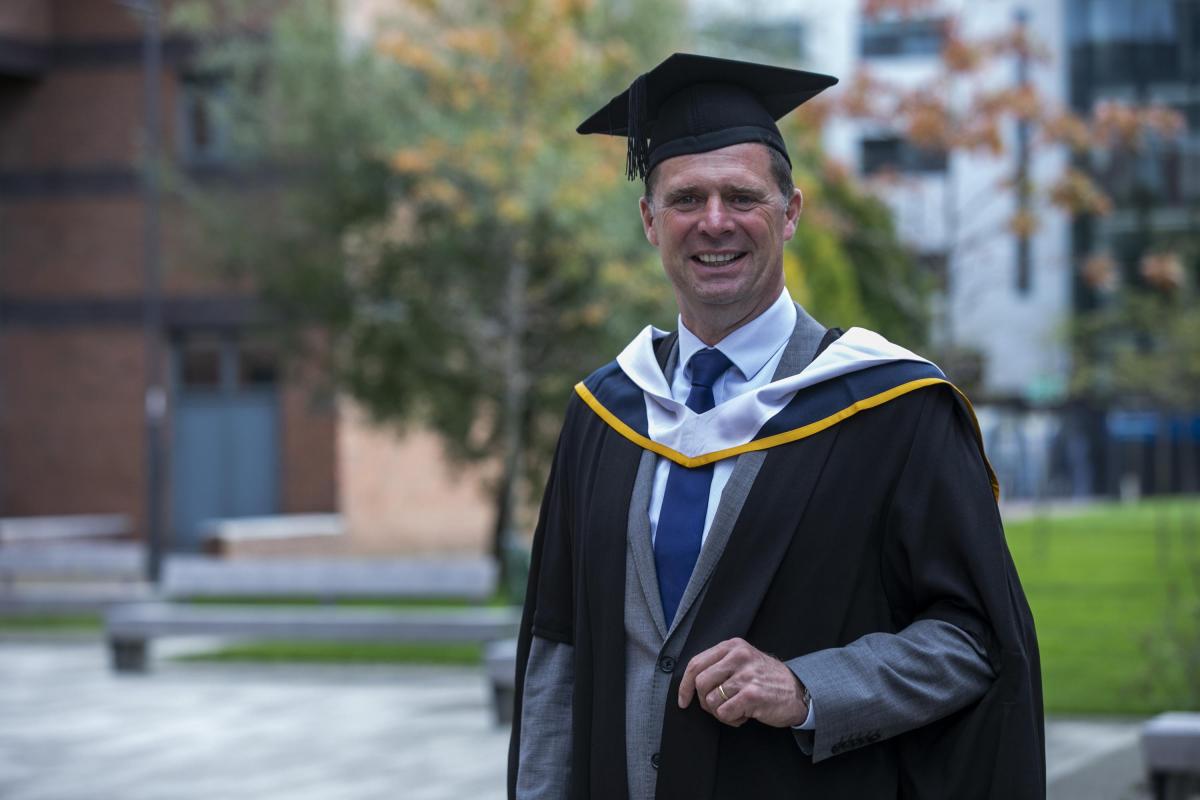 'Study a subject you love – the heart is never too far wrong'
His graduation with a Master's in History from DCU saw Niall Quinn fulfil a promise made to his mother 40 years previously
"I found myself living in a house of study! They were all studying, and I found myself the odd one out."
"I played for my country and was commended for that, but I now know far more about Ireland and that makes me happy," said Niall Quinn as he graduated with a Master's in History from DCU last October.
His decision to return to education was partly due to a promise he made 40 years ago to his mother, Mary, as he left Ireland to join Arsenal in 1983 when he was just 16.
 "I owed a debt to my mother that I would complete my education," he said. "I made that promise to her when I left for Arsenal at 16. At that stage I had done what used to be called the Inter Cert. I got a B in history, and I was devastated it was not an A because I loved the subject. To me history was fun and it made me tick."
Quinn's mother and sisters were teachers and he told them all he would complete his education while in England but between his club and international career, and his management, punditry ad business roles after retirement, those plans were put on hold for decades. 
The next push in getting him to step back into the world of education, came from his daughter Aisling, who like her mother Gillian and brother Mikey, is already a graduate of DCU.
 "I found myself living in a house of study!," said Quinn. "They were all studying, and I found myself the odd one out. Aisling is a tremendous force of nature, and she kept pushing me and told me I would love it. Gillian and Mikey kept chipping in too." 
But his final decision to enrol for a master's at DCU was prompted by a look at a gallery of photographs of former Presidents of the FAI; he was interim deputy CEO of the organisation in 2020. 
"Before I left the FAI, I was in the boardroom out in Blanchardstown, and I had time between meetings. There were photographs of every President of the FAI hanging in the boardroom."
"They all seemed to hold the position for two years except for Oscar Traynor, who was President for 14 years. That caught my imagination."
He decided to find out more about Traynor: "At the same time my family were encouraging me to do this so, combined with the promise I made my mother, it all came together, and I said to myself: 'I better do it.' Because of the great experience all my family had at DCU, there was only one place for me to go."
He did his master's on a part-time basis over two years and decided to focus on finding out more about Oscar Traynor. His dissertation is called: 'Oscar Traynor - A Re-evaluation of a footballer, rebel, politician and football administrator.'
Oscar Traynor, as well as being a revolutionary commander in the 1916 Rising and second in command of the Dublin IRA, was "a great football man and an excellent goalkeeper."
 "I was totally absorbed in him," said Quinn about his time researching Traynor's life.
Traynor became, what Quinn describes as "the most important and loudest supporter of football when it came under attack as 'a foreign game.' That is when the GAA introduced 'the Ban' so that people who played soccer were not allowed to take part in Gaelic games and were made to feel less Irish, Oscar Traynor, on numerous occasions, gave strong defence of the game of football on this island and gave great service in an administrative role to the FAI."
Traynor was instrumental in getting 'the Ban' lifted. This meant Niall, as an 8-year-old boy, was able to play both Gaelic and soccer. "Oscar Traynor fought publicly over many years for 'the Ban' to be lifted. Coming from a GAA background I would not have had the life I did had 'the Ban' remained."
In his closing paragraph of the dissertation, Quinn has written a message to Oscar Traynor's family: 'I hope that they won't mind Oscar being pulled from obscurity by a Soccerite Shoneen, raised in a staunch GAA household but who grew up with the freedom to fecklessly enjoy all sports and one who writes now in rich gratitude to a man who did much to make that possible in a free Ireland.'
He said returning to education and to DCU "has been a wonderful experience and one of the best things I have ever done. It is as if a bit of me that was dormant came alive. I am so glad I did it, I now know what I was missing out on."
For anyone considering a return to education, he added: "I would beseech any person with the slightest itch to go back, to just do it. There is no downside, it is so fulfilling."
He acknowledged that his journey was "made far easier 'cos I loved my subject. So, to younger people I would say that doing something to get further up a ladder to make a career is not as fulfilling as doing a subject you love. The heart is never too far wrong."